What is a Unit Study? A unit study is when you center your homeschool learning around a theme. You cover subjects in a way that relates to this theme. You can cover all subjects in a unit study or just a select few.
For instance, here's what a unit study could look like if you were doing a study on insects:
For phonics and early readers, you would look for readers that have a bug theme.
For science, you would find non-fiction books about the parts of insects, what kinds of insects there are, and books that study individual insects.
For art, you would draw, paint, or otherwise create something buggy.
For geography, you could study insects in different parts of the world.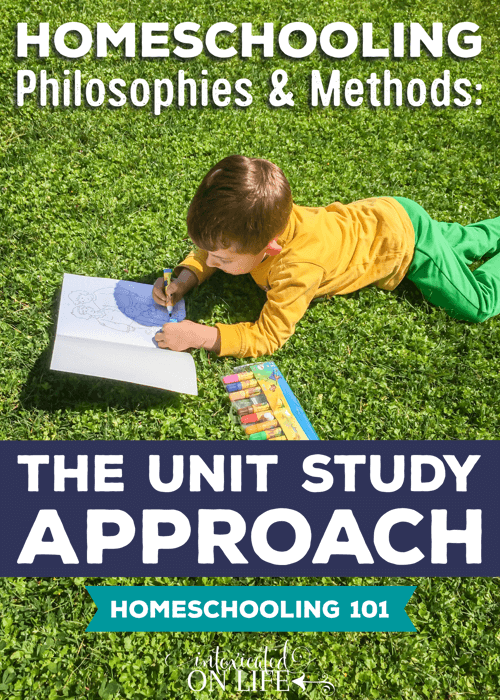 Unit studies can be built around things like butterflies, kites, and apples. They can be built around seasons of the year. They can be built around a time period in history. You can build a unit study around a specific book. The possibilities are endless. 
In What Educational Philosophy Does a Unit Study Fit?
Unit studies are more of a tool than a philosophy. You can tailor them to fit with any educational philosophy. For example, if you were following Charlotte Mason's philosophies, you would include narration, copywork, and nature study in your plans. If you follow a more structured curriculum for science or history, then you could use unit studies to cover handwriting, reading, and art.
The point behind a unit study is to immerse yourself into a topic. This will look different for each family.
Who Are Unit Studies Best For?
Unit studies are pretty flexible. You can use them for one child who is on the same level across all subjects. Or you can use one that is appropriate for multiple grades, if you have multiple children.
Unit studies may be useful for students who are not interested in "school" work. Often you can sneak learning in with disinterested kids, if the topic is something that interests them.
How Do I Choose a Unit Study?
You can choose your unit study several ways.
You can choose one based on what your child is interested in at the moment.
You could choose a topic you think they will enjoy, but they haven't thought to explore.
You can choose a unit study based on a seasonal topic like spring or Easter.
Have a family vacation coming up? Do a unit study of the location to prepare your kids for the adventure.
Where Do I Find Unit Studies?
KONOS is probably the most widely-known unit study curriculum. Other options include:
You can also find unit studies on CurrClick, Unit Studies by Amanda Bennett, and Pinterest. Homeschool bloggers also offer unit studies.
How Do I Make My Own Unit Study?
You can build your own unit study, too! It's really a simple process. It can be time consuming sourcing all your supplies, but you can do it quite frugally utilizing Google, Pinterest, and the library.
Decide your topic or theme.
Decide how long you want to spend on the unit.
Decide what subjects you want to cover.
Find a resource (or two or three…) for each subject.
Find activities to complement the resources.
Write it all down.
Study away!
Unit studies really are a flexible tool that can complement just about any homeschool/educational philosophy.
Have you ever considered using a unit study? What educational philosophy do you use in your homeschool?
---