Need a healthy and delicious coffee alternative? Give this Iced Coconut Matcha Latte a try! It's packed with nutrition and ready to give you a gentle energy boost.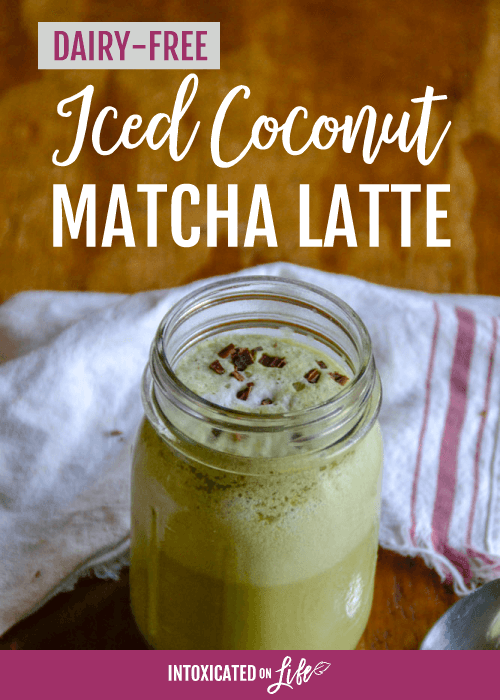 Easy mornings.
As a mom of five little ones, I like my mornings easy. That includes whatever I'm drinking. Normally, I just go for a cup of room temp water to wake me up, but some days you just need a little something special—you know.
During the chilly fall and winter months I might opt for a mug of pumpkin spice or gingerbread latte. If I'm feeling under the weather I brew myself a nice cup of immune-boosting herbal tea. But when it starts warming up, I need a cold drink. Like this Iced Coconut Matcha Latte!
A healthy coffee alternative.
Another important mom-need is energy. Most of my mom friends get their morning boost from coffee. While coffee can be made in healthy and delicious ways, there are other ways to get that much needed energy. One of my favorite ways is matcha.
Matcha, is unheated, stoneground Japanese green tea leaves. Since it's not as processed as regular tea, all its health benefits are retained, including its caffeine content.
When compared with coffee, matcha has less to about the same amount of caffeine, depending on how much you use. However, unlike coffee, matcha is a slow-release energy boost. While coffee spikes your energy levels and then drops off rather abruptly (usually causing the jittery effect), matcha contains the amino acid L-Theanine, which controls the release of caffeine and has a more calming, relaxing effect.
Health benefits of matcha.
A calm, focused caffeine release isn't the only thing matcha has going for it. It's also one of the best sources of antioxidants in the world.
Matcha also helps boost your metabolism and contains chlorophyll, vitamin A and vitamin C! Can coffee do that for you? I think not.
Iced Coconut Matcha Latte
While I've enjoyed matcha in fat bombs and smoothie bowls, this Iced Coconut Matcha Latte is my newest favorite way to consume its goodness!
I like to make it plain jane with coconut milk, but you can use any kind of dairy-free milk you'd like. If you can handle dairy, you can definitely use whole or raw milk instead. This tasty drink is also delicious with a little peppermint extract in it, or even chocolate extract!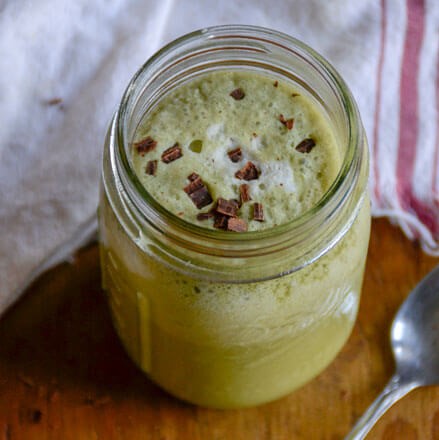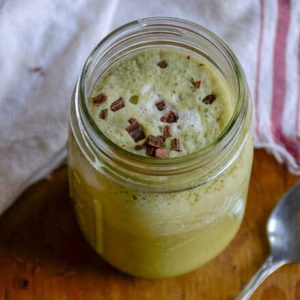 Print
Ice Coconut Matcha Latte
This Iced Coconut Matcha Latte is packed with nutrition and ready to give you a gentle energy boost.
Ingredients
1/2

cup

coconut milk or water

1

teaspoon

matcha powder

2-3

tablespoons

honey

depending on how sweet you want it

1

cup

ice

2/3

cup

coconut milk

additional
Optional additions
Dairy-free chocolate

for garnish

1/2

teaspoon

vanilla extract or peppermint extract
Instructions
In a small saucepan, dissolve the matcha powder and honey into 1/2 cup coconut milk or water. You don't need the mixture hot, just combined.

Pour the matcha mixture into a blender along with the ice and any extracts you're using. Pulse/puree to desired consistency.

Pour iced matcha mixture into a cup.

In blender, pour remaining 2/3 cup coconut milk. Pulse/puree to froth. Pour over matcha mixture.

Garnish with chocolate, if desired, and enjoy!
Nutrition
Calories:
665
kcal
|
Carbohydrates:
42
g
|
Protein:
7
g
|
Fat:
56
g
|
Saturated Fat:
50
g
|
Sodium:
37
mg
|
Potassium:
580
mg
|
Sugar:
35
g
|
Vitamin A:
200
IU
|
Vitamin C:
3
mg
|
Calcium:
47
mg
|
Iron:
9
mg