No need to spend money at fancy coffee shops! You can make this delicious, real-food homemade Gingerbread Latte from the comfort of your kitchen!
Looking for gluten-free recipes and resources? This Everything Gluten Free page is a library of everything gluten free we've worked on.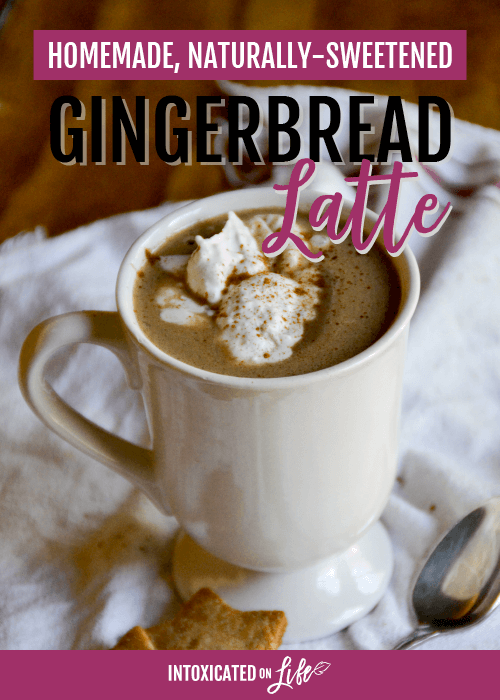 A long road to coffee.
I must admit, I've never been the biggest fan of coffee. Or rather, it's never been the biggest fan of me. When I was a kid I had one of those allergy tests done where they put things on your arm, prick them, and see what happens. Fun, I know. Guess what one of my allergies was? Coffee.
Seeing as I wasn't anywhere near needing caffeine in my life, I thought nothing of it. Other than not being able to go down the coffee aisle at the grocery store (my lungs would close up), my coffee allergy never really bothered me.
Until college.
Changing times.
Suddenly I understood why coffee was such a wonderful thing for most of the world. And I wanted it in my life. So I began to analyze the other things I'd been allergic to as a child. A few of the allergies (like watermelon and tomatoes) I seemed to have grown out of, so I decided to give coffee a try, too!
Slowly, and over long periods of time, I began adding coffee into my life. Though I could never drink it straight by the cupful, small amounts in specialty drinks didn't seem to bother me. So was born my love of frappes and lattes.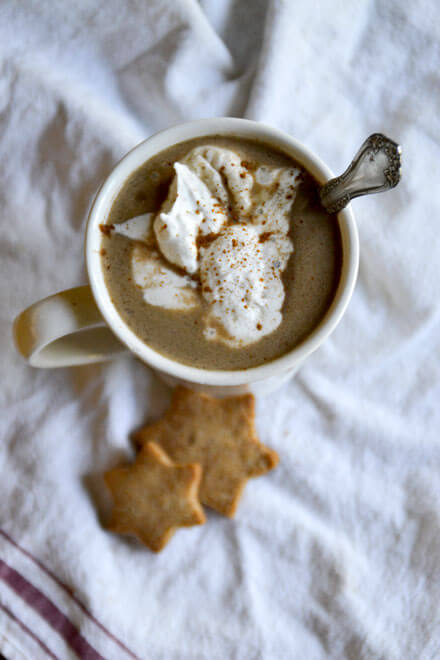 Enter the homemade gingerbread latte.
Ever since college, I've enjoyed making myself special coffee drinks every now and then. Sometimes I use herbal coffee, sometimes regular. I enjoy them both and they both make delicious fancy-pants drinks! Some of my favorites are an Herbal Pumpkin Mocha, Sugar-Free Mocha Mint Shake, or a Banana Nut Butter Frappe.
This easy, homemade Gingerbread Latte is my latest favorite! It's quick to mix up using real food ingredients that you probably already have in your kitchen, and it tastes delicious! When I gave a sip to my husband he said, "It's better than Starbucks!"
And it costs quite a bit less, too…
Make it yourself.
Just one look at the ingredients in Starbucks popular gingerbread latte and you'll want to run the other way.
"Milk, brewed espresso, gingerbread syrup [sugar, water, natural flavor, sodium benzoate, citric acid], whipped cream [cream (cream, mono and diglycerides, carageenan), vanilla syrup (sugar, water, natural flavors, potassium sorbate, citric acid)], nutmeg."
Um, no thanks. Like always, homemade is better! Molasses, honey, a few spices, some coffee and milk, and you're good to go! You can easily make this drink dairy-free, as well, by using almond or coconut milk and garnishing with coconut whipped cream.
Gingerbread goodness.
This homemade gingerbread latte is a wonderful way to get in the holiday spirit without ruining your health or breaking your budget. A few other delicious ways to get your gingerbread fix in are by feasting on Gingerbread Coconut Macaroons, or a nice big piece of honey-sweetened gingerbread cake!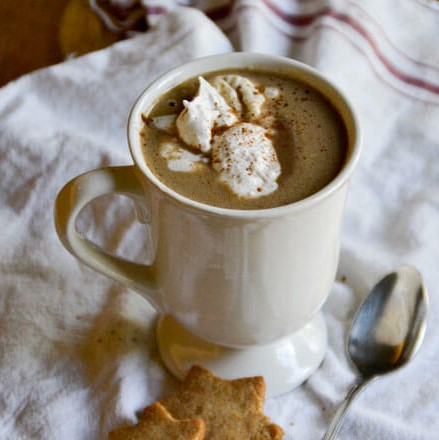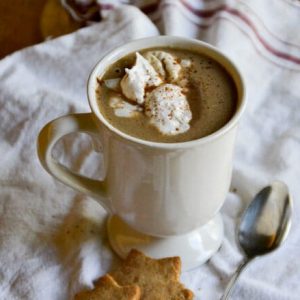 Print
Homemade Gingerbread Latte
This homemade gingerbread latte is a delicious and healthy alternative to Starbucks.
Ingredients
1

tablespoon

molasses

1

tablespoon

honey

1/4

teaspoon

ground ginger

heaping!

1/4

teaspoon

ground cinnamon

1/8

teaspoon

ground cloves

1/3

cup

strong brewed coffee

1

cup

milk of choice
Instructions
In a small saucepan, heat coffee and milk. (If your coffee is already hot, just heat the milk.)

In your mug, combine remaining ingredients until a paste forms.

Pour coffee/milk mixture over gingerbread paste until paste is completely dissolved.

Garnish with whipped cream and a sprinkle of cinnamon.
Nutrition
Calories:
244
kcal
|
Carbohydrates:
44
g
|
Protein:
8
g
|
Fat:
5
g
|
Saturated Fat:
3
g
|
Cholesterol:
19
mg
|
Sodium:
122
mg
|
Potassium:
662
mg
|
Fiber:
1
g
|
Sugar:
44
g
|
Vitamin A:
241
IU
|
Calcium:
324
mg
|
Iron:
1
mg