I first heard about natural hair care on a healthy living website about 6 years ago. I tried washing my hair with just baking soda and vinegar for about a week. It was an absolute disaster! I tried again a few years later using a different method with great success.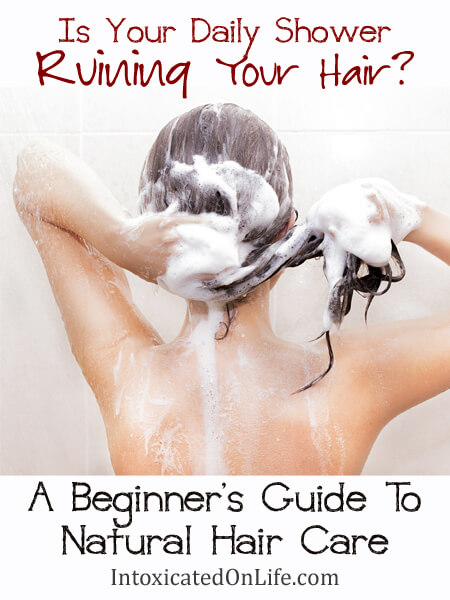 I have not used shampoo on my hair in almost 4 years and usually only wash my hair once a week. My hair is the healthiest it's ever been, I'm not using harsh chemicals, and my hair care budget is pretty low. I've tried just about every natural hair care method and recipe out there.
In this series we will walk through all the elements of natural hair care so you are able to find the right system for you. 
First, Let's Define Some Terms
Natural Hair Care usually means either avoiding products that contain sulfates and/or silicones or caring for and wearing your hair in its natural state, curls or waves, without using any heat or harsh products.
No-Poo means you don't use any shampoo to wash your hair. For some it means specifically using only baking soda and vinegar (we'll talk more about this in Part 2).
Co-Wash means you use conditioner to wash your hair in place of shampoo (again, more on this in Part 2).
The Modern Chemical Based Hair Care Cycle
Most people today buy a bottle of shampoo, a bottle of conditioner, and at least one hair care product at the store and follow the typical wash, condition, dry, and style cycle on a daily basis. Many hair care products contain silicones (read the ingredients on your product bottles and words that end in -cone are silicones).
Silicones make your hair stronger, shiny (initially), and can help cut down on frizz. Over time they will build up making your hair feel heavy, dull, and sometimes sticky. Most shampoo contains a sulfate based cleaner (usually sodium laurel sulfate) that strips out the silicone products leaving you with "clean" hair ready for the next round of products.
Most conditioners, leave-in products, and frizz-control sprays contain silicone. So in the typical cycle you strip everything from your hair and immediately add back in more silicone to keep it under control.
My goal with natural hair care is to break this cycle and only use products that are healthy for my hair.
Why Ditch the Chemicals?
I know many people lean toward natural hair care because of the desire to remove toxins from their home. I think that is a great reason, and if you are a regular reader of Intoxicated On Life, I'm going to assume you've heard the reasons before. I'm going to skip ahead and talk about why sulfates are bad for you hair specifically.
Think about a nice wool sweater. Would you wash it in harsh detergent with agitation? No, because the soap would ruin the wool leaving you with a scratchy, misshapen garment. Your hair is just like wool, and washing with sulfates leaves your hair dried out, damaged, and full of frizz. Most people mitigate the effects of sulfates with silicone products. I did for a long time too, but never managed to get my crazy curls under control until I completely got rid of sulfates and other harsh cleaners.
The first time I tried natural hair care, I was trying to find a cheaper hair care routine. As a curly girl, I had quite the collection of hair care products that only worked about half the time. My daily routine included shampoo, conditioner, leave-in frizz-control cream, gel, heat protection spray, and a flat iron. It was an expensive habit! As I mentioned above, I tried one method (baking soda and vinegar) that didn't work for me and went right back to my old routine after about a week. Once I started making efforts to live a healthier lifestyle, I wanted to remove the chemicals but I was afraid of the frizz ball I would likely become without all the silicone to tame my hair. About four years ago my hairdresser suggested I try the Diva Curl system. After seeing how well her hair responded, I was willing to try. In this case it was my desire for frizz-free hair that finally convinced me to try one of the pricy sulfate and silicone free product lines. And it worked!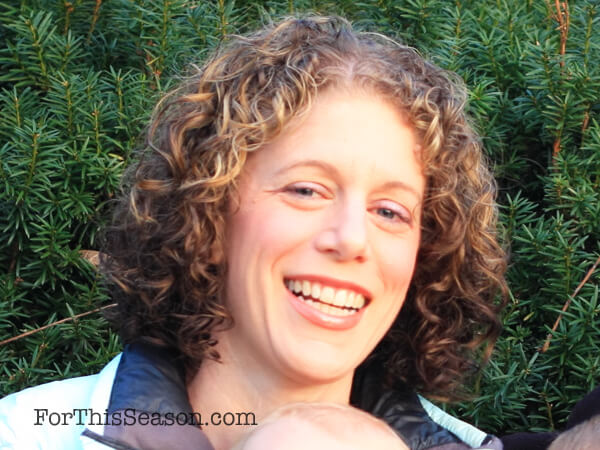 My frizz free curls about 6 months after I switched to a natural hair care routine.
Have I convinced you to try natural hair care? Over the next three weeks we will talk about what products to use and why. I also have a few tips to make the transition easier.
Do you have any questions about natural hair care? Please leave a comment below and we'll get you the answers!
Coming Soon: