The perfect pair of sweet and savory, this Roasted Chicken with Potatoes and Fennel is an easy, healthy one-pan meal.
I hate wasting food.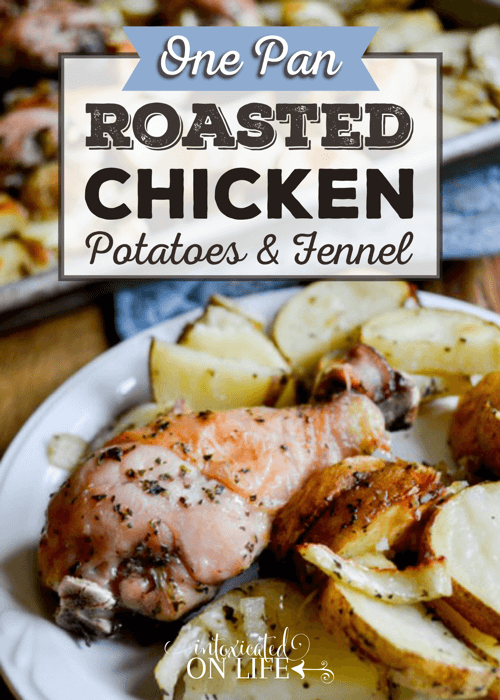 I've always been a frugal kind of girl, and having to throw away food because I didn't use it up in time is extremely hard for me. But when my neighbor dropped off two bulbs of fennel she didn't want, I was at a loss. I'd never had fennel in a recipe, let alone cooked with it!
For about a week I stared at that fennel every time I opened my fridge, waiting for inspiration to smack me in the face. But instead all that I got was a waft of sweet fennel fragrance, sans inspiration.
Finally I gave up waiting for the inspiration to come and decided to search for it on the trusty ol' internet. (Always a good idea… right?)
After a few recipes I decided that potatoes were a safe bet to pair with fennel, and what goes better with potatoes than chicken? My husband was not so sure, but I plowed ahead optimistically.
If you're looking for a good source of grass-fed meat,
Butcher box
has high-quality meat that they will deliver right to your door.
If you use this link to Butcher Box, you can get FREE meat in your first box!!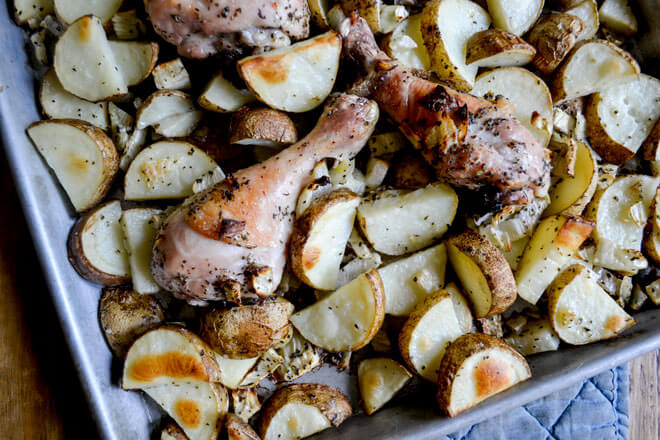 Let me tell you, Roasted Chicken with Potatoes and Fennel was a good choice. only did it make my kitchen smell amazing, the sweet fennel was a wonderful accompaniment to the savory potatoes and chicken!
My doubting husband even agreed it was delish.
And since it only takes a bowl and a pan to whip up, clean-up was minimal, too. Which is always nice for mom!

The Facts on Fennel
In case you're wondering what fennel is, and why you should even consider roasting it with your chicken and potatoes, let me give you a few stats on it:
Fennel is a vegetable from the same family as carrots, parsley, dill, and coriander (cilantro).
Every part of fennel is edible: the bulb, stalks, leaves, and seeds. Yay for no waste!
Fennel contains histidine, an amino acid helpful in treating anemia.
Its most active vitamin is C, but it also contains the minerals potassium and folate, as well as the antioxidant flavonoids rutin, quercitin, and kaempferol.
Fennel stimulates the digestive system, reducing inflammation in the stomach and intestines, and helping our bodies to properly absorb the nutrients in our food.
Fennel helps keep the levels of cholesterol in the blood stream at a healthy place.
Sounds like a pretty helpful plant, doesn't it? Besides all the wonderful nutrition fennel provides, it has a delicate, sweet flavor and a wonderful licorice-y aroma.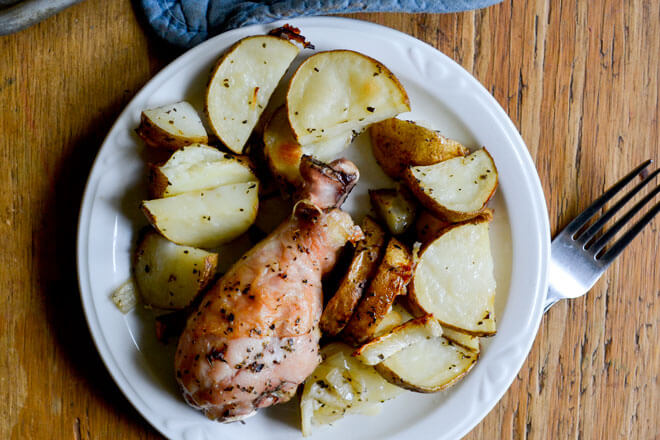 For this dish I chose to use some nice organic chicken drumsticks I had in the freezer, but you can replace them with any other bone-in chicken you'd like, just note that the baking time may be a little different. And feel free to use less fennel than I did, if you're chicken… I mean, not sure if you'll like it.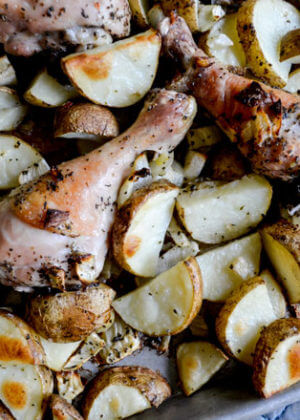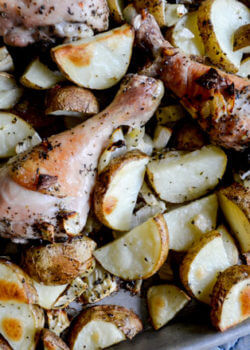 Print
One-Pan Roasted Chicken with Potatoes and Fennel
This simple, no-fuss meal is flavorful and nutritious!
Ingredients
6

pieces

bone-in chicken

I used drumsticks

6

russet potatoes

1

fennel bulb

1/2

yellow onion

2

tablespoons

basil

1

teaspoon

salt

1/4

cup

coconut oil

melted
Instructions
Slice the potatoes in half, then chop them into 1/2-inch thick pieces.

Slice the fennel into 1-inch chunks about 1/2 an inch thick.

Dice the onion.

In a large bowl, combine everything, stirring until the meat and veggies are evenly coated with the herbs, salt and coconut oil.

Pour and spread onto a large jellyroll pan (a cookie sheet with sides) and bake for 35 minutes, or until chicken is cooked through and potatoes are tender.
Nutrition
Calories:
397
kcal
|
Carbohydrates:
63
g
|
Protein:
8
g
|
Fat:
14
g
|
Saturated Fat:
12
g
|
Cholesterol:
1
mg
|
Sodium:
630
mg
|
Potassium:
1595
mg
|
Fiber:
6
g
|
Sugar:
3
g
|
Vitamin A:
131
IU
|
Vitamin C:
26
mg
|
Calcium:
73
mg
|
Iron:
3
mg