I used to be deathly afraid of fat. Like, seriously terrified of it. Do you remember back in the day, when everything with fat was villainized? And animal fats? They were the worst offenders!
This fear of fats didn't help me out. It meant in college I lived on Surge (oh my goodness…do you remember how awesome that neon green stuff was?), Sprite, Trix, Lucky Charms, and fat-free microwave popcorn.
Literally, a recipe for disaster!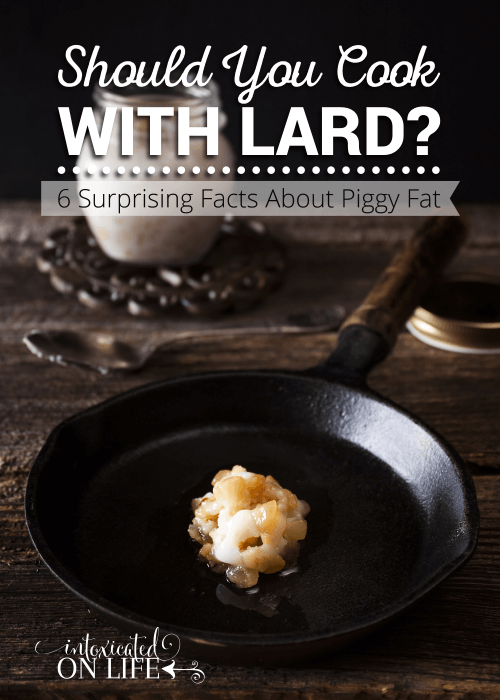 It took years of reading and re-research to unprogram all the bad stuff I learned. And it took even longer to come to terms that fat—even animal fats—could be a heathy, nourishing source of energy for our bodies.
How lard ended up a bad guy…
Lard got a bad reputation because it is high in saturated fats. Do you know how saturated fats got a bad rep? Primarily because of the now debunked cholesterol hypothesis.
The cholesterol hypothesis claimed that saturated fats and dietary cholesterol gunked up your arterial walls which led to heart disease. Research has definitively proven that this is not the case.
In fact, there are a number of large scale studies that show animal fats like lard have a positive impact on health and that individuals who consume them have a lower risk of heart disease compared to those who do not consume them.
One of the longest running and largest health studies ever done, called the Nurses Health Study, followed more than 80,000 nurses for twenty years. What researchers found was consumption of saturated fats had no impact on risk of heart disease, but that the increased consumption of starchy and sugary foods doubled the risk of heart disease!
6 Surprising Facts about Piggy Fat
1. Lard is remarkably similar in it's fatty acid composition to that of human breast milk. God has given mama's the perfect food with the perfect types of fat to nourish her baby. So to, has He given us a source of nourishing fat for our body!
2. Lard may help decrease depression. Lard's primary fatty acid is called oleic acid. Several studies have found liberal consumption of oleic acid to help individuals suffering from major depressive disorder.
3. You'll receive a healthy dose of Vitamin D. Much of the American society is deficient in necessary vitamin D. Vitamin D is essential for good health and wellbeing. Those of us who live in the northern states, have an especially difficult time getting enough vitamin D as we're cooped up inside all year long. Just 1 Tablespoon of lard contains approximately 1,000 IU's of vitamin D!
4. Lard can benefit your hormones. How many people do you know that deal with hypothyroidism, adrenal issues like fibromyalgia, or infertility? These are all problems somehow related with the production of hormones in your body. Interestingly, both cholesterol and vitamin D (which actually is a hormone itself , not a vitamin) play a vital role in the production and regulation of hormones in the body. Lard is a fantastic source of both of these necessary elements.
5. Lard is perfect for high-heat cooking. Because it's naturally partially hydrogenated it can be heated to very high temperatures without it turning to a trans-fat.
6. It tastes yummy! Perhaps the most overlooked benefit of eating lard is that it just tastes great. I was afraid when I first experimented with lard that it would taste like pork. I couldn't imagine why the great pastry chefs of the world preferred lard to crisco or butter. It just didn't seem like using pig fat in your pastries was a very good idea. Imagine how surprised I was to find out that lard has a very mild flavor and not "piggy" at all!

BUT…be careful what lard you use
You knew there was a "but" coming, didn't you?
The lard available in most grocery stores is not what you want. That nasty stuff is synthetically hydrogenated and not made using healthy animals. You have 2 options for getting your hands on high quality lard.
Purchase your lard from a reputable source that renders lard from healthy animals that are allowed to forage. Fatworks and Epic are both great brands that use healthy animals and never hydrogenate their fat.
Or better yet, make the lard yourself from healthy animals. We always request lard when we purchase a pig from a local farmer and we get plenty (usually enough to share!). Rendering lard is super easy and you'll reap the benefits of this nourishing, healthy cooking oil!
Ditch the franken-fats—Crisco, vegetable oil, canola oil, and margarine—and be sure to include lard in your rotation of healthy, natural fats.