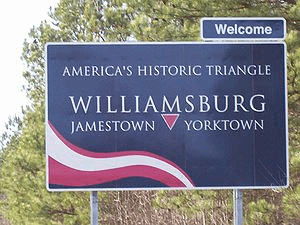 Nearly every Thanksgiving our family from Louisiana invites us to spend the holiday with them at their timeshare. We've been to places in Tennessee like Nashville (pretty fun) and Fairfield Glade (fairly boring), but this year we are headed to Williamsburg, Virginia.
We are very excite about our trip because we see this as an opportunity to not only relax but teach our family something about our national heritage. The cities of Williamsburg, Jamestown, and Yorktown enjoy a rich history as some of our nations earliest settlements in the 17th century.
In particular, we have been preparing our oldest two sons Bradley & Cameron for the trip. Here are some things we've been doing. 
Why America Is Free – Every night we're in the habit of reading out loud to our older boys, and this book was an excellent introduction to the Revolutionary period. Some of the book is a historical fiction story, following a character named Jed from his childhood home in Williamsburg through his young adult life fighting for General Washington's army. This fiction story is woven throughout the book alongside longer historical narratives and biographical sketches.
Blood on the River – Bradley is currently in the middle of reading this book as part of his literature assignment for school. Blood on the River is a historical fiction novel that follows a young boy who is a Page for Captain John Smith on his voyage from Paris to the New World. The book introduces a number of historical figures like Smith, Powhatan, and Pocahontas. Details on what daily life and survival looked like on a settlement in Virginia adds great depth to the book. I think this is a great book to pique Bradley's interest on the history and legacy of Jamestown.
If You Lived In Colonial Times & If You Lived In Williamsburg in Colonial Days – These are two read-aloud's that have been good particularly for Cameron, but Bradley has also enjoyed them (he still loves to be read to). The books are packed with pictures and also good questions that kids might ask about life in colonial times. Questions like: What happened when you got sick or hurt? What did children do for fun? Where was the bathroom? How did people pay for what they bought? And many, many more…
We were really hoping to do more to prepare for our trip to America's Historic Triangle, but we are very excited about our trip this week. Spending Thanksgiving in Williamsburg will be oodles of fun and learn a lot while we're here, too.
We kept a photo blog of our journey, so be sure to check out the posts below to see how our trip went!