Full of comforting flavors, warmth, and packed with nutrition, this Cheesy Bacon Lentil Stew is a delicious meal the whole family will enjoy.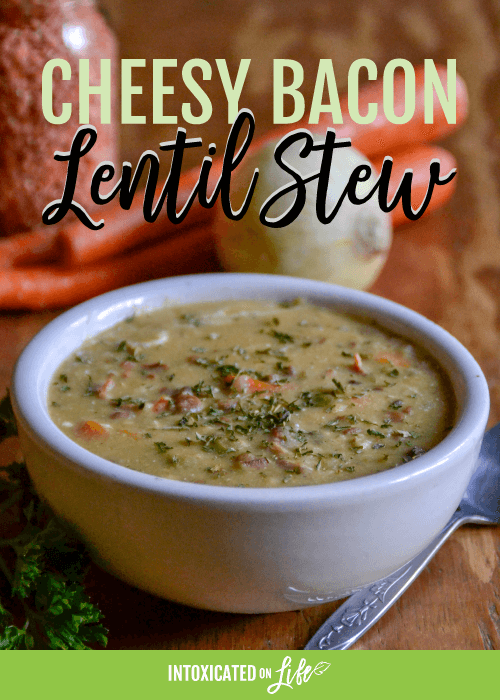 Cheese + bacon = mom win.
There are very few foods that my family doesn't like. Unfortunately, lentils are one of them. I say unfortunately because lentils are not only cheap, they're actually quite good for you.
Thankfully, over the years I've been able to come up with a few lentil containing recipes my family doesn't mind. This Cheesy Bacon Lentil Stew is one of their favorites! How could it not be, with cheese and bacon in it? I'm pretty sure my family would eat anything containing those two ingredients!
Lentil nutrition.
Lentils are a wonderfully nutritious food. They're high in protein, folate, potassium, calcium, manganese, iron and phosphorus. This makes them especially helpful for people struggling with iron or magnesium deficiencies. They're also high in alkaline, which helps balance your body's pH levels and keeps your gut healthy.
And, if you have issues with um… going to the bathroom, lentils can help there, too! Their high level of insoluble fiber absorbs the water and unnecessary baggage in the digestive tract and carries out the waste on its way to the loo.
An affordable protein.
Besides these great health benefits lentils offer, they also have one other benefit most moms love. They're pretty much dirt cheap. Like most legumes, you can find them in almost any grocery store for barely anything. And they're quite filling, so you don't need to eat tons of them to feel satisfied!
Lentils come in many colors, red, green, brown, black, yellow, etc. For this Cheesy Bacon Lentil Stew I like to use a mix of red and brown. It gives the stew a little deeper flavor, and my kids enjoy the red lentils more than the brown ones, too.
While lentils have been widely used in the Middle East, India, and Africa for centuries, they're not super popular in the western world. At least, not in my experience. If you're not one of those rare westerners who regularly includes lentils in their diet, you should be!
Comforting soups and stews.
If you also struggle getting lentils into your family's diet, I encourage you not to give up! Give this Cheesy Bacon Lentil Stew a try and see if it wins your family over. It's super easy to throw together, smells amazing, and is a perfect warming meal for the colder months.
Cheesy Lentil & Bacon Stew
Yield 6 bowlfuls
Full of comforting flavors, warmth, and packed with nutrition!
Ingredients
1/2 yellow onion, diced
2 T. minced garlic
4 c. sprouted lentils
2 t. cumin
1 t. oregano
4 large carrots, diced
3-4 quarts water and/or broth, or enough to fully cook the lentils
2 c. frozen peas
1/4 t. pepper
2 1/2 t. salt
1/2 c. sour cream
1/2 c. shredded cheddar cheese
4-6 pieces crispy bacon, crumbled
Instructions
In large pot, caramelize onions in fat/oil.
Add in garlic and sauté.
Sprinkle mixture with oregano and cumin and sauté until fragrant (just about a minute).
Add in lentils and carrots and stir to coat with onion mixture.
Pour in stock/water and bring to a boil.
Meanwhile, fry bacon.
When lentils and carrots are fork-tender, turn off the heat and stir in the remaining ingredients.
If you're on the lookout for more delicious, comforting soups and stews to fill your family's bellies, we've got you covered. Whether your family loves veggies, cheese, or meaty soups, there are plenty of delicious ones to try.
Broccoli Cheese Soup with Bacon, easy Instant Pot Potato Soup, Chicken & Sweet Potato Chipotle Chili, and this creamy Roasted Red Pepper, Sausage & Cauliflower Soup are a few that you should stick on the top of your meal planning list.