What is it about pregnancy? No really…puking, swelling, aches, pains…and on top of all that your taste buds change? Who decided that was a good idea?
I have a confession to make, I haven't tried this blackened broccoli and shrimp recipe. I haven't taken one bite of this recipe. Not even one teeny taste test. But I had plenty of helpers (a.k.a. my family) taste-test this recipe.
You may have guessed, but I haven't tried this recipe because I can't stand shrimp. It wasn't always like that. I liked shrimp until I was pregnant with my firstborn son. Ever since then, no shrimp and no coffee for me.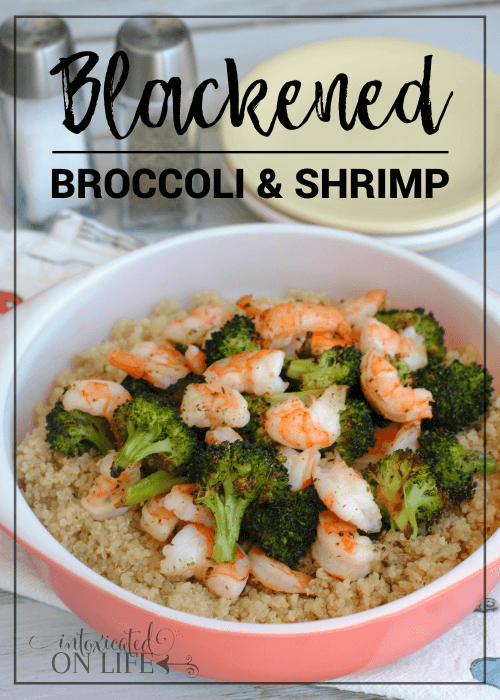 Easy, Healthy Kid-Approve Meal
It was that same firstborn son who inspired me to create this shrimp recipe. That crazy, adventurous, smart, amazing boy absolutely adores shrimp. Of course, that would happen! Broccoli and shrimp are two of his favorite foods. I wanted to make something special I knew he'd enjoy!
There's an added benefit to this recipe. It's fast and easy.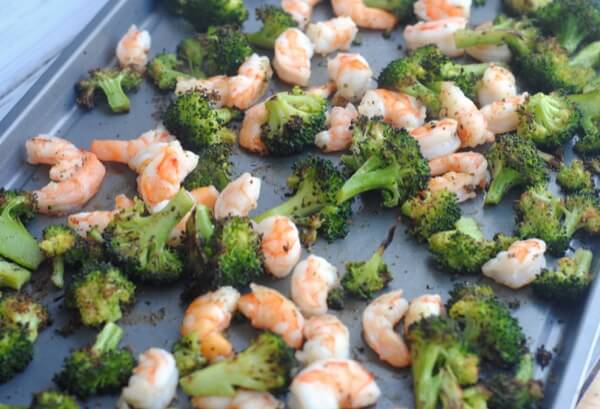 If you have those busy evenings like we do, you're going to love this recipe. My entire family (sans myself) enjoys it. I love the ease of the meal. I can have it prepped, cooked, and on the table in 30 minutes flat. Not bad, eh?
It's perfect for those evenings I'm rushing to get dinner on the table before we run out the door for Awana and youth group or a quick meal to throw together after a basketball game.
There are plenty of you busy mamas out there who will appreciate a fast, healthy, tasty meal!
Blackened Broccoli and Shrimp
Yield 4 servings
Ingredients
2 lb fresh broccoli, cut into small pieces
1 lb medium or large shrimp, peeled and deveined
1 tbs. coconut oil, melted
1 tsp. onion powder
1 tsp. garlic powder
1 tsp dried parsley
1/2 tsp. blackening seasoning (or make your own)
salt & pepper to taste
1 C. uncooked quinoa, rinsed
Instructions
Preheat the oven to 425 degrees.
Bring 2 cups of water to a boil, add in the uncooked quinoa and reduce heat to low/medium. Cover and let simmer 10-15 minutes, until cooked through.
Measure out 1 tablespoon of melted coconut oil and seasonings into a large freezer bag.
Add in the cut up broccoli, seal and shake until the broccoli is seasoned.
Pour out onto a baking sheet and spread evenly.
Bake for 10 minutes.
After 10 minutes, add the peeled and deveined shrimp to the same baking sheet with the broccoli, add salt and pepper if desired. Put the baking sheet back into the oven and cook another 8-10 minutes until the shrimp is cooked through and pink.
Combine with the quinoa or serve the quinoa on the side.
This recipe makes about 3-4 servings (depending on how big of eaters you have). For my husband and 4 boys, I always double my recipe. I rarely have much for leftovers, but they're very big eaters!
Low-Carb Alternative
While the broccoli and shrimp is naturally low-carb, the quinoa isn't. It's a nice grain-free alternative to rice that would typically be served with a dish like this, but not so great for those watching their carb intake.
If you're trying to keep an eye on your carbs, skip the quinoa and serve this with riced cauliflower instead! You'll get an extra dose of a very low carbohydrate vegetable.