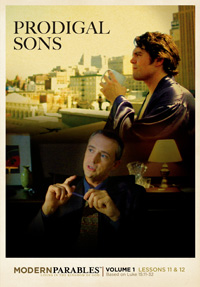 Sadly, a couple weeks ago I finished teaching my Sunday School class on Modern Parables (published by Compass Classroom). It has been an excellent series, and I can't recommend it highly enough. Prodigal Sons is part of the Modern Parables series, and is, in my opinion, the best of the whole collection.
Why is it called "Prodigal Sons" (emphasis on the plural)? Jesus' original parable, popularly called "The Prodigal Son," is probably inappropriately named (by commentators). The original story told by Jesus is actually about two lost sons, not just one.
Prodigal Sons is the story of two adult sons of a wealthy business owner. The younger son demands his inheritance so he can leave the business, leave home, create his own start-up company, and live the high life. Ready to be rid of his younger brother, the older son steps aside and does nothing to intervene. For years, the younger son spends his millions, and when the Dow crashes, he loses everything. After a dead-end job, he returns home to his father, who not only wholeheartedly embraces his son, but gives him position as a board member again. The older son is indignant. The movie ends at the younger son's welcome-back party with the father's heated conversation with his oldest son, inviting him to celebrate. 
What I Liked:
The story is told from the perspective of the older son. The older son is often overlooked in the parable, but by making him one of the primary narrators, this highlights his central role in the story.
The movie brings out the truth of divine initiative in repentance. This theme comes out in several ways. When the younger son decides to come home, the viewer can tell he is not remorseful for his actions but firmly believes he can go home and at least be shown some mercy, despite losing millions of dollars. When he gets home, it isn't until his father's tearful embrace that he shows contrition. These elements demonstrate the theological truth that repentance is always preceded by divine kindness. We cannot inspire ourselves to repent; it must be granted by God.
The whole film was well-scripted, well-acted, and creatively directed. The whole movie is shot in an Orson-Wellesian-way. The use of moving single camera shots and low camera angles added a sense of weight and energy to the film. The acting was not only believable but extremely enjoyable.
What I Added:
Nothing. The study material for this course brought out all the angles about this parable I desired to cover. With all the commentaries I've read, I found the Leader's Guide to be very theologically robust and rich.
Buy the DVD:
You can purchase the DVD at the Compass Classroom store.
Watch the entire movie:
More Modern Parables Films: