"Mama, Chloe is gonna LOVE this dress!" my four-year-old daughter gushed in front of the mirror one Sunday morning. With her eyes shining brightly and her dimpled grin broad, she was clearly delighted by the thought of her friend's certain approval.
And that's how I knew we had a lot of work to do when it comes to modesty.
Not because of the dress's hem length or sleeve style or neckline.
And not because of its cost or extravagance.
You see, it wasn't my daughter's dress that was immodest.
It was her heart.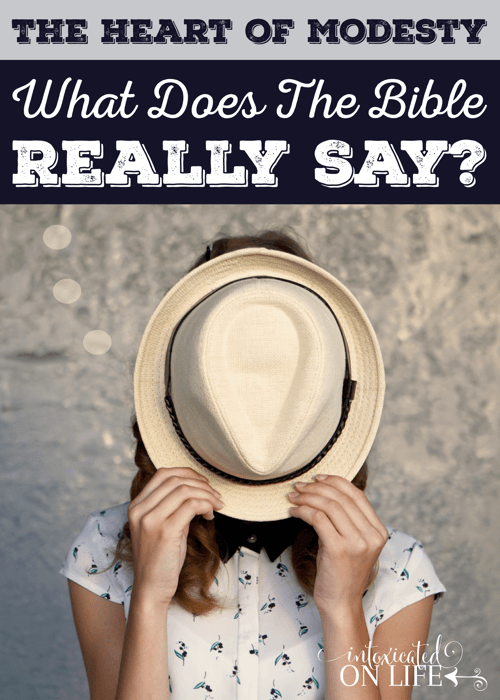 Her heart that wanted her friend to pay attention to her. To notice her. To admire her.
And that is precisely the attitude at the core of immodesty.
What Does The Bible Say?
The most referenced biblical description of modesty can be found in 1 Timothy 2:9-10:
[L]ikewise also that women should adorn themselves in respectable apparel, with modesty and self-control, not with braided hair and gold or pearls or costly attire, but with what is proper for women who profess godliness—with good works.
So the Bible is only telling us to avoid extravagance, right?
Gold, pearls, and costly attire certainly seem to speak to an extravagant way of clothing ourselves. But if that's all there is to it, why include "braided hair" in the mix?
Modesty is much broader than how much our clothing costs or how much skin it reveals.
Based on this passage and the totality of the Bible's teachings, a good working definition of modesty is not attracting attention where attention doesn't belong.
So what does that look like? What should we be teaching our kids about modesty?
Principles to Teach Your Kids
Modesty is a mandate. While other valid reasons for modesty exist, the primary one is simply that God says we should be modest, and so we should be.
Glory belongs to God. It's undoubtedly one of the fundamental truths of Christianity, and yet it's still one our human hearts want to resist. From cover to cover, Scripture proclaims "glory to God!" And this should have an impact on the way we think and speak and dress and behave.
Modesty starts in the heart. A popular attitude is, "If you've got it, flaunt it." But my question is: why? So others can look at me and be impressed with my figure or my bank account or my talents? First Corinthians 4:7 reminds us that all things come from God, and so a Christ-follower's mantra should be: "If I've got it and it's good, God gave it to me and I really had nothing to do with it."
Modesty is fleshed out through lifestyle. Sometimes people try to avoid accountability for their clothing or other aspects of their lifestyle by pointing out that modesty is a heart issue, implying that modesty has nothing to do with external appearances.
But the Bible is clear that what's in our hearts comes out in our way of life (Proverbs 27:19, Mark 7:21-23). Modesty starts in the heart, but it doesn't end there.
Personal convictions come from biblical principles and relationship with God. The Bible doesn't offer many specifics when it comes to modesty; but that doesn't mean God doesn't care about the specifics. It means He wants us to practice biblical discernment in the context of relationship with Him.
Here are some biblical principles you can prayerfully consider when it comes to modesty, and then teach your children to do the same:
Am I more concerned with what's acceptable to the world than I am about what's acceptable to God? (James 4:4)
Does this reflect humility or pride? (James 4:6, Jeremiah 9:23-24)
Does this more closely resemble love for the world or love for God? (1 John 2:15-17)
Could this be a stumbling block to others? (1 John 2:10, Matthew 5:28)
Does this show that I'm set apart for holiness? (I Thessalonians 5:23, 2 Timothy 2:21)
Am I interfering with the efforts of others to set their mind on things above? (Colossians 3:2)
Does this encourage others to pay attention my external attributes or my inner beauty? (1 Peter 3:3-4)
Does this reflect blamelessness? Is it above reproach? (Colossians 1:22)
Personal convictions shouldn't be a measure by which we condemn others. This can be tough, because kids tend to see issues as black-and-white, with no gray in between. It has been helpful for me to say things like, "This is what the Bible teaches, and this is how God has led our family to apply it. Other families are accountable to God for their choices, just like we are."
By God's grace and with the help of His Word and His Spirit, it's possible to raise our children with a heart for modesty, even in the midst of our immodest world.
It's your turn! How do you teach your kids about modesty?