Loaded with low-carb veggies and packed with omega-3s, you're off to healthy beginnings with these savory salmon frittatas. If you're not a salmon lover, hang tight and read on.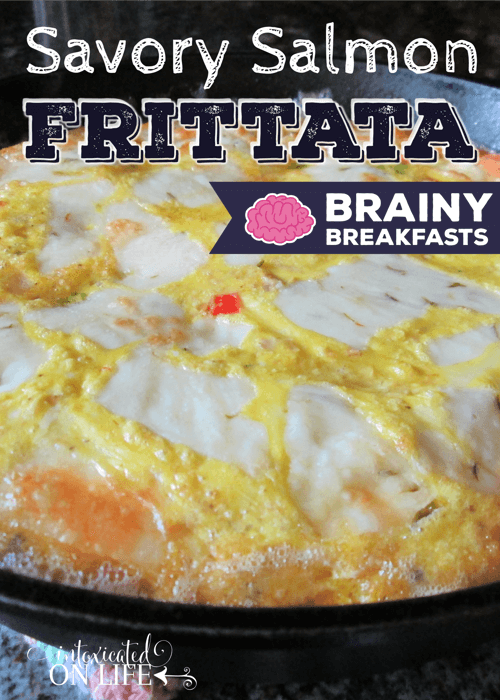 Salmon for breakfast is not normally my first option for most meals, but it's not at all fishy. This recipe is delightfully savory. To keep it from  being "fishy" be sure you don't buy a low quality brand of salmon. Make sure you buy quality ingredients.  My son, who hates salmon, didn't even know he was eating it!
This is a family-friendly and brain-friendly dish:
With omega-3 eggs and salmon in your first meal of the day, you will be aiding your body in healthy brain development and giving it the protein it needs to keep you strong.
Broccoli will be giving your family calcium, folate, vitamin C, selenium vitamins A and E, and great fiber.
Red peppers help you digest food better and can have anti-inflammatory properties.
Onions are a powerhouse! They provide fiber, vitamin C, vitamin B6, calcium, folate, potassium and a little iron and zinc. They also contain chromium.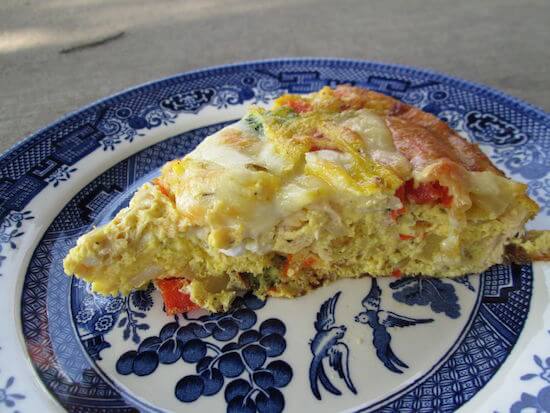 What a great start to your morning. All of these add up to a super nutritious powerhouse breakfast, and it's easy to make with a short cooking time.
Savory Salmon Frittata
Yield 6
Ingredients
1 cup diced red bell peppers
1 cup broccoli florets cut small
1 small onion diced (up to 1 cup)
2 tbs butter
2 tbs olive oil
6 omega-3 eggs
1/3 cup sour cream or creme fraiche
1/4-1/3 cup shredded sharp cheddar cheese
5-7 oz canned salmon
salt and pepper to taste
Instructions
In a cast iron skillet on med-high heat melt 1 tbs. butter and 1 tbs. olive oil.
Saute diced veggies in butter and oil until broccoli is bright green. Remove when finished.
In a separate bowl, beat eggs and cream. Flake salmon into egg mixture and mix well.
Add veggies to egg mixture, stirring well.
Season with a little salt and pepper, about 1/4 tsp each or a little more.
Add 1 tbs. butter and 1 tbs. olive oil to skillet melt, then add egg mixture.
Cook on medium-heat for about 5 minutes or until light brown on the bottom.
Sprinkle cheese evenly over the top and place under the broiler till bubble and brown.
Nutrition Facts
Serving Size 1 slice
Amount Per Serving
% Daily Value
* Percent Daily Values are based on a 2,000 calorie diet. Your daily values may be higher or lower depending on your calorie needs.
Enjoy this simple yet elegant Brainy Breakfast Food dish any time of day.  It is wonderful as a simple snack. Add a salad for lunch or dinner. And better yet, it fits Trim Healthy Mama guidelines too!
Need some more tasty, kid-friendly breakfast ideas?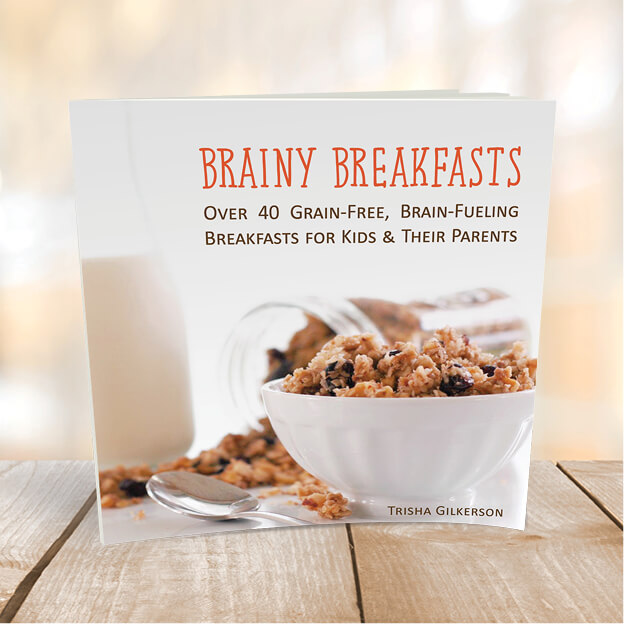 Check out our cookbook Brainy Breakfasts – it's filled with over 40 grain-free, brain-fueling breakfast recipes to keep things new and exciting! It's available as a downloadable or softcover book. You won't run out of healthy, tasty breakfast recipes anytime soon with this cookbook ?