So many people are cutting wheat out of their diet, and for good reason! But, we feel strongly that it's important to not just cut wheat out and fill in with all of the gluten-free junk food, but to replace it with nutrient-dense real foods.
It's hard when you first get started. It's hard to know what to eat. What do you feed your kids? What do you snack on?
Here are 10 digital books and an online conference to get you started!
Are you looking for more tips for going gluten free? I've gathered them all together in this Everything Gluten Free page.
Why Go Wheat-Free?
Have you ever wondered what all the fuss over wheat is about? Why would a food that has been eaten for thousands of years be bad for you? Or speaking from a Christian perspective, how can you reconcile a wheat-free lifestyle as you read a bread-filled Bible?
That's what our new book, Weeding Out Wheat, is all about.
Buy it in our store (PDF) for $9.95. You can also buy it on Amazon (Kindle) and paperback.
Amazing Resources to for Going Gluten-Free
Included in the Bundle are 10 great gluten-free resources.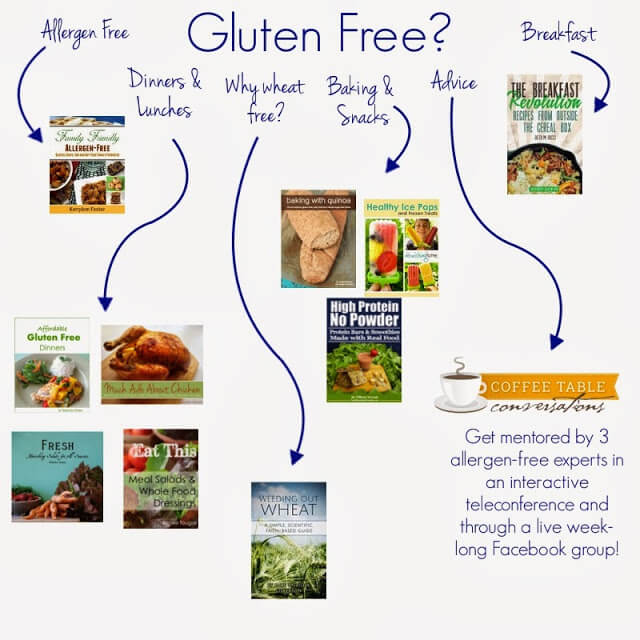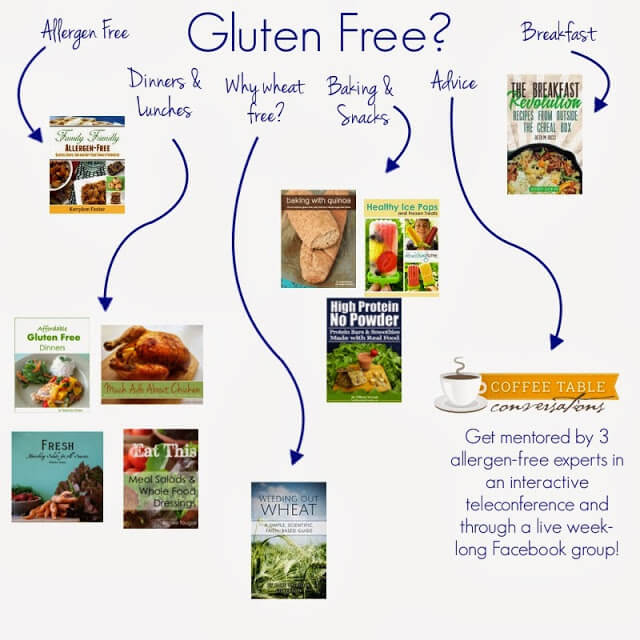 Completely Gluten Free Books:
12 Coffee Table Conversations: An Online Interactive Healthy Living Conference

Included in the Bundle is also a 12-week online conference where you get to interact with some of the authors of these books.
One of these sessions will all be sharing on allergen free cooking. Not only will you have the chance to listen to the conference talk, but you'll have the chance to interact with them and ask them all of your questions in a dedicated facebook group. You'll hear from three of the authors. This conference is a $67 value, but you'll get FREE access with your purchase of the Bundle!
Kerry Ann Foster
Beth Ricci

Alyssa Rimmer

Soooo… here's the deal. You get all of these books (plus lots more), the conference thrown in for free, AND some way cool bonus offers (like $25.98 worth of laundry soap, and free kombucha starter, and more!) What are you waiting for? This is a total no brainer! You can see all of the details here, or just go buy now!
Looking to bless some friends? You can buy 2 bundles and get the 3rd for free. You can't beat that deal! (this option is available on the checkout page)