Kick your summer s'mores or homemade hot cocoa up a notch with these Healthy Dark Chocolate Marshmallows!
Looking for gluten-free recipes and resources? This Everything Gluten Free page is a library of everything gluten free we've worked on.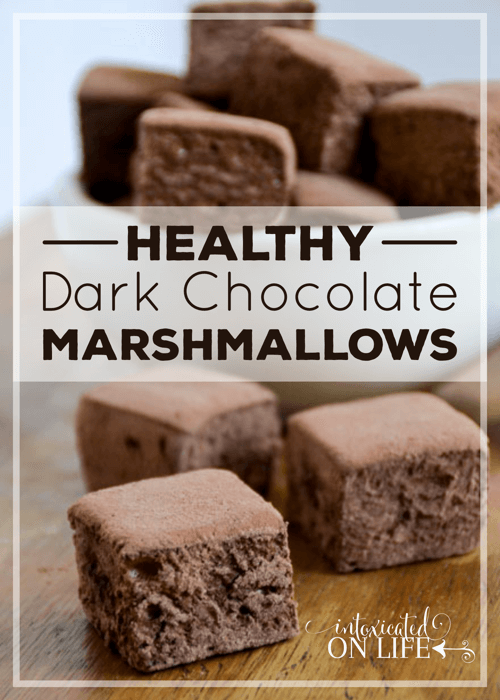 All the chocolate things.
It's no secret. I have a love for chocolate anything. Breakfast, lunch, dinner, snacks, dessert… You might say I have an addiction, but I'm pretty sure my body needs it for health reasons that I don't quite understand. Haha! And in my defense, I do try to make my chocolate things as healthy as possible.
But when I set out to make a batch of marshmallows with my kiddos recently, I fought hard to make them just plain ol' marshmallows. You can't have everything be chocolate, right?
I lost. 
Chocolate won. And these healthy dark chocolate marshmallows were the result.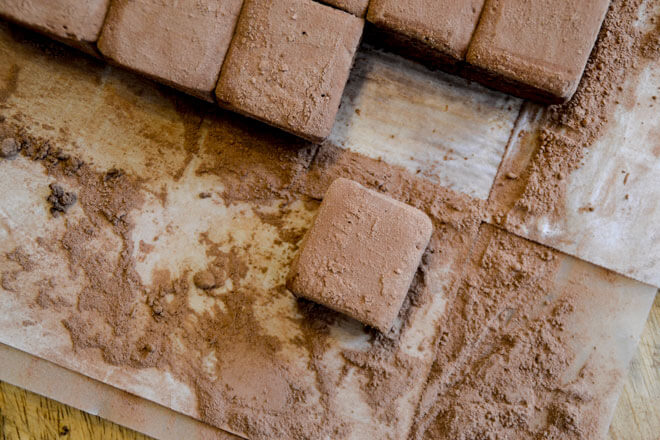 I've made plain marshmallows with my kids before, and a cinnamon sugar variety, and they're all tasty enough, but how could I say no to the chocolate dream dancing around in my brain?
To be honest (and probably un-American) I've never been a marshmallow fan. I can blame it on my real food mom raising me right, but I've always thought they lacked any flavor other than processed sugar. If that counts as a flavor. Not to mention they're full of strange and unnecessary ingredients:
Corn syrup, sugar, dextrose, modified cornstarch, water, gelatin, tetrasodium pyrophosphate, artificial flavor, Blue 1 food coloring. In case you were wondering.
Why ruin your s'mores or delicious hot cocoa with those nasty ingredients?
Homemade is always better.
I fell in love with homemade marshmallows the very first time my friend convinced me to make them with her for Christmas a few years ago. They tasted like…something! I wasn't sure exactly what it was, but it was delicious.
My first homemade marshmallow version was made with regular sugar – 'cause I wasn't so healthy back then – but I've since graduated to making them with honey. I do believe that the honey adds a wonderful depth to the marshmallows that you don't get when you use plain sugar.
And adding cocoa powder? Total win.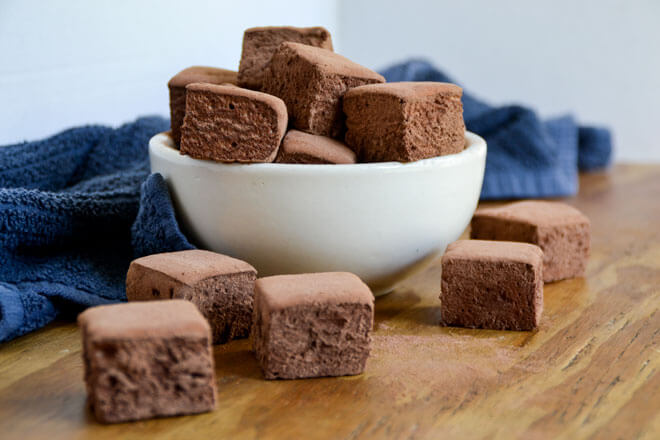 After his first bite, my husband announced gleefully: "They taste like little squares of hot chocolate! What are you going to call them?"
My (apparently uninspired) answer: "Uh… dark chocolate marshmallows."
His response (with veiled disapproval at my lack of creativity in naming marshmallows): "Hm. It's too bad Cocoa Puffs is already taken."
Yeah… too bad.
I'm thinking Healthy Dark Chocolate Marshmallows is better anyway. More enticing for chocoholics, and probably moms, too. 😉
And seriously, these little puffs are full of real food goodness! Filtered water, local honey, grass-fed gelatin, organic cocoa powder… They're the perfect treat!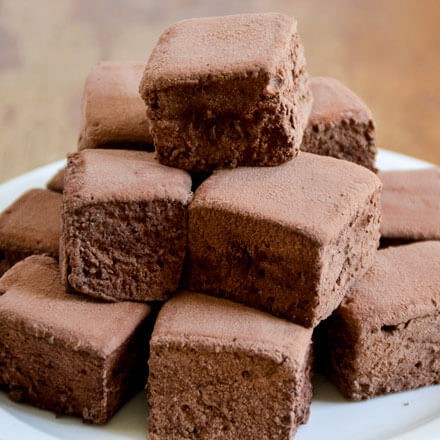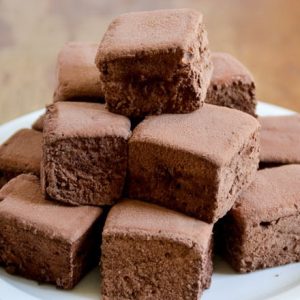 Print
Real Food Dark Chocolate Marshmallows
Delicious on their own, in hot cocoa, or sandwiched between graham crackers, these dark chocolate marshmallows (made with real food ingredients!) are a treat you can feel good about serving your family.
Servings:
25
-30 marshamallows
Equipment
Mixer

candy thermometer

Parchment Paper
Ingredients
1

cup

filtered water

1

cup

local honey 

3

tablespoons

grass-fed gelatin

3/4

cup

organic cocoa powder

1

tablespoon

chocolate extract

optional

1/2

teaspoon

vanilla extract

1/4

teaspoon

real salt

2

tablespoons

arrowroot powder

optional
Instructions
In large bowl (a stand mixer works best) sprinkle gelatin over 1/2 cup of the water. Let bloom. 

In medium-sized saucepan, combine remaining water with honey. Heat over medium until boiling. Boil honey, stirring regularly, until it reaches 240°, or soft ball stage. It takes about 10 minutes.

Let honey mixture cool for a minute, then sift in 1/2 cup of cocoa powder, extracts, and salt. Mix until cocoa powder is melted in.

With mixer on low, slowly drizzle in honey/cocoa mixture. Once the honey is added, turn mixer as high as you can (I used speed 8 on my KitchenAid) and beat until color becomes pale and glossy and the marshmallow fluff can stand up in peaks. This should take about 15 minutes.

While the marshmallow is fluffing, grease a 9x9 inch baking dish and line it with parchment paper. Then combine the remaining cocoa with the arrowroot (or just use the remaining cocoa) and dust the parchment with a few teaspoons.

When the fluff is done, pour into the prepared pan, spreading as even as possible with a wet spatula.

Let set on the counter for about 8 hours (I usually do overnight).

Dust the top of the marshmallows with the leftover cocoa powder, and remove from the pan by pulling up on the parchment. Using a sharp knife, slice the marshmallows into squares. Alternately, you can use cookie cutters, if you want. Dust the knife with the cocoa in between slices, so the knife doesn't get too sticky and tear the marshmallows.

Store in the fridge in a covered container.
Notes
Makes about 25-30 marshmallows, depending on how big you slice them. Option: for mini marshmallows, prepare a 9x13 inch pan and spread the fluff thinner. 
Nutrition
Calories:
52
kcal
|
Carbohydrates:
13
g
|
Protein:
1
g
|
Fat:
1
g
|
Saturated Fat:
1
g
|
Sodium:
27
mg
|
Potassium:
46
mg
|
Fiber:
1
g
|
Sugar:
11
g
|
Vitamin C:
1
mg
|
Calcium:
5
mg
|
Iron:
1
mg
---
More Healthy Dessert Recipes:
Don't forget to make these homemade graham crackers to go with these healthy dark chocolate marshmallows and make the BEST s'mores around!
More delicious chocolate desserts:
---