This Slow Cooker Taco Soup recipe is the perfect comfort food recipe for dinner when you are too busy to fuss. You can alter the spiciness of the soup to suit your family's needs and you can have creative fun with the toppings, or use this soup as the perfect opportunity to use up leftovers!
We have had an amazing Fall this year. I am so thankful to have had extra time enjoying some sunshine and playing outside with the boys before winter sets in. In fact, as I write this the weather forecast is calling for snow this weekend.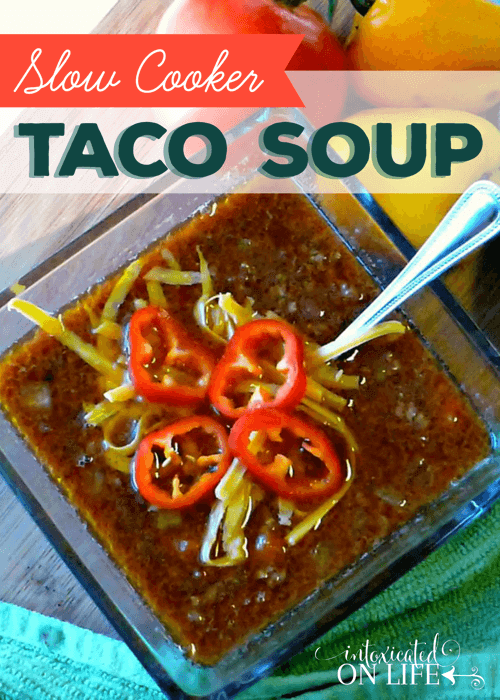 One of my staple foods in the Fall and Winter is a big pot of soup. Soup is perfect for warming and filling the belly of my never full kids. Soup is a great way to pack in nutrients while stretching out food to help with the budget.
My soups always start with a base of bone broth. Bone broth is a great, great way to get minerals and vitamins into your kids. We don't go a day with out it. It's easy to make and freeze so you can always have a supply on hand. This also makes up for the days I'm a bit short on meat because I know it is providing fuel for the kid's bodies.
I also load up soups with vegetables. Cooked vegetables are often easier for kids to eat, especially if they deal with sensory/texture issues. Both of my kids will tell you they don't like cooked peppers, however, friends, there are a lot of cooked peppers in this soup and they ate it right up with out noticing. For real.
While I often make this taco soup in the slow cooker on days when we have errands to run and I want to come home to a warm meal, it works just as well on the stove.
Slow cookers are seriously amazing tools. I don't know how moms make it without them. It really helps when I know I don't have time to devote to a big meal yet need to make a nutritious dinner .
Crockpot Taco Soup
Ingredients
4

cups

of bone broth/stock

4

cups

of chopped tomatoes

Canned or fresh work

2

diced bell peppers

1

diced onion

3

cloves

of diced garlic

4

tbsp.

taco seasonings*

1

pound

of ground beef or turkey

salt and pepper to taste
Instructions
Place all ingredients, except meat in the crock pot and turn on low

Let cook for about 6-8 hours, adding your meat in the last hour

Check to see if it needs more salt (often depends on your taco blend)

Serve with sour cream, cheddar cheese or any other taco topppings

*I use an all natural, organic blend but if you don't have one add cumin, salt, chli powder, garlic powder and onion powder to equal 4 tbsp.
If you are on the Trim Healthy Mama plan, this is slow cooker taco soup is great because if you used ground turkey this is a fuel pull. If you want to change fuels, add ground beef for an S meal and serve with sour cream, guacamole an cheese. If you want to make it an E, add some beans and use the ground turkey.
So, keep warm, my friends and enjoy this nourishing, fun taco soup for the family on those cold days.
What are some of your favorite cold weather, go-to meals? 
More Healthy Soup Recipes: