The sweet leaves of the stevia plant (Stevia Rebaudiana Bertoni) have been used as a sweetener in cultures in South America for centuries, but it has not been until recently that Stevia has been marketed in the US for that purpose. Stevia is calorie-free, carbohydrate-free, and truly a natural sugar alternative.
So, what's the catch?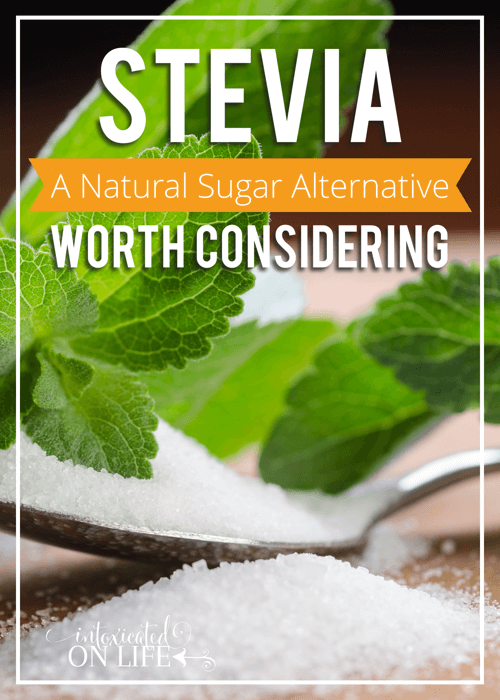 There is no catch.
Research on Stevia
Widely use in Japan for over 40 years, stevia makes up 40% of the sweetener market. In fact, Japan is the largest consumer of stevia. It was not until December of 2008 that the FDA granted approval for a compound in stevia (rebaudioside A) to be used as a sweetener.
The sweet taste in the leaves of the stevia plant come from compounds called steviol glycosides. There are several steviol glycsides found in stevia. Commercial stevia is made up the compound called  rebaudioside A. It is 350-450 times as sweet as sugar, and is the least bitter of all of the steviol glyvosides. It is the steviol glycoside, rebaudioside A, that you are consuming when you purchase commercial stevia. 
There have been many studies done that have repeatedly demonstrated the safety of using stevia, and not only just demonstrated its safety, but have also shown that there could be great health benefits from regularly ingesting this innocuous herb.
The most significant benefit that stevia may have is in its impact on insulin. Several researchers have claimed to see increased insulin production, and insulin sensitivity in subjects regularly using stevia. This is noteworthy because stevia could possibly help reverse effects of a disease that plagues not only adults, but children in our culture: diabetes. Interestingly enough, stevia has been used for years as a treatment for diabetes in traditional medicine. (There are a number of journal articles that address this: here, here, here, and here).
There have been few studies done that purport that negative side effects may occur from regular use of stevia, but for every 1 study there are many many more studies to refute the naysayers. Stevia has withstood the test of time and been shown time and again to be safe for long term use and lacking in side effects.
Nutrition & Impact on Blood Sugar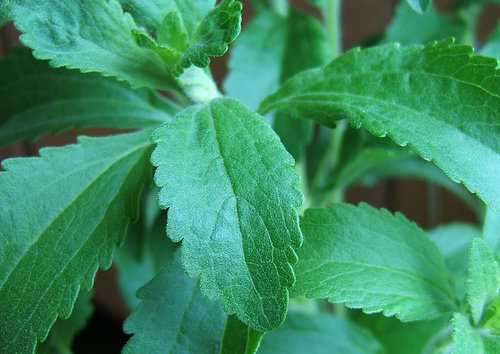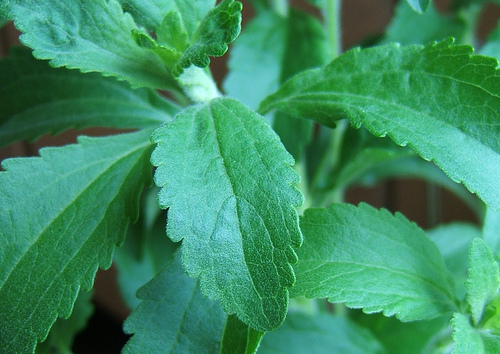 Stevia is a 0-calorie, 0-carbohydrate sweetener. Stevia is a 0 on the glycemic index. The actual stevia plant does contain some nutrients, but due to the very small amount that is used one would not benefit in any significant way from these nutrients. Diabetics and anyone who is trying to watch their blood sugar levels (that should be…everyone) will be pleased to know that stevia will not only maintain stable blood sugar levels, but some studies have demonstrated that stevia may actually lower blood sugar levels.
Stevia is found commercially under several brand names. Again, if you are purchasing stevia at your local grocery store, you will be purchasing a compound extracted from the stevia leaf called rebaudioside A. Along with this extract most manufacturers add other ingredients to their stevia. These other ingredients, may or may not have other side effects and may or may not have an impact on blood glucose levels. Most commercial stevia is combined with other ingredients to add bulk and make measuring and using the sweetener easier for the consumer.
Below is a list of some of the common brands of stevia and the other ingredients they contain that you may find at your store:
The stevia I use most often in my kitchen is the NuNaturals pure extract. It has a good taste, but is very potent. In many recipes I use just 1/8 of a teaspoon to acquire the sweetness I am looking for. Truvia is also another very good option, but you could easily make a blend just like Truvia and save yourself a lot of money by using NuNaturals pure stevia extract and erythritol.
Another option that some individuals use is to grow a stevia plant and use the whole dried leaves to make a stevia powder, or by making a syrup using those leaves. I've never personally tried it, but it sounds like a great option!
Substituting Stevia for Sugar in Recipes
Stevia can be a fantastic substitute for sugar in many recipes because it's natural, safe, and unlike some sweeteners you don't need to worry about it breaking down under heat while baking because it's very heat stable. One thing stevia will not do is caramelize. Be aware that it won't brown your food the same way that sugar does.
Pure stevia extract is very concentrated. Approximately 1 teaspoon is as sweet as 1 cup of sugar (though this certainly varies between brands of stevia). I typically avoid using only stevia extract when baking or sweetening something that is larger than a cup of tea because it often lends a slightly bitter taste when used alone and does not have enough bulk to replace sugar.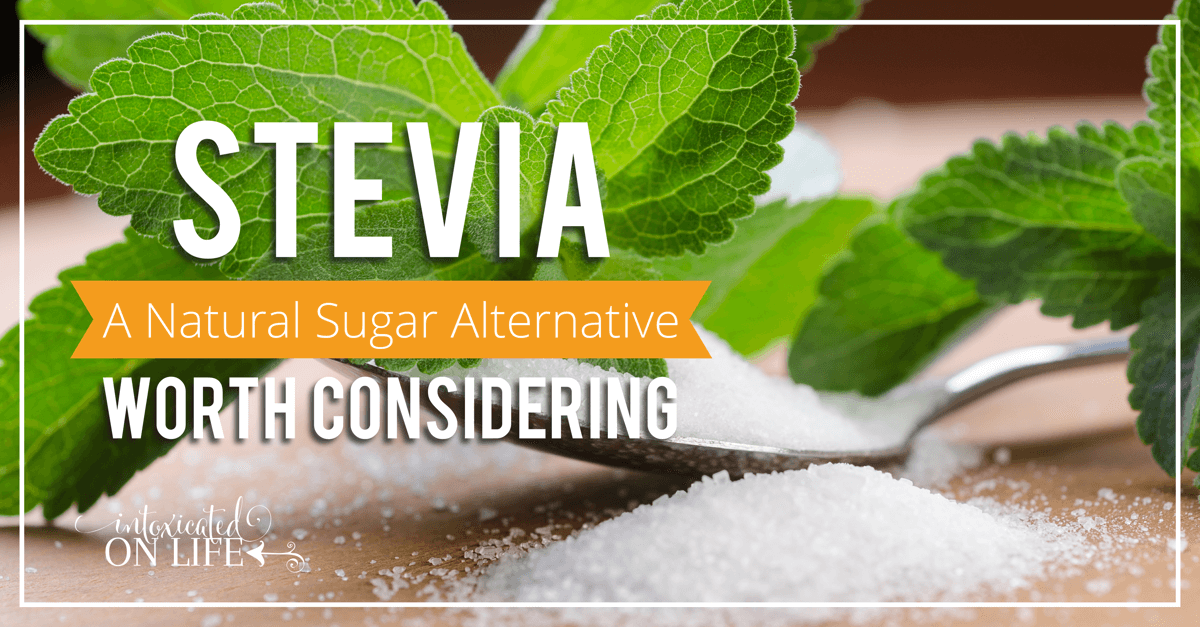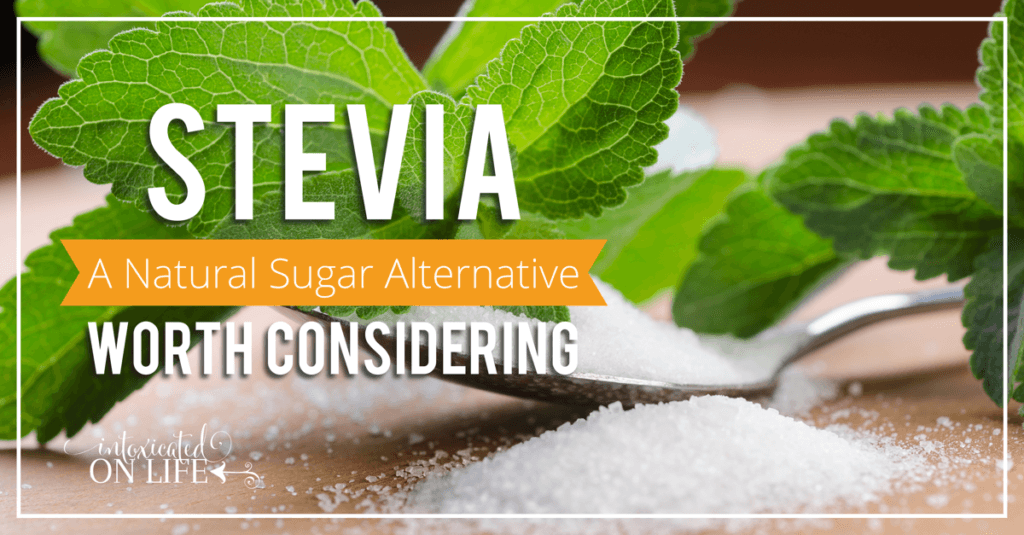 Honestly, when baking with stevia I often use the (not scientific) "taste and see" method. I usually start by adding a small amount of stevia to my recipe followed by a sugar alcohol (xylitol or erythritol). I continue adding until the unbaked recipe tastes a bit sweeter than I would like the final version to taste (when you bake a recipe it tends to lose some sweetness). You can check out a few of my recipes to see how I used the combinations of sweetners to acquire the taste I was looking for:
If you are using a stevia blend that includes sugar alcohols (like Truvia), you can use stevia cup for cup like sugar. 1/2 teaspoon of pure stevia extract and 1 cup of erythritol will make a mixture that will taste generally equivalent to 1 cup of Truvia (and 1 cup of sugar), but you'll save yourself a bunch of bucks by making it yourself with the raw ingredients!
How I Use Stevia
Stevia has become a regular staple in my house. At times I use it on its own, but often in conjunction with other sweeteners, particularly when baking. I love that I can make treats for my kids (and myself) that don't raise our blood glucose levels, cause tooth decay, or cause the plethora of health problems associated with sugar and artificial sweeteners.
. . . .
Other Posts in This Series