The only time I buy pot roasts is when there is a buy-one-get-one-free sale. Recently I had two such roasts in my refrigerator that needed to be cooked immediately. To shake things up I decided to create this super easy Mexican shredded beef with one of the roasts. It turned out simply delicious!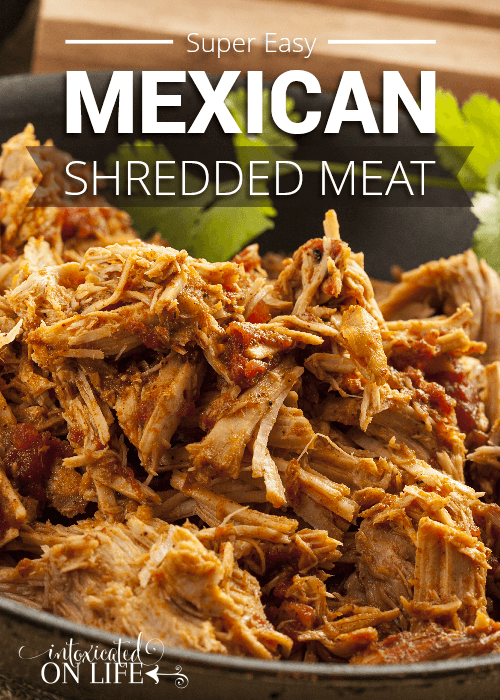 I'm a little obsessed with Mexican food—to say I love it would be putting it mildly. We have several Hispanic families who attend our church, and let me tell you, since they started attending our potlucks have become simply amazing. There's nothing like the flavors of authentic Mexican food. Can I get an "amen"?
This recipe would be what I consider "cheater-Americanized" Mexican food, but it still tastes fabulous. The key to nailing the recipe, though, is in the "secret ingredient."
And that secret ingredient is: Salsa.
Choosing the Perfect Salsa for Mexican Shredded Beef
Be wary of strange additives, unneeded sugar (corn syrup especially), and excessive sodium in store bought salsas. Good salsa doesn't require a lot of extra "junk" in it.
Spend some time reading labels first and buy the salsa that fits your preferences, budget, and health goals of your family. Our local grocery store carries some fabulous brands of organic salsa that would work very well with this recipe.

Using prepared salsa makes the recipe easier, but if you want an absolute guarantee you're eating a "whole food" salsa you can of course make it from scratch using this easy recipe.
The most important thing is to make sure you like the salsa before using it in any recipe. Yes, this one seems like a no-brainer, but never take for granted that you like a particular salsa if you've never tried it. The last thing you want to do is ruin 2 pounds of meat with salsa you don't care for (been there, done that!).
If you're looking for a good source of grass-fed meat,
Butcher box
has high-quality meat that they will deliver right to your door.
If you use this link to Butcher Box, you can get FREE meat in your first box!!
How to Make Easy Mexican Shredded Meat
You can make this recipe with a pork roast, beef roast, or skinless de-boned chicken.
Place meat in slow cooker.  Do not fill your slow cooker more than 75%.
Season your meat with

several tablespoons of chili powder
teaspoon of cumin
teaspoon (or more) of pepper and
several tablespoons of garlic.
Feel free to add additional seasonings of your choice but keep in mind the ingredients in the salsa you've chosen so your recipe does not become overwhelmed with any one spice. Be especially wary of adding too much salt.

Add a full jar of salsa to your slow cooker. Feel free to add more or less based on your personal preferences. I've added both the large jars of salsa and small jars of salsa to my recipe with great success.
Add bell peppers and onions to slow cooker if desired. Do not fill your slow cooker more than 75%.
Cook your meat on high for 6 hours or low for 8 hours. Wait until it get's tender enough to shred. Watch the liquid levels in your slow cooker the first time you try this recipe. All slow cookers run at slightly different heats and you do not want your meat to dry out.
Before shredding your meat, use a ladle and remove as much liquid as you can.
Shred your meat and serve.

Suggested Ways To Serve The Shredded Meat:
Over nachos
In tortillas
In taco shells
Over a bed of lettuce
In lettuce wraps
Over rice or riced cauliflower
Suggested Additional Toppings:
Avocado
Corn
Tomatoes
Bell Peppers
Onions
Black beans
Guacamole (check out this recipe for Creamy, No-Brown, Guacamole)
Shredded Cheese
Shredded Lettuce
And that's it—a super easy Mexican shredded meat recipe that works every time.
SaveSaveSaveSave
SaveSaveSaveSaveSaveSave