These almond flour pancakes are a delicious breakfast food that is also nutritious and easy to make. Perfect for busy mornings with kids!
I have never been a morning person. Not.one.bit. It has been a long standing joke with my mom, who had the chore of getting me out of bed to get to school on time, that when I became a parent that would change.
Nope, I have two kids now and I am still not a morning person. The difference is, I still am not a fan of waking up but I have two small people here that force me to not only get up, but that need some kind of food.
These boys would eat all day long if I let them.
Looking for more gluten-free recipes and resources? This Everything Gluten Free page is a library of everything gluten free we've worked on.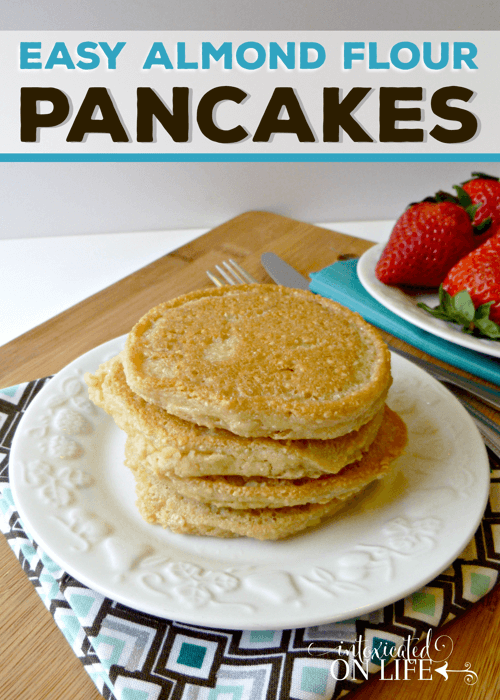 To help prevent hearing, "Mama, I'm STARVING!" all day long, I like to feed my guys a hearty breakfast.
We do a lot of eggs, potatoes, fruits, and smoothies. However, pancakes are a must for a fun breakfast treat. We missed them a lot after going gluten free.
I have played with a lot of recipes, some we loved, some were tolerable and some were not edible.
I struck gold when I started making these almond flour pancakes. We loved the texture. It's perfect with butter and I love that it fills up little boy bellies!
If you don't add butter to the top, these almond flour pancakes are also great for those that are dairy free.
Almond Flour Pancakes
Whether you're eating low-carb, grain-free, gluten-free, or just want a healthier pancake recipe, this one fits the bill. These almond flour pancakes are just as easy as the wheat-filled kind and much better for you!
Ingredients
3

cups

almond flour

1/4

teaspoon

sea salt

1

teaspoon

baking soda

pinch

stevia

or two tbsp. of pure maple syrup, if you're not avoiding sugar

5

eggs

1 1/4

cup

almond milk

1

teaspoon

vanilla
Instructions
Mix dry ingredients in a bowl.

Mix wet ingredients in a bowl, making sure the eggs are well beaten.

Add dry ingredients to wet and mix until well incorporated.

Add 1/4 cup batter, per pancake, to hot, oiled pan on low/medium.

Flip when you see small bubbles forming.

Continue frying until pancake is firm and golden in color on each side. Repeat for remaining pancakes. Top with butter, nut butter, a sugar-free syrup, or berries!
Nutrition
Calories:
378
kcal
|
Carbohydrates:
12
g
|
Protein:
17
g
|
Fat:
32
g
|
Saturated Fat:
3
g
|
Cholesterol:
136
mg
|
Sodium:
399
mg
|
Potassium:
51
mg
|
Fiber:
6
g
|
Sugar:
2
g
|
Vitamin A:
198
IU
|
Calcium:
201
mg
|
Iron:
3
mg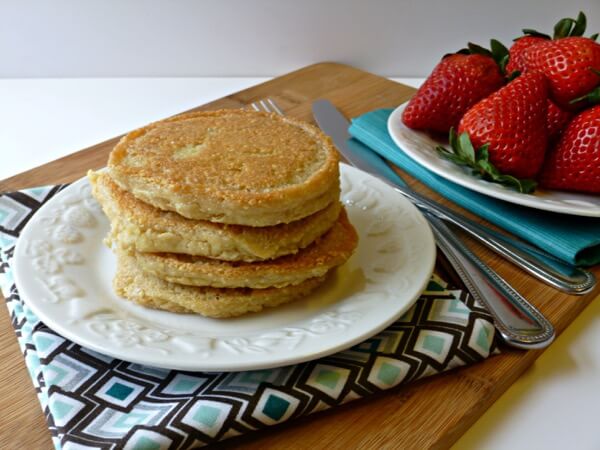 This almond flour pancakes recipe is easy and fast.
Did you try them out? Let me know what you thought!
More Healthy Pancake Recipes: