In the coming school year, our aim is to have our children memorize the Apostles' Creed as we study it together as a family. This ancient creed is one of the most widely used statements of faith in the church today, and the substance of it goes back to the early centuries of the church. We think studying this will be very beneficial for our kids and our whole family for many reasons. (Read our post, "5 Reasons to Teach Kids the Apostles' Creed").
When we released our Apostles' Creed handwriting curriculum, we heard from several parents who expressed concern about the controversial phrase in the Creed, "he descended into hell." What does this mean? Is it even true?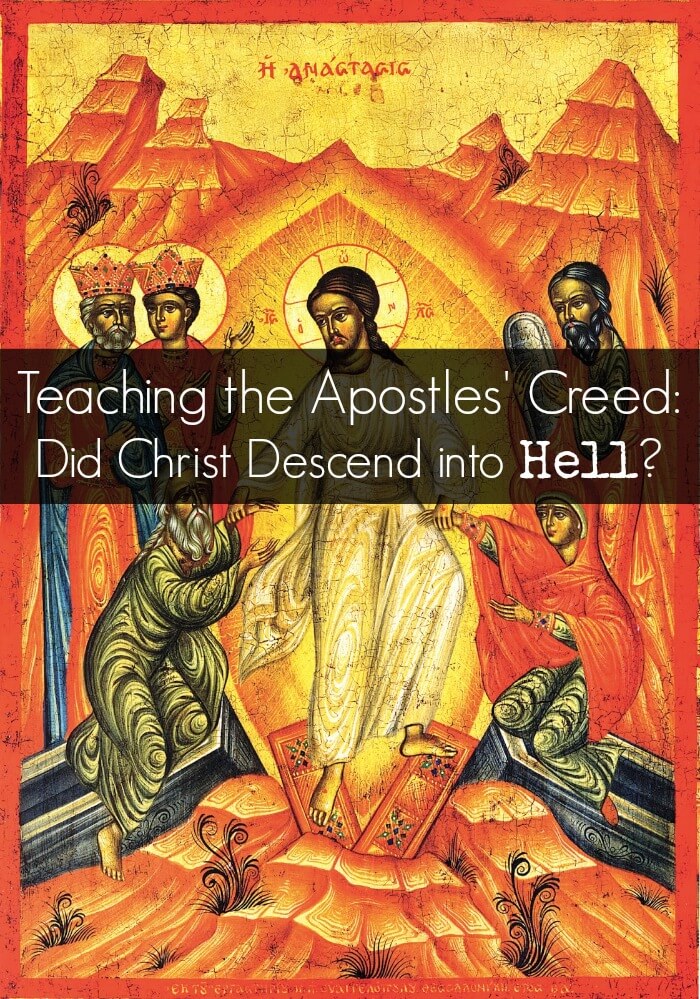 Common Misunderstandings
First, it is helpful to clear the air about by acknowledging that we need to interpret the word "hell" correctly. When the Apostles' Creed was translated into English (say, for example, in the Book of Common Prayer), "hell" had a slightly different connotation than it does now. In the seventeenth century, hell was thought of as the underworld or the realm of the dead, not necessarily just a place of torment or punishment. Some modern translations of the Creed prefer, "he descended to the dead." 
"Hell" is a translation of the Latin inferna, which is a reference to the underworld generally. A correlating Greek term might be "hades."
There are some who believe falsely that the Apostles' Creed is teaching that Christ descended into hell after his death in order to suffer more for our sins. But this is neither supported by Scripture nor by any commentator in the ancient church who helped to pen and promote the Apostles' Creed.
2 Critical Questions to Answer
In my exploration of this topic, there are two important overarching questions.
Does the Bible teach this doctrine, and if so, what does the Bible teach about it?
What did the early church mean by the inclusion of Christ's descent in the Creed?
Where the answers to these questions overlap, we will find our answer.
Both concerns are important for interpreting this phrase in the Creed. Some, in an effort to be faithful to the early church fathers, embrace anything and everything they had to say about Christ's descent without criticism, ignoring their potential misinterpretations of the Bible. If we are going to believe the doctrine, the Bible should be our sole source of revelation about it.
Others, in an effort to be faithful to the Scriptures, try to make the phrase in the Creed mean something the church fathers never intended it to mean. If we are going to confess this line of the Creed, we should do so in harmony with the theologians who helped to compose it.
6 Biblical Passages to Consider
There are several texts that are often used to defend the idea of Christ's descent after his death. Below are some critical questions we should be asking if we are going to come to a conclusion.
When Christ said after he died he would spend three days in "the heart of the earth" (Matthew 12:39-40), was he talking about his body being in a rock-cut tomb, or was he talking about his soul being in the deepest earthly regions, in the underworld below?
When Paul asks, "Who will descend to the abyss (that is, to bring Christ up from the dead)?" (Romans 10:6-7) was he speaking hyperbolically, saying that no one needs to descend to the deepest depths to find Christ, or was he reflecting an early church tradition that taught that Christ indeed descended into the deep realms of hades?
When Peter said Jesus was loosed from the "pangs of death" and that Christ's soul was not abandoned in Hades (Acts 2:24,27), is he merely talking about Christ's physical resurrection, or is he also talking about Christ's soul no longer being hades, in the realm of the dead?
When Paul says Christ descended to the "lower regions" (Ephesians 4:9-10) is he talking about Christ's incarnation and descent from heaven to earth, or is he talking about Christ's descent to the earthly lowest regions of the earth, to hades below?
When Christ promised the criminal on the cross that on that very day they would both be in paradise (Luke 23:43), was he referring to heaven, or was he referring to a realm in or near hades reserved for the saints?
When Peter says Christ preached to "the spirits in prison" (1 Peter 3:18-20), is he talking about something Christ did between his death and resurrection, something Christ did after his resurrection, or something the Spirit of Christ did long ago through God's prophets?
Keep in mind, one need not believe all of these passages point to Christ's descent in order to believe in the doctrine.
How I Will Explain This to My Kids
This is a topic I'm still exploring personally. Perhaps some day I will write another post with my conclusions, but for now I'm still narrowing in on what I believe.
For the time being, I plan on teaching my kids to memorize and recite the Apostles' Creed, and when it comes to the doctrine of Christ's descent, I'm going to focus on several important truths:
At Christ's death, his terrible sufferings were over (John 19:30).
When Christ died on the cross, he experienced a true and complete death: his soul was separated from his body (Luke 23:46). When we say, "he descended into hell," the first thing we mean is that Christ's soul entered the realm of the dead.
We know Christ went to Paradise after He died (Luke 23:43). There he enjoyed rest from his sufferings and the presence of saints who came before him.
As for some of the other questions about Christ's descent, I plan on working through each of the above questions, one by one, and sharing my findings with my kids (especially my oldest son). I want them to see the process of doing theology, asking the hard questions.
Study Tools to Help You
Perhaps this is something you wish to study for yourself. If so, I've compiled a number of resources, all coming from different positions.
First, to get an overview of the subject, listen to a teaching I gave at my church where I introduce the topic and the key texts:
Second, below are some scholarly articles you might find helpful, all coming from different positions:
I hope these resources are a help to you as you explore these questions.
What do you think? Do you confess this line of the Creed? If so, what do you think it means?
Teach Your Kids the Apostles' Creed: A New Family Bible Study
Check out our family Bible study: Laying the Foundation: A Family Study of the Apostles' Creed. It includes 30 devotional lessons to teach your children the Creed, line by line, thought by thought.
Also, as a part of our Write Through the Bible series, we have both manuscript and cursive versions of the Apostles' Creed handwriting workbooks.
You can get all of these resources in our Apostles' Creed Family Bundle.