Breastfeeding has been one of the most important parts of our "attachment parenting" journey for our son thus far, and I absolutely love being able to share about that experience with others—including our (sometimes controversial) breastfeeding and co-sleeping relationship.
I strongly advocate for co-sleeping whenever it's possible to do safely, especially in the first year of life. A human infant (or any mammal baby for that matter) is not designed to leave the womb and be left alone to sleep.
You may have heard some claim that a baby should be left alone to "self-soothe" or "self-comfort." These simply are not skills an infant is born with.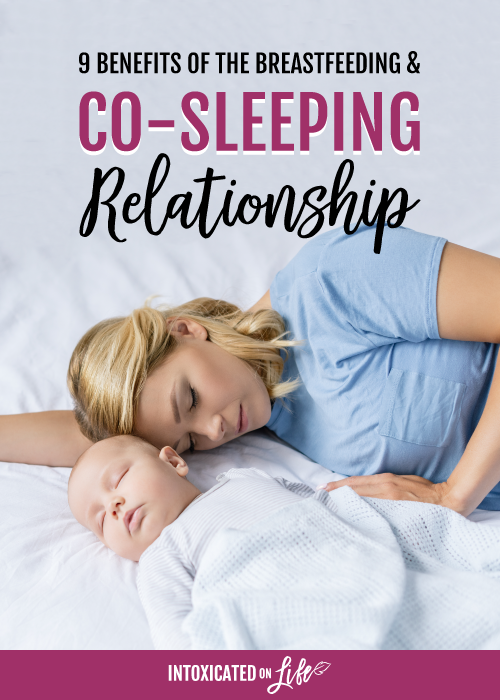 What is co-sleeping?
Before I get too far, we better define our terms. What do I mean by "co-sleeping?"
I only recently discovered the term "co-sleeping" in general means "sleeping in close proximity to your baby." This can mean sharing a bed or just sharing a room.
However, when I say "co-sleeping" I mean exactly what it sounds like—sleeping in the same bed as your child (sometimes this is referred to as a "family bed" or "bed-sharing"). For the purposes of this article, when I say co-sleeping, I mean bed-sharing.
And when I recommend co-sleeping, I always recommend mamas understand safe co-sleeping and breastfeeding practices. Dr. James J. McKenna, Professor of Biological Anthropology and Director of the Mother-Baby Sleep Laboratory at the University of Notre Dame outlines safe co-sleeping guidelines here.
Benefits of Breastfeeding and Co-sleeping for the Child
1. Better sleep
Babies wake at night. It's normal. It's natural. It isn't something we should fight.
But when baby wakes to nurse at night, when mama is right there, they don't have to completely rouse from slumber. Instead, they can be quickly comforted and nursed back to sleep.
A recent study shows co-sleeping babies spend more time in the same stage of sleep as their mamas (this is a win-win for both moms and babies).
2. Despite scary ad campaigns, co-sleeping is safer (when done right)
When a baby sleeps close to their mother, their physiology mimics that of the mom, just like in the womb. This keeps baby's heart rate steady, breathing remains stable, and they can better regulate their body temperature. Dr. McKenna argues,
…infants require this contact and proximity especially because of nutritional needs (breastfeeding) but also because of the immaturity of their thermo-regulatory, immune and cardio-respiratory systems, in addition to their dependence on touch, all systems closely tied together to promote efficient functioning of all of the infant's immature organs and the central nervous system in general.

– Dr. James J McKenna
This is especially important in the first year of life when SIDS is at its highest risk. In fact, studies have shown that in nations like Hong Kong where co-sleeping is the common practice, SIDS rates are very low. While the AAP does not recommend co-sleeping, they do acknowledge when baby is close to mom (in the same room) this is optimal and reduces the cases of SIDS.
3. Long-term emotional health
Numerous studies have shown children who co-sleep with their parents have…
higher self-esteem
more independence
less anxiety
deal better with difficult peer relationships
tend to have more meaningful personal relationships as they more readily accept affection
suffer from fewer psychological disorders
…compared to peers who did not co-sleep.
4. A great supply of milk
Maintaining a good milk supply demands you breastfeed around the clock, especially in the early months. This is tough to do at night if your child is in another room.
Babies who co-sleep tend to nurse on a better schedule at night, helping maintain a healthy supply of milk.
Benefits of Breastfeeding and Co-sleeping for Mama
5. Better and longer periods of sleep
Just as the baby benefits from better sleep, so does mama. When mama doesn't have to get out of bed, but can gently pull baby close to nuzzle up to nurse, it's so much easier to fall back to sleep.
When I began getting the age-old question, "Does he sleep through the night yet?" when my son was about a month old, my answer was always, "I honestly don't know. I guess we both wake up a few times, but I don't really remember."
I don't feel like a sleep deprived mama—that is probably the best benefit to me.
6. Nighttime feedings just got easier…
Anytime a mother says that they're having a problem with breastfeeding or sleeping habits for baby, the first thing I always ask is: "Do you co-sleep?" Usually, the answer is no.
If there is one good way to ensure a healthier breastfeeding relationship with your child, it's to co-sleep with them.
To be honest, I'm not sure how some mamas drag themselves out of bed several times a night to cross the hall and nurse baby sitting up in a chair. I couldn't do it. Having my little one right beside me makes this process much simpler and we both lose so much less sleep! Happy baby. Happy mama.
7. Heightened sense of attachment and sensitivity
This is actually true for fathers or partners who co-sleep with their babies, as well as the nursing mother.
Being so close to a child as they sleep allows parents to develop a closer relationship and more fine-tuned sense of the child's needs. This closeness at night translates to daytime care as well, allowing for a better emotional connection for the family in general.
8. Prolong child spacing benefits of breastfeeding
In order to delay the return of fertility, baby must be nursing exclusively, and regularly. And for many mamas, this means babies need to breastfeed regularly through the night. When baby is close to mama at night, they'll breastfeed more frequently and you can take advantage of a delayed return of fertility.
9. The best part of waking up…
Is not Folgers in my cup, but a smiling cooing baby next to me. If that isn't good for the soul, I don't know what is!
More Resources on Breastfeeding and Co-Sleeping:
. . .
Related Articles on Pregnancy and Birth: