I have a confession. I've been trying to find new ways to add more bone broth to my diet because I don't really like bone broth. I like the benefits of bone broth. But I don't enjoy drinking it.
I've not ever been much of a brothy kinda girl. I don't like broth-based soups like chicken noodle or vegetable beef. I much prefer hearty, thick, and creamy soups—like Broccoli and Cheese soup, Butternut Squash soup, and Chili.
If you're looking for a good source of grass-fed meat,
Butcher box
has high-quality meat that they will deliver right to your door.
If you use this link to Butcher Box, you can get FREE meat in your first box!!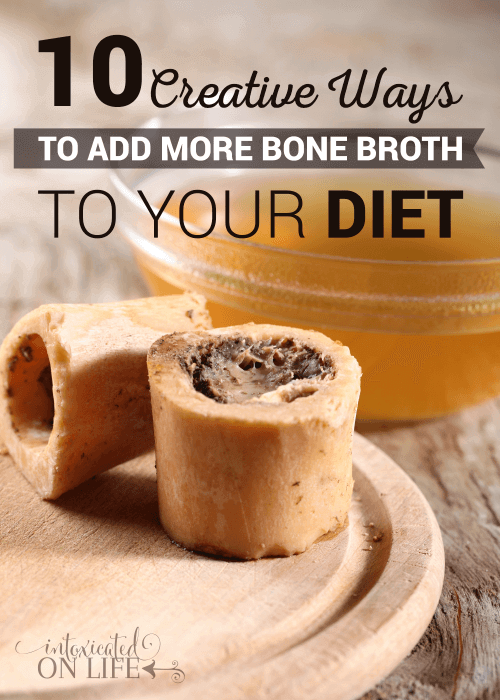 10 Ways to Add More Bone Broth Into Your Diet
I know it's important to consume plenty of bone broth, so I've had to get creative and find ways to sneak more into my diet. It's really not hard, though. You'll see that it's very easy to substitute bone broth in many of your favorite, tried-and-true recipes!
Bottoms up! Of course, you can always just drink it. This is the way my husband best enjoys bone broth. Add a little salt, pepper, and other seasonings and this is a regular snack for him. This really isn't creative though, so it doesn't count :). Here's some creative ways to add more bone broth to your diet:
1. Soups and stews are probably the most obvious place to sneak in bone broth. If a recipe calls for canned/boxed broth, beef or chicken base, or bullion, simply replace it with bone broth. Here's my list of soup and stew recipes.
2. Sauté or boil your veggies in bone broth. I do this a lot. We eat a lot of steamed broccoli. I throw in a couple of cubes of bone broth (I freeze broth in ice cube trays after I make it), and steam my veggies. Your veggies will be infused with healthy bone broth.
3. If you eat pasta, rice, or qunioa you can substitute bone broth for water.
4. Mashed potatoes or mashed cauliflower are another place you can use bone broth. When I was completely dairy-free, I used bone-broth in place of milk. If you're not dairy-free, you might want to just substitute part of the milk for bone broth to give your potatoes a bit more of a creamy texture.
5. Bone broth makes amazing gravies and sauces! Reduce your bone broth (i.e. let some it evaporate), season it, and add a little bit of tapioca or arrowroot starch for a delicious grain-free gravy. Yum!
6. Refried Beans—often water is used to thin out the beans, just use bone broth instead!
7. Scrambled eggs or other egg dishes. Add a little bit of bone broth (instead of water or milk) to make nice fluffy scrambled eggs. If you're making a quiche or frittata, substitute the liquid called for in those with bone broth.
8. Add a little bit to your homemade salad dressings or dipping sauces. Check out my list of salad dressings and sauces for inspiration.
9. Dilute a bit of your tomato-based sauces and dishes with bone broth. I do this with soups like chili that wouldn't typically call for bone broth. You could also do this with marinara sauce as well!
10. Use it in your cream or cheese sauces (or soups). Use half bone broth and half milk or cream.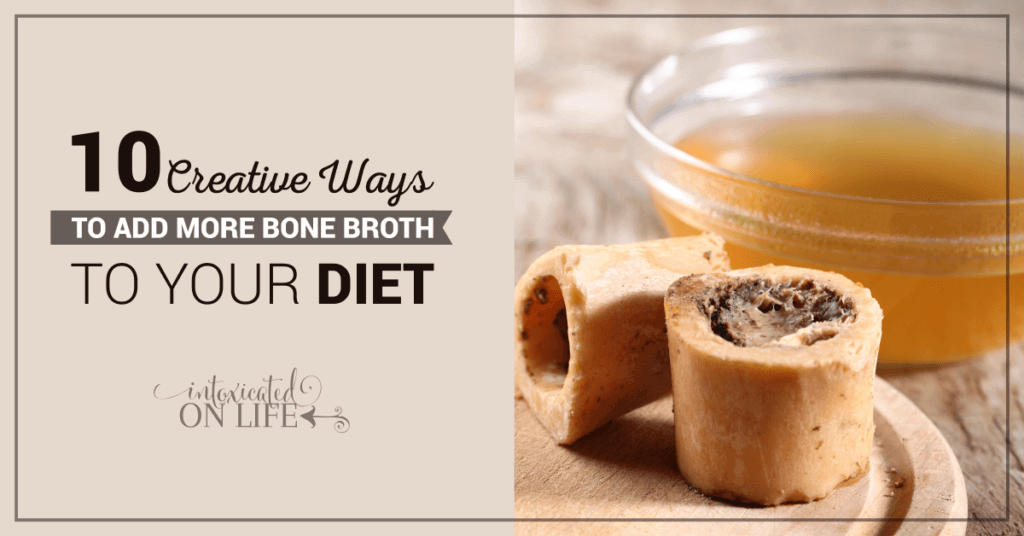 Sometimes, I Cheat when I Add More Bone Broth to My Diet…
I can't always get the amount of bone broth in that I'd like, so sometimes I cheat. I've been known to add Great Lakes Gelatin or Perfect Collagen Hydrolysate (that's basically gelatin that doesn't gel) to smoothies, drinks, and other foods so I can get the benefits of bone broth when I don't have it on hand or I just know I need to get more.
(I like these particular brands because I know they comes from healthy animals.)
I also buy bone broth from Kettle & Fire to have on hand for when I run out of bones to make my own.
Tips:
Remember the gelatin will "gel" like jello, so is good for things like making homemade jello or fruit snacks.
However, the collagen hydrolysate doesn't gel, so it's great to add to soups and smoothies for an extra kick of protein and nutrients!
What are your best tips to add more bone broth in your diet?