As I write this, it is the year 2017—and we are approaching the 500th anniversary of Martin Luther's publication of his 95 Theses.
So what? Why should we care about a terse piece of medieval theology written by a German monk a half a millennium ago?
What makes October 31, 1517 famous is not necessarily what Luther wrote in his Theses—few Protestants I know are all that familiar with them. Rather, it is now a date fixed on the calendar as "Reformation Day" because of the debate his writings kindled in Europe.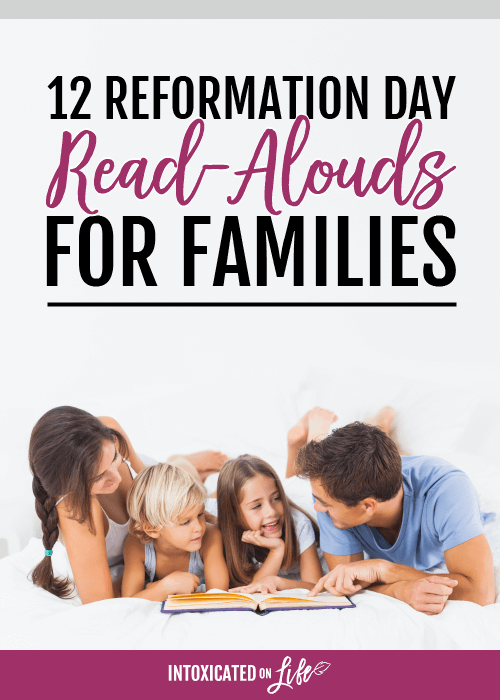 When Martin Luther nailed his Theses to the door at Castle Church in Wittenberg (or perhaps just mailed them to the Archbishop of Mainz, depending on which version of the story you believe), he did it to spark debate in the church over the abuse of indulgences.
What it did instead was place Luther at the center of a theological controversy that would spark the Reformation.
Reformation Day Resources
If you want to immerse yourself in the fascinating history of the Reformation and the life of Luther, there are many good places to start. (In you're into audio lectures, I highly recommend Dr. Carl Trueman's Reformation lectures on iTunes—lectures 2-10. If you prefer to read, here's a list of Trueman's favorite Luther biographies.)
But if you want to introduce your kids to the life of this controversial, passionate Reformer, I've compiled a list of my favorite read-alouds:
In this beautifully illustrated book, this professor of Ancient History at Western Michigan University unpacks how Martin Luther served as a catalyst of the Protestant Reformation in sixteenth-century Europe.
Chancellor of Reformation Bible College and author of more than one hundred books, Dr. Sproul tells an imaginative story based on the advice on prayer that Martin Luther gave his real-life barber.
Award-winning author, Simonetta Carr, writes compelling story of this father of the Protestant Reformation, focusing on his quest for peace with God and his uncompromising emphasis on the free promise of the gospel.
Italian author and illustrator Agostino Traini tells the story of Luther's life, from his decision to become a monk to his 95 theses, history literally jumps off the page through this vibrant, colorful book.
This graphic novel by Susan Leigh tells the story of Luther and the many characters that surrounded his life: his wife Katherine von Bora, the emperor Charles IV, Frederick the Wise, and many others as well as an extensive history timeline.
Born into a poor family, Katherine von Bora grew up in a convent in Germany. Later some of the writings of Martin Luther made their way into her convent near Grimma. In this graphic novel, author Susan Leigh tells the story of how Katie met Martin, how they would later marry and have a family, and she became a Reformation leader in her own right.
This child-sized book, written in rhyme, introduces young children to the trials and accomplishments of Martin Luther.
From the Little Lights series by Catherine MacKenzie, this volume covers the life and influence of Martin Luther, focusing greatly on his discovery of the biblical gospel of salvation—not by works but by grace.
This illustrated picture book allows young kids to follow a bookworm through the life of Martin Luther from his birth to the Diet of Worms.
This graphic novel is all about the life of Martin Luther, told through the eyes of his children Hans and Magda.
This well-illustrated volume from Reformation Heritage Books tells the stories of the well-known and not-so-well-known Reformers like Martin Luther, Philip Melanchthon, Martin Bucer, Ulrich Zwingli, Thomas Cranmer, John Knox, John Calvin, and many others.
Written by a church historian, this book gives kids snapshots of famous Reformation people, locations, and concepts while learning their ABCs.

Have you read any of these to your kids? Have you read others? Which ones are your kids' favorites?