I have gathered 5 Bible verses for kids to memorize about anxiety.
In times of anxiety, our children need God's truth to fill their minds. Below are a few ideas. I recommend choosing one of these passages or chapters and make it a point to study it together as a family. Use the cards provided to help your family memorize the text.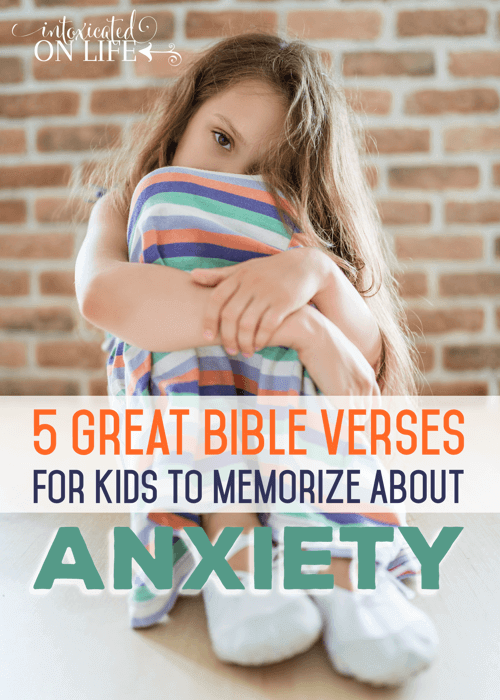 3 Short Bible Verses For Kids to Memorize about Anxiety
Proverbs 18:10
"The name of the Lord is a strong tower; the righteous man runs into it and is safe."
The "name of the Lord" signifies his character, the kind of God He is. The righteous person clings to the God he knows by name and is safe. A very beneficial activity for parents as you memorize this is to do a little study with your kids about the various names of God in Scripture, linking them to this verse.
Philippians 4:6-7
"Do not be anxious about anything, but in everything by prayer and supplication with thanksgiving let your requests be made known to God. And the peace of God, which surpasses all understanding, will guard your hearts and your minds in Christ Jesus."
These Bible verses for kids to memorize about anxiety show that God's solution to anxiety is his peace standing guard over our minds and hearts, so God has called us to turn our anxious thoughts into opportunities for thankful prayers. In gratitude we focus our hearts on the blessings we have. In prayer we trust God with our circumstances.
1 Peter 5:6-7
"Humble yourselves, therefore, under the mighty hand of God so that at the proper time he may exalt you, casting all your anxieties on him, because he cares for you."
Even in the lowest state and youngest station in life, God cares for our children. Knowing this they can cast all their cares on Him.
2 Longer Bible Verses for Kids to Memorize about Anxiety
Psalm 27
Psalm 27 is a wonderful Bible verse for kids to memorize about anxiety. The psalms of David make for great conversations with kids. We don't know the specific occasion that inspired this psalm, but David's life is full of examples of anxiety-causing occasions. Take your pick from the stories from David's life. Use these stories to make the psalm come to life for your child.
The psalm sets the tone for where our children need to focus their prayers in times of anxiety: the God of refuge. The psalm has one great theme: if we wait on God and long to see His face, this puts all fears and anxieties into perspective.
Psalm 46
What I love about this psalm for times of anxiety is it emphasis on silence. Three times it repeats the poetic expression, "Selah," telling the reader to pause and think on what was just said. At the end it tells the reader to "Be still, and know that I am God." In the face of the greatest calamities God is our refuge. Our kids need to learn the art of pausing, taking  a deep breath, and thinking about the God they worship.
This psalm is very visual, which makes it fun to memorize and imagine. This song calls its readers to remember mighty power of God who is our proven help in times of trouble. It is an excellent Bible verse for kids to memorize about anxiety.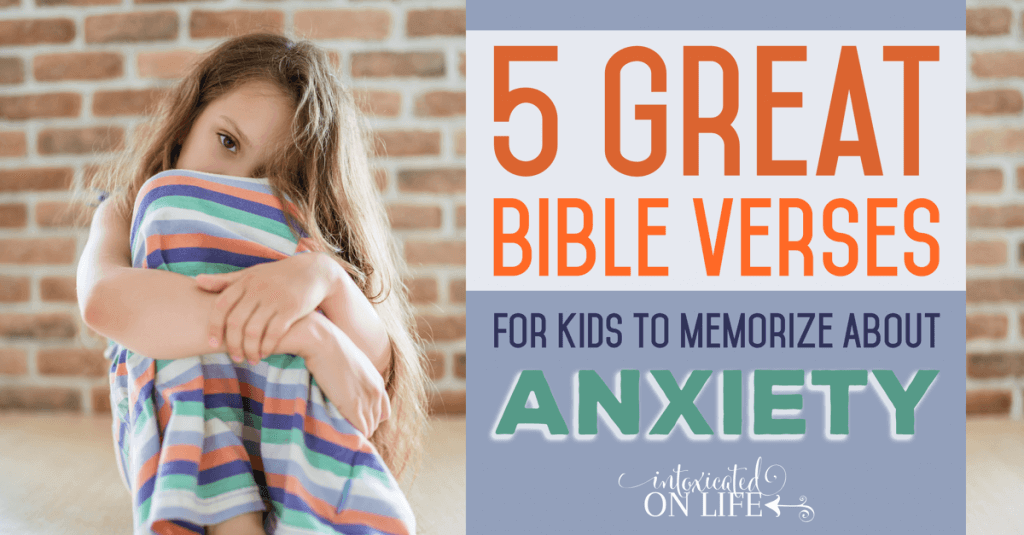 Memory Cards with the Bible Verses for Kids to Memorize about Anxiety
Download and print these cards on cardstock.
Insert these cards into a memory box to help your kids move these passages from their short-term to their long-term memories. (Learn more about how to use a memory box.)
More Bible Verses for Kids to Memorize: