I've collected some great Bible verses about complaining for kids to memorize as a parent teaching tool.
Even when our children are eventually obedient to our wishes, nothing is quite as discouraging as hearing those words, "But Dad…" or "Do I have to?" Following these words are usually a flurry of complaints. On a really bad day, parents might debate about what is worse to deal with: disobedience or grumbling obedience?
Need more positive ideas for raising Christian kids? Check out my book The Heart of Humility: Teaching Your Kids to Put Other's First.
Below are some great verses for your family to meditate upon, all pertaining to the subjects of not complaining and grumbling, but instead to have a heart filled with thankfulness and gratitude. I hope these Bible verses about complaining have a positive influence on your family life.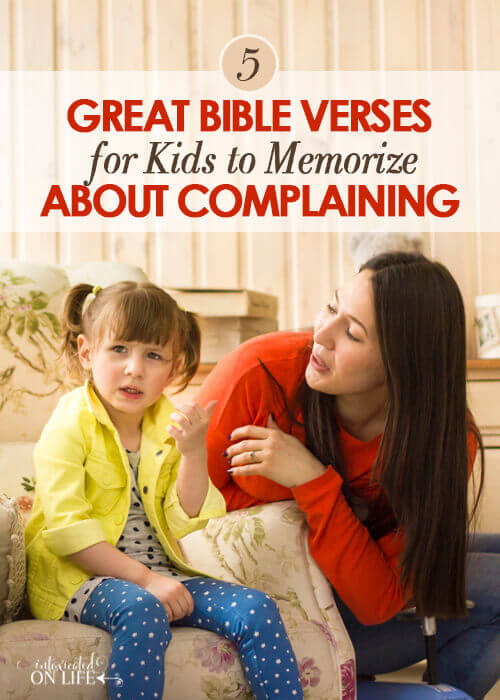 3 Shorter Bible Verses about Complaining
James 5:9
"Do not grumble against one another, brothers, so that you may not be judged; behold, the Judge is standing at the door."
Writing to the persecuted church, James is addressing the importance of not taking out one's frustrations and complaints on those in the church. Earlier in the letter, James talks about the destructive power of speech (James 3:2-12). Now he tells his readers that "the Judge is standing at the door"—the Lord Jesus will soon return—so they should not grumble against one another. Grumbling will only incur God's discipline. Plus, by grumbling we do not right the wrongs of this world. The Judge of all will make things right. 
Ephesians 4:29
"Let no corrupting talk come out of your mouths, but only such as is good for building up, as fits the occasion, that it may give grace to those who hear."
In Paul's discussion about the changed life of a Christian, he addresses our speech. We are not to have "corrupting talk" come from our mouths. The Greek word speaks of rotting, decaying speech—any sort of grumbling, deception, obscenity, gossip, flattery, cynicism, slander, patronizing speech, degrading sarcasm, or mockery. Instead our speech should be "good for building up, as fits the occasion, that it may give grace to those who hear." Our words should encourage, build confidence, comfort, instruct, and when necessary, correct each other.
1 Thessalonians 5:16-18
"Rejoice always, pray without ceasing, give thanks in all circumstances; for this is the will of God in Christ Jesus for you."
These three short verses communicate three punctual statements about God's will for our lives. Instead of grumbling or complaining, we should be mindful of why we should be joyful, we should take our needs to the Lord, and we should be filled with gratitude. These verses offer great incentive against complaining by offering our kids a vivid contrast: Why be filled with bitterness or a bad attitude when God's will for us is thankfulness, prayerfulness, and joy?
2 Longer Bible Verses about Complaining
Philippians 2:1-18
Verse 14 says, very succinctly, "Do all things without grumbling or disputing." Standing alone this verse tells our children what is expected of them. But the surrounding context gives our children the motivation not to grumble or complain.
By not grumbling, we stand out in a world full of complainers, and thus become witnesses to Christ's power and goodness (v.15-16). Inspired by the humility of Christ, who was 100% obedient to his heavenly Father without complaint (v.6-11), we learn to put the needs of other above our own (v.3-4). Striving for this kind of humility, our complaints begin to look petty and unnecessary.
Study and memorize this text as a family! (You can download our 30-lesson family Bible study about this text and our Philippians 2 edition of the Write Through the Bible copywork workbook.)
Psalm 106
This lengthy psalm recounts the history of God's people, from the Exodus to the days of the exile. The Psalm recounts four times the people of Israel grumbled and complained against God after they left Egypt.
v.7 – Israel "rebelled" at the Red Sea. This was when they complained to Moses that God had only brought them out into the wilderness to die (Exodus 14:11-12).
v.13-15 – Israel had a "wonton craving" in the wilderness when they complained about not having meat, so God sent them quail. They were so greedy for the meat, they didn't properly prepare it, and many of them died of a "wasting disease" (Numbers 11).
v.24-27 – Israel "murmured in their tents" when it was time to enter the Promised Land. Instead of trusting God's promise, they complained and disobeyed God's voice. That generation did not enter the Promised Land (Numbers 13-14).
v.32-33 – Israel again angered God at Meribah, provoking Moses to great bitterness, because of their grumbling and complaining about a lack of water (Numbers 20:2-13).
Your family could memorize this psalm verbatim, or you could study these stories with your children. Remember, the things that happened to the wilderness generation "were written down for our instruction, on whom the end of the ages has come" (1 Corinthians 10:11). "We must not…grumble, as some of them did and were destroyed by the Destroyer" (v.9-10).
Memory Cards
Downloads and print the cards on cardstock:
Verses About Complaining (ESV)
Verses About Complaining (KJV)
Insert these cards into a memory box to help your kids move these passages from their short-term to their long-term memories. (Learn more about how to use a memory box.)
Conclusion and Additional Resources
I hope these Bible verses about complaining help you and your family pursue a positive, God-centered household. Memorizing Scripture is a great family activity. Check out our other articles on kids, Bible verses, and/or memorization: