With Christmas coming up, there are a few things I want my kids to know about Santa Claus.
I know several Christian parents that actively avoid all mention of Santa Claus. They steer clear of Santa's workshop at the mall. They don't have any Santa-looking ornaments on their trees. They avoid any Christmas tunes that mention Santa's name.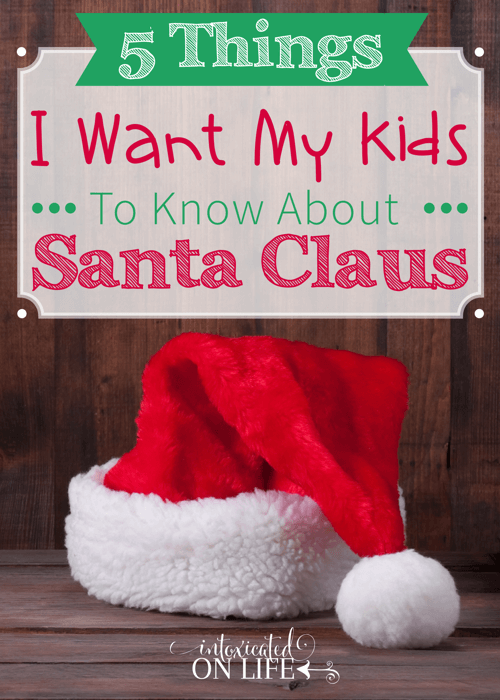 5 Things I Want My Kids To Know About Santa Claus
For some, it is one way to fight the materialism of the holidays (a commendable goal). For others, it is a fight against the pagan origins of the Christmas season. (The Germanic god Odin is one of the inspirations behind the bearded figure we know as Santa Claus.)
For our family, we believe is it important, when possible, to redeem cultural icons and use them for the glory of God. With that in mind, these are five things we want our kids to understand about that ripe, jolly, Santa Claus.
1. Saint Nicholas was a real man with a real love for Christ.
I don't want my children growing up with the illusion that the white-beared-red-suited-reindeer-flying Santa is real. It's one thing to tell kids a fiction story both you and they know is fiction. It's another thing to lie to your children by yanking that fictional character into the real world.
Each year we loved to talk about the real St. Nicholas, a man who was born into a Christian family amidst the great persecutions of the Roman Empire. Losing both his parents at a young age, Nicholas used his inheritance to give charitably to the poor. He later became the bishop of Myra and was present at the first Council of Nicaea where he defended the deity of Christ.
One of our favorite books to do this is The Story of St. Nicholas: More Than Reindeer and a Red Suit.
2. Christmas will come with or without Santa.
It is a popular theme of Santa movies to "save Christmas" by rescuing Santa or giving him aid for his long journey. While some of the save-Santa movies can be fun, we don't want to give our kids the impression that the fate of Christmas rests on Santa's arrival.
If we catch a whiff of this Santa-is-the-guardian-of-Christmas in movies or books, we take time to remind our children of what Christmas is really all about.
3. The American Santa is just one of many Santa fables.
Santa has gone through many evolutions: Sinterklaas of the Netherlands, Tomte of Scandinavia, Father Christmas of England, Pere Noel of France, Ded Moroz of Eastern Europe. Each character has their own peculiarities and each one make for an interesting conversation for kids.
If nothing else, by talking about the many Santas of the world, it helps kids get out of their own culture and see their Santa for what he is: a product of our modern American culture.
4. The Santa story is more about anonymous giving, not greedy getting.
The old stories about St. Nicholas tell of his anonymous giving to those in need. The best Santa traditions maintain this important thread: the magic of Santa is not in what he looks like or in who drives his sleigh, but that he can give without being seen. The message should be that anyone can be Santa: we should all strive to give without being seen, just as Jesus commanded (Matthew 6:1-4).
Martin Luther saw the importance of this during the Reformation in Germany. He knew St. Nicholas had the spotlight during the winter holidays, so he created Christkindl (meaning "Christ child"), a cherub-like child intended to represent the infant Christ who brings presents on Christmas Eve. Unlike other Santa figures, this child is never actually seen by children: he's the gift-bringer you always just missed. He emulates the true spirit of anonymous giving.
5. Santa is like the clown at Jesus' birthday party.
With each child we've told the same story about St. Nicholas. We help them appreciate the historical person. We also help them understand what significance Santa has in our home: "He was a good Christian man who lived long ago. He's gone to heaven, but people still like to dress up and pretend to be St. Nick today. He's like the clown at Jesus' birthday party. He helps to make the holiday memorable and fun, but he's not the focus of the party. Jesus is."
Final Thoughts About My Kids and Santa Claus
There are some good and positive Christian things that my kids can learn from Santa Claus. With family discussions and careful screening of Christmas movies, songs, and other cultural Christmas things, we can have a stronger reminder of the importance of Christ's birth while still enjoying the holiday spirit.
What do you tell your kids about Santa Claus? Tell me in the comments below!
More Christian Tips for Christmas: