We have been a dairy free family for close to three years due to a casein (cow milk protein) sensitivity in my two youngest boys. As is the case for many, it was a challenge to change our family's eating habits. The first time we traveled away from home was just over 4 months from starting our dairy-free diet. I'm not sure who was more nervous about it—me or grandma! She was nervous about figuring out what to feed us. I was nervous about being such a difficult house guest. Since that first trip, we have traveled many times to visit family and friends.
Looking for more gluten-free resources? This Everything Gluten Free page is a library of everything gluten free we've worked on.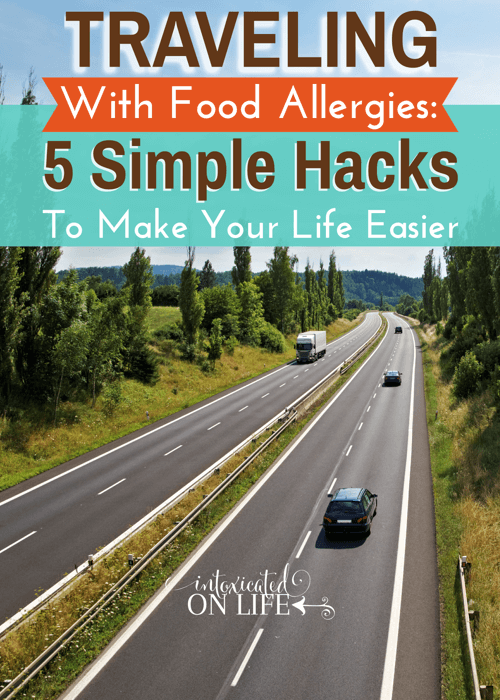 Today I'm sharing my 5 top tips for traveling with food allergies or restricted diets.
Before we get into the tips I have one very important question: Can you relax your food restrictions? Magoo and Doodad's sensitivity is mild enough that if they eat a little bit of milk, they will have stomach aches and possibly a mild rash. When we travel or head to parties, I usually relax a bit and allow them a little dairy in special treats like birthday cake or a fancy dessert. Recently our family has also decided to go mostly gluten-free for nutritional reasons. Since there is no food allergy or sensitivity to gluten, we still try to avoid major sources of wheat like pasta and bread, but I don't worry about double checking labels when traveling.
If you are unable to relax your food restrictions, here are a few of my top tips to make traveling easier.
1. Pack Snacks for Travel Days
Whether you are driving or flying, the easiest way to relieve the worry of what to eat is to pack your own food. Our favorites include beef jerky, granola bars, and trail mix. For the trip home, either pack a second set of snacks or make a trip to a local grocery store the day before you head back. On road trips, we will often stop for lunch or dinner at a grocery store so we can get the allergy-friendly foods we are used to eating.
2. Scout Out Restaurants Ahead of Time
On road trips, we will check the availability of our favorite restaurants in the major towns along the way while planning our travel route. We plan stops in areas that have restaurants we are familiar with. I'm a HUGE fan of Chick-Fil-A and Panera Bread because both provide an allergy-friendly menu and have been extremely accommodating when I ask for help in finding allergen-free food for my boys to eat. Mom and Pop restaurants are also a good choice because you can often talk directly with the chef about ingredients.
3. Inform Your Host of Food Allergies Ahead of Time
If you are traveling to visit family, they are likely aware of your food allergies. However, knowing someone has a food restriction and being prepared to avoid a particular food group are very different! When I first tell people we can't have any dairy they think of the obvious things like milk and cheese. When I get into the details, they are surprised how many things contain dairy. It's a good idea to talk with your host several days or a few weeks ahead of time and discuss options for every meal you will share at their house.
4. Offer To Do the Shopping
Allergy-friendly products, particularly gluten-free products, are often kept in a different area of the supermarket than their regular counterpart. You are used to finding them, but your host may not be. Offer to do the shopping yourself or go with your host to stock up for the time you are visiting. If your diet requires expensive ingredients that your host is not used to using or buying, you may also want to consider paying for some or all of the groceries.
5. Offer To Do the Cooking
On our first trip to visit my husband's grandparents a few months after discovering Magoo's dairy allergy, I helped Grandma cook all the meals. It was so much fun! Both Grandma and I enjoy cooking and it was a special time we could spend together creating memories I will cherish. Your host may not be comfortable cooking alternative meals, so offering to cook will ease stress for both of you.
Do you have anything to add? What's your best tip for traveling with food allergies?