Navigating holiday parties with food allergies can often be tricky. More often than not I find myself quizzing my host on ingredients when we are eating at a friend's house. With food allergies on the rise and my level of advocacy, it has become less stressful to ask for special accommodations than when we first learned about our boys' sensitivities three years ago.
Looking for more gluten-free resources? This Everything Gluten Free page is a library of everything gluten free we've worked on.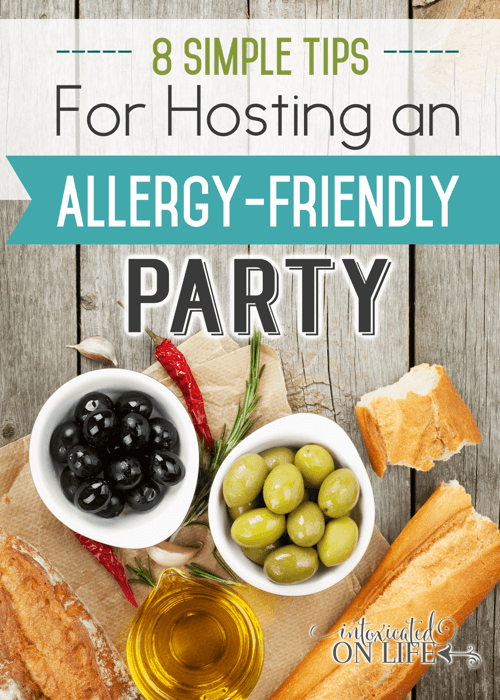 It is greatly appreciated when a host creates an allergy-friendly party and I don't have to worry about the ingredients we are served. Thank you for taking the time to accommodate special diets!
1. Ask Your Guests if There are Any Food Allergies Ahead of Time
Most of us with food restrictions are not hesitant to tell you about them, especially when we are invited to your house. However, when you ask your guests it makes the accommodations feel less cumbersome and often opens a friendly dialogue about our family and the way we cook. 
2. Accept Offers of Help
I'm used to cooking without any dairy, and am learning to cook without any wheat or grains. I have a few signature dishes that I love to prepare and would be honored to bring to your house. In my experience, guests don't offer to bring dishes unless they really want to. Accept the help and enjoy a new dish that may just become a favorite for your family.
3. Prepare Foods That Are Traditionally Allergen-Free
When we first started our dairy free diet, I would google dairy free recipes and find some quite unusual things. It took me a few weeks to realize many of our family favorites didn't contain any dairy. Before you start searching for new recipes check your cookbook or recipe stash and look for favorites that don't contain the allergens you need to avoid.
4. Try a Recipe You Wouldn't Otherwise
I think of parties as a great time to try something new. Maybe there is a recipe or ingredient you've been wanting to try but it's outside your normal cooking routine. If you're looking for new ideas, my recipes at For This Season are all dairy free. Intoxicated On Life recipes are all wheat-free and often accommodate other restrictions as well. You can also browse our recipe collections on Pinterest or ask for help on our Facebook page.
5. Use a Mix
Normally I would not recommend buying special allergy friendly boxed mixes because they tend to be much more expensive than buying the ingredients separately. If you're only making one batch of gluten free cookies or one tray of dairy free brownies, spending the extra dollar or two on a boxed mix is worth the convenience of a fool proof recipe. Before we had food allergies, I made a gluten free birthday cake for a friend using a store brand gluten free mix. It was just as easy as a regular cake mix and turned out perfect!
6. Not Every Recipe Must be Allergen-Free
It's your party, showcase your favorite dishes! Providing one or even two allergy friendly options is plenty. Unless all your guests have the same diet restrictions, don't feel like every dish has to be allergy-friendly. Even when we throw parties, I make a few dishes with cheese for our guests to enjoy.
7. Make a Fruit or Vegetable Tray
I think having a fruit or vegetable tray is a great idea for parties even if you are not trying to accommodate food allergies. Picky toddlers will often eat a carrot, apple slice, or strawberry even if they refuse the other yummy dishes offered. It's also nice to have a healthy option among all the typical holiday treats. If you're pressed for time or uncomfortable cooking with alternative ingredients, a fruit and veggie tray is easy and accommodates many allergies (dairy, gluten, sugar, and soy free!).
8. Label the Dishes
I think labeling all dishes at a party adds a nice polished touch to the party, however I rarely remember to make labels for everything until the last minute! If you have created a special allergy friendly dish, adding even a hand written note will let your guests know you prepared something just for them. I will skip this when we have just a few guests over, but for big parties it avoids a lot of confusion.
Did I forget anything? Leave a comment below with your best tips for hosting a party.