I've got this Homemade Countertop Yogurt recipe to share with you today. No heat required!
That's right, you can make yogurt without incubating it in the oven, crock-pot, or yogurt maker. Just set it on the counter and watch it go! It's true.
For several years I've made yogurt using a fairly easy method. But it does require that I leave my oven on 100 degrees overnight. It's not the worst thing in the world, but being able to make yogurt and not heat the oven is even better.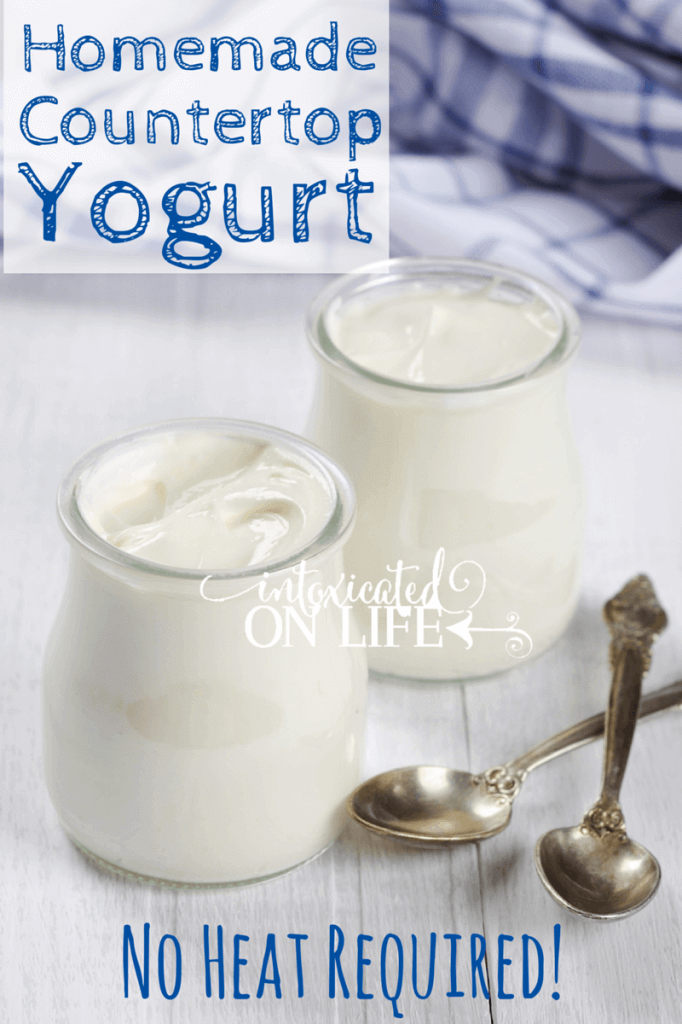 The Yogurt/Bacteria/Temperature Connection
What makes yogurt yogurt? Yogurt is made when you culture bacteria (good bacteria) in milk. Yes, there is such a thing as good bacteria. In fact, good bacteria is absolutely essential for good gut health. Don't fear the bacteria!
Strange Fact: Did you know our bodies are made up of roughly 10 trillion cells, and at the same time we house an impressive 100 trillion bacterial cells. Bacteria are part of our microbiome. Crazy!
The types of bacteria that are present in our yogurt starter determine the taste, texture, consistency, and temperature at which our yogurt must be cultured.
Thermophilic vs. Mesophilic
Let's talk a little bit more about two categories of yogurt: thermophilic and mesophilic.
Thermophilic; adj. requiring high temperatures for normal development.
Thermophilic bacteria requires prolonged heat in order to culture properly to make the transformation to yogurt. This type of bacteria grows best at high temperatures.
Mesophilic; adj. growing best at moderate temperatures.
Mesophilic bacteria is the type you use to make homemade countertop yogurt. This yogurt typically does best between 70-77 degrees Fahrenheit.
How to Make Homemade Countertop Yogurt
Now that we've completed our mini-science lesson let's get down to the nitty-gritty. How do you make homemade countertop yogurt? Well, first you have to get your hands on the correct culture. I'd recommend purchasing your cultures from Cultures for Health. They have several varieties of mesophilic yogurt. The one I have tried and enjoy is their Villi yogurt.
One package contains 2 starter packets, but you only need to use one to get your yogurt going. After you make your first batch, just reserve a bit of plain yogurt to use as a starter for your next batch. You can continue doing this indefinitely. Cool, eh?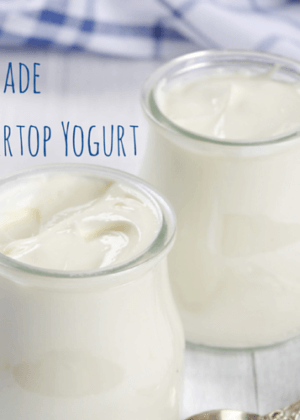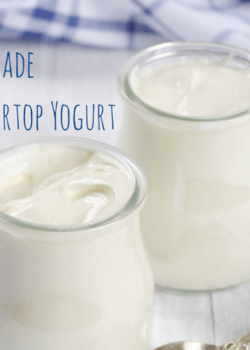 Print
Homemade Counter Top Yogurt
Delicious yogurt is almost effortless to make! With the right starter and some milk you can have homemade yogurt in just a few hours.
Ingredients
1/2

gallon

of milk

1

yogurt starter culture
Instructions
Activate your yogurt starter according to the manufacturer's directions. This will activate your culture and give you starter yogurt.

Place 8 Tablespoons of your cultured yogurt (from the activated starter) into a plastic container. Pour the milk over the yogurt.

Mix thoroughly.

Place a lid on the container.

Set the container in a spot on your counter top that stays consistently between 70-77 degrees fahrenheit.

Let the yogurt culture for 12-18 hours, or until the yogurt moves away from the wall of the bowl in one mass when tilted (it shouldn't run up the sides).

Refrigerate your yogurt for at least 6 hours.

Eat and enjoy!
Notes
Don't forget to reserve some of your yogurt for future batches of easy, homemade, counter top yogurt!
Have you ever made homemade countertop yogurt before? Tell me about it in the comments below!
More Delicious Healthy Food Recipes: