Packed with cheesy, spicy deliciousness these bacon wrapped stuffed poblanos will be your new favorite Mexican themed treat!
I love Mexican food. I love it so much, my husband and I had our post-wedding dinner at my favorite Mexican restaurant (we had a small wedding with just family there). #TrueStory
A girl who chooses to have her post-wedding dinner at a Mexican restaurant and celebrate nearly every birthday in recent memory at said Mexican restaurant, knows her Mexican food. I've also brainwashed convinced my kids that Mexican food is the best!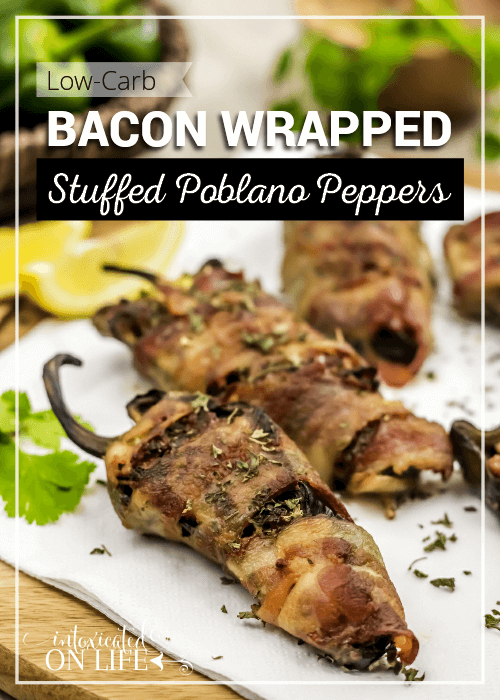 But the problem with going out for Mexican is the all-you-can-eat chip and salsa buffet sitting in front of my face! Alas, I do not have much self-control when it comes to the chips and salsa.
That's one reason why it's so much better for me to make my own foods with a Mexican flare, in my home, where I don't have to deal with all the darn chips tempting me (not to mention the corn tortillas in my beloved enchiladas or delicious tamales!).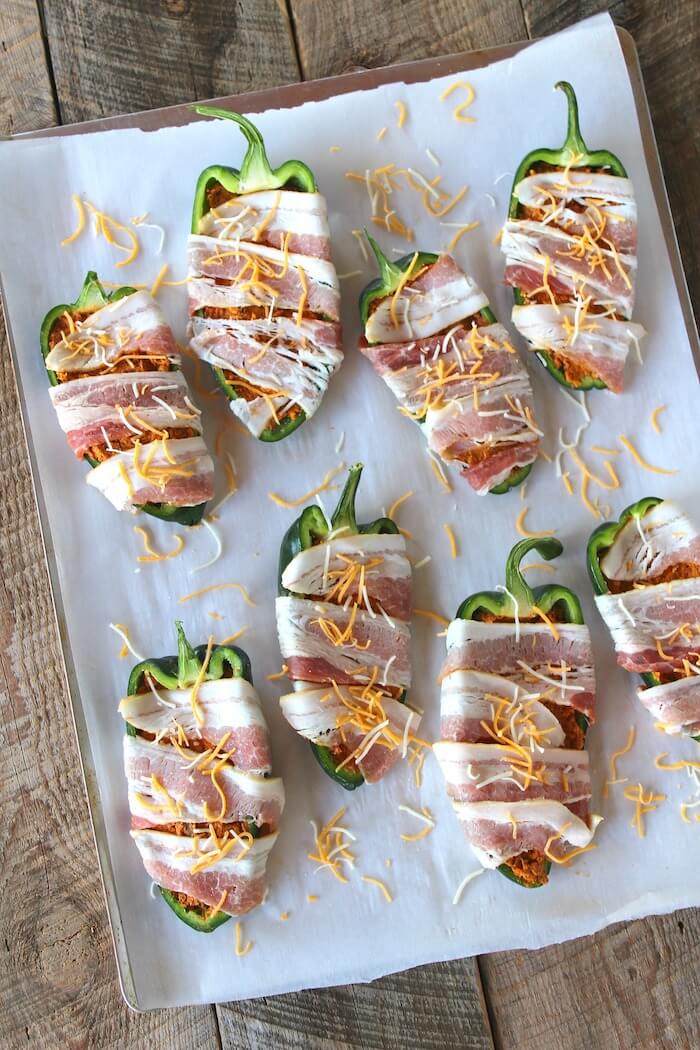 Grain-Free, Low-Carb, Mexican Stuffed Poblanos
In an attempt to steer clear of the Mexican restaurants, I've had to include plenty of meals in our regular menu to quench my Mexican cravings without all the grains and carbs.
The good news is that the most delicious ingredients in your favorite Mexican foods are already low-carb and grain free (cheese, chorizo, peppers et. al.)  And this particular stuffed poblanos recipe features everyones favorite–bacon!
I mean, c'mon…bacon.
And best news of all for all you fellow busy mamas: this bacon wrapped stuffed poblanos recipe is easy to put together! I love to cook and spend time in the kitchen. But as a homeschooling, work-at-home mama, most days dinner has to be fast and easy to put together.
In just over an hour you can have this stuffed poblano recipe prepped, cooked, and on the table!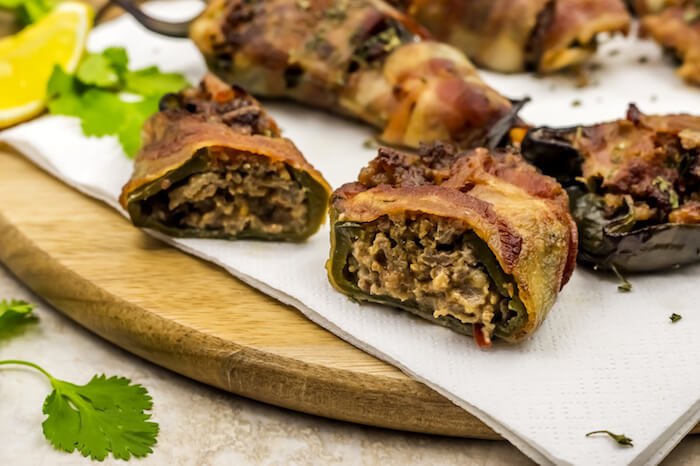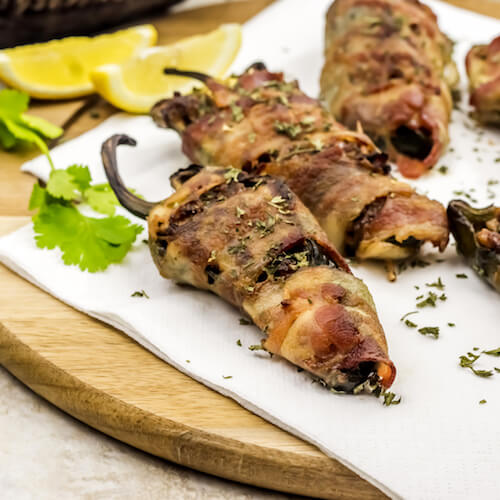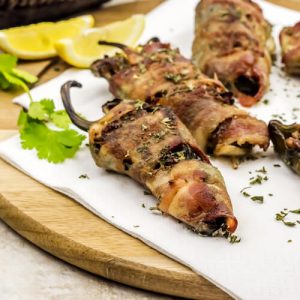 Print
Bacon Wrapped Stuffed Poblano Peppers
Yield 8-10 peppers
You'll love these rich, low-carb stuffed-poblano peppers! They're a great way to celebrate cinco de mayo (or any day). 
Ingredients
1 lb chorizo sausage cooked
1- 8oz package cream cheese
8 oz shredded cheese of your choice (I did a mix of monterey jack and cheddar)
8-10 poblano peppers
12 slices of bacon
Instructions
Preheat oven to 400 degrees.
Brown chorizo in a fry pan until cooked through.
Mix chorizo, cream cheese, shredded cheese together.
Slice poblano peppers down the middle, clean the centers out, removing all of the seeds.
Stuff each pepper with cheese and chorizo mixture
Wrap each pepper with 2 slices of bacon.
Place peppers on a broiler pan. Bake for 35-40 minutes until the bacon is cooked through and slightly crisp.
Courses main
More Grain-Free Mexican Recipes
If you, like me, can't get enough Mexican food, but want to steer clear of all the grains and carbs, here's a list of recipes to get you started: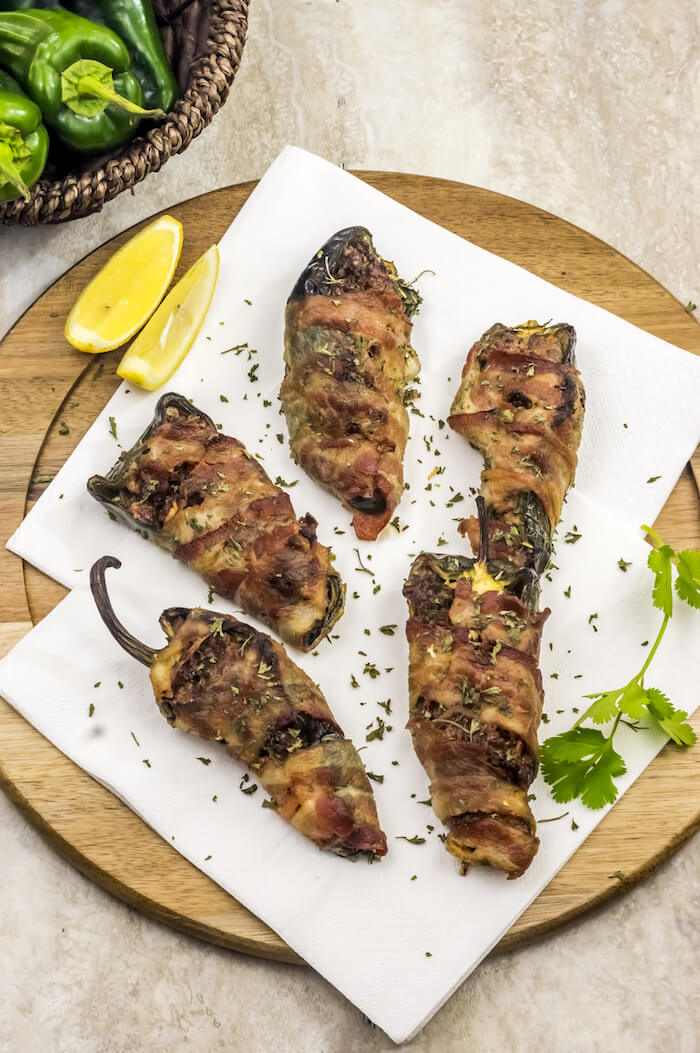 Sharing at Pam's Party & Practical Tips, The Modest Mom Blog, and Create with Joy.