This Grain Free Sausage And Cheese Biscuits recipe has been super helpful for our home lately.
Breakfast-time at our home can be a little bit chaotic…for daddy. You see, since I got sick with Lyme disease, I've spent mornings catching up on extra sleep while my husband so sweetly cares for the kids. He gets them fed and dressed before waking me up and taking off for work.
We try to focus on protein-packed breakfasts that will help keep the kids full and fuel their brains for the morning. My hubby is a good sport, and doesn't complain that I don't stock the house with convenient breakfast foods like pop-tarts and cereal. But, he does appreciate it when I make some breakfast foods ahead so they're easy to grab and warm up for the kids. 
Looking for gluten-free recipes and resources? This Everything Gluten Free page is a library of everything gluten free we've worked on.
If you're looking for a good source of grass-fed meat,
Butcher box
has high-quality meat that they will deliver right to your door.
If you use this link to Butcher Box, you can get $15 off your first box and FREE bacon(!!)
.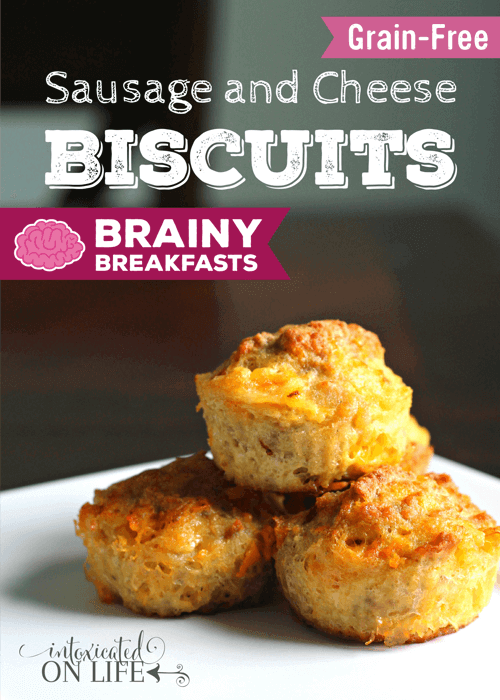 This recipe for grain-free sausage and cheese biscuits fits that bill! You can eat them right out of the oven, or they refrigerate and warm up well (you can use the microwave, but they're even better if you warm them up in a toaster oven).
Grain Free Sausage And Cheese Biscuits: Savory and Smart!
These Grain Free Sausage And Cheese Biscuits are also savory and smart! As I mentioned, they're great brain fuel—packed with amazing ingredients like eggs and coconut flour.
I have a son who's decided he doesn't like eggs (seriously?! how can you not like eggs?). But when the eggs are hidden in something like this, he devours them!
Given that eggs are one of the healthiest foods you can eat, I like to make sure my kids are getting them on a regular basis. In addition to being packed with protein, they also have brain-boosting fats, vitamin D, choline, and more!
And coconut flour…well, coconut flour is the darling of brainy-friendly baking. Coconut flour, unlike wheat flour and many other starchy flours, is high in protein, high in fiber, and has is exceptionally low on the glycemic index. That means, you and your kiddos won't suffer from that mid-morning carb-overload crash!
PS: Don't worry, you won't taste the "coconut" flavor at all in these.
Grain-Free Sausage & Cheese Biscuits
Yield 32 mini-muffins
Ingredients
6 eggs
6 T. butter, melted
1/2 t. salt
1/2 t. baking powder
1 t. garlic powder
1/2 cup coconut flour
8 oz. sharp cheddar cheese
1lb cooked ground sausage
Instructions
Preheat oven to 400 degrees and grease 32 mini-muffin tins.
Combine the coconut flour, garlic powder, baking powder, and salt.
Add the eggs and melted butter. Mix thoroughly.
Fold in the cheddar cheese and ground sausage.
Fill the mini-muffin tins to the top. Bake at 400 degrees for 12-14 minutes.
More Healthy Breakfast Recipes:
What are some of your favorite make-ahead, healthy breakfasts?
Need some more tasty, kid-friendly breakfast ideas?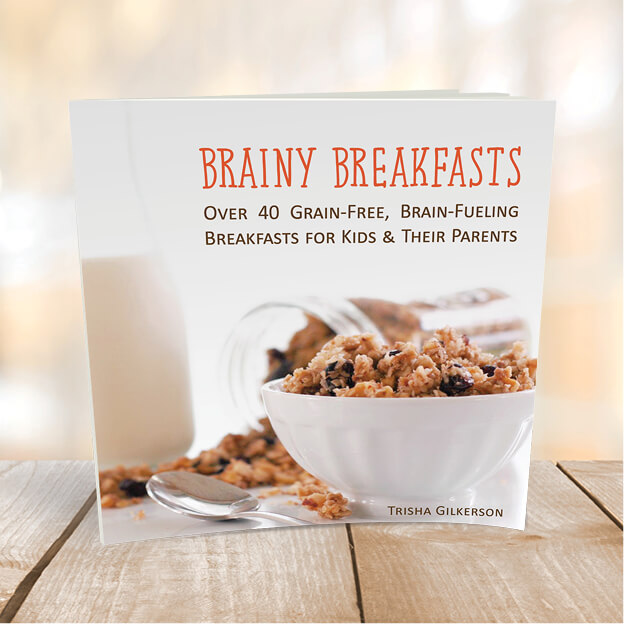 Check out our cookbook Brainy Breakfasts – it's filled with over 40 grain-free, brain-fueling breakfast recipes to keep things new and exciting! It's available as a downloadable or softcover book. You won't run out of healthy, tasty breakfast recipes anytime soon with this cookbook ?