Should I try a gluten-free diet? I've heard this question asked by many people. The short answer for me will always be a definitive YES. You should try a gluten-free diet.
Looking for gluten-free resources? This Everything Gluten Free page is a library of everything gluten free we've worked on.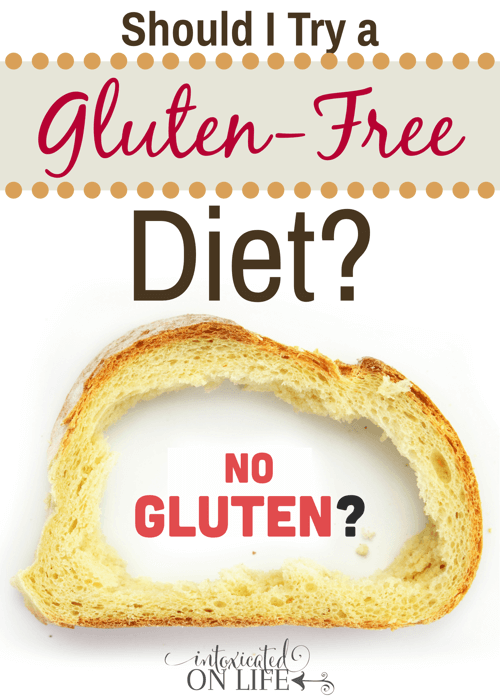 Why? There are a number of problematic proteins in wheat. These are proteins that can cause problems for everyone. There are also some very specific overarching reasons that everyone should be wary of wheat. And to top it off, gluten sensitivity is associated with over 200 different diseases.
Yes, you read that correctly, it isn't a typo. TWO ZERO ZERO.
Celiac Disease vs. Wheat Allergies vs. Gluten Intollerance vs. Gluten Sensitivity (Defined!)
In health literature—whether it's medical journals, blog posts, or magazine articles—you'll probably come across some of these terms: celiac disease, gluten intolerance, gluten sensitivity, gluten syndrome, and gluten/wheat allergy. The terms that different people throw around can mean a number of different things.
Wheat Allergies
Gluten or wheat allergies refer to an immune mediated response. What that means is this: Any time someone is using the word "allergy," they are referring to your immune system over-reacting to something. Your immune system views the protein as an invader and goes into attack mode—hence, you end up feeling miserable, at least to some extent. Plus, this acute reaction causes internal inflammation. The inflammation leads to systemic damage.
The problem with a wheat allergy is you don't always know you  have it. Do you have repeated headaches maybe migraines? PMS? Chronic sniffling or coughing? There are just a few examples of symptoms of a wheat allergy.
Gluten Intolerance
Gluten intolerance is not immune mediated, but an inability to tolerate gluten nonetheless. The reaction isn't produced in the immune system, but in other tissues of the body, typically the gut.
This is likely a person who has an problem with an overproduction of zonulin (we talked about zonulin in this post). Essentially, zonulin creates a leaky gut and this leads to an array of problems throughout the body. When this undigested food gets in the blood stream because of the leaky gut it can lead to a number of different food allergies (acquired allergies—allergies to foods that people don't typically acquire later in life).
But, the problems don't stop with just allergies. As you can imagine, having poop in your blood stream doesn't do your body any favors.
Gluten Sensitivity & Celiac Disease
Gluten sensitivity or gluten-syndrome don't have specific definitions. They are used differently by different researchers and doctors, so the definitions are hard to nail down. These are often used as a mesh of the two above conditions (gluten allergies and gluten intolerance).
Gluten sensitivity is not the same as celiac disease, but gluten sensitivity does cause celiac disease!
Many people believe that when a person is sensitive to gluten that means they have celiac disease. They think celiac disease is the only manifestation of having a problem with gluten. They make the incorrect assumption that if they don't have tummy issues, they should be fine.
Nothing could be farther than the truth though. Celiac disease is only one evidence of gluten sensitivity. In fact, gluten sensitivity takes many many forms. Often people who suffer from gluten sensitivity have no abdominal discomfort whatsoever.
Often the symptoms of gluten sensitivity go undetected and unnoticed for many years because they are not severe enough to interrupt people's lives.
People don't worry about the occasional migraine because everyone gets a headache now and then.
Stiff joints—just getting older.
PMS is normal, right?
Coughing and sniffles—just environmental allergies, I'm sure.
That is, gluten sensitivity often doesn't cause major interruption in lives until it has attacked your body to the point that you must wake up and pay attention. Maybe the development of an autoimmune disease. Repeated miscarriages. Infertility. The problem is, often people don't link these things to a problem with wheat and your body can't heal from these diseases overnight. In fact, if the damage is too complete, your body may never fully heal.
Indications that You Should Consider a Gluten-Free Diet
Should you consider whether your body has a problem with wheat? Well, in my opinion anyone living in this era should at least consider this question. If you suffer from any of the over 200 conditions associated with gluten sensitivity, I'd seriously consider eliminating wheat from your diet. The conditions below represent the "short list."
Gastrointestinal problems: bloating, cramping, diarrhea, constipation, irritable bowl syndrome, indigestion
Headaches, particularly migraines
PMS
Infertility
Inflammation—systemic or whole body
Stiff joints
Mood issues: anxiety or depression
Schizophrenia
Childhood problems like learning disorders, autism, hyperactivity
"Chicken skin" on the backs of your arms (those little bumps that give you rough skin)
Asthma and wheezing
Chronic sniffling
Coughing
Chrohn's disease
Skin problems (eczema, psoriasis, acne, itchy skin, rashes)
Fatigue and low energy
Insomnia
Fluid retention
Autoimmune diseases (arthritis, alopecia, autoimmune hypothyroidism, type 1 diabetes, multiple sclerosis, etc.)
Miscarriage
Weight loss/gain
Nutritional deficiencies (due to malabsorption)
Vomiting or excessively spitting up
Spontaneous nose bleeds
and the list goes on and on…
Moral of the story: different people have different symptoms to gluten sensitivity. Pay attention to your body. 
Have you given up wheat? What made you take the leap? Did you have symptoms unrelated to abdominal discomfort that you think were/are related to your gluten sensitivity?
Why Go Wheat-Free?
When our family went wheat-free, we had many questions from friends and family. This is the heart behind our book, Weeding Out Wheat. In the book you'll learn more about the harmful effects of wheat on the body based on current medical research. You'll also learn about how, as Christians, we've reconciled our wheat-free lifestyles while reading a bread-filled Bible.
Buy it in our store (PDF) for $9.95. You can also buy it on Amazon (Kindle) and paperback.