Celebrate all the wonder of fall with this hearty and warming, grain-free Chicken and Sweet Potato Chipotle Chili. With the perfect blend of sweet and spicy, it's a dish that's sure to make a regular appearance at your dinner table!
Looking for gluten-free recipes and resources? This Everything Gluten Free page is a library of everything gluten free we've worked on.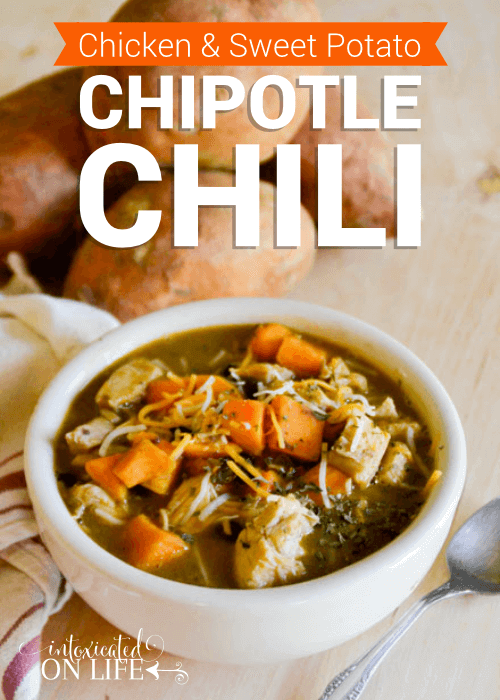 Bring on the soup.
I love fall because everything dies. Just kidding! I really do love fall, though. All the bundling up, changing colors of leaves, brisk evenings, and best of all… the soup. Even though I live in the south where it doesn't really get down to soup temperatures until the end of November, I get bit with the soup bug around the beginning of September.
Broccoli soup, squash soup, split pea soup, chowder… I love them all! And though I love all soups made in my slow-cooker, too, there's a special place in my heart for a big pot of soup simmering away on my stove top! And don't even get me started on chili!
While my family loves my white chicken chili, and a hearty beef- or veggie-filled bowl of chili is always a win, I've been wanting to make a good sweet potato chili for quite a few years now. The problem? I was the only one who enjoyed sweet potatoes. Until now.

Sweet potato love.
I've been trying to sneak sweet potatoes into things for a while now, and while my chocolate sweet potato pudding is always a hit, I want my family to be able to enjoy sweet potatoes for their own special goodness.
Not only are sweet potatoes delicious, they are a wonderful way to get many needed nutrients into your body, as well! Among the vitamins and minerals plentiful in sweet potatoes are vitamin A (i.e. beta-carotene), vitamin C, manganese, copper, pantothenic acid and vitamin B6. They're also a good source of potassium, niacin, vitamin B1, vitamin B2 and phosphorus.
Seeing as they go well with both sweet and savory dishes, what better a way to enjoy them than in a big bowl of hearty, comforting chili?

Chicken and Sweet Potato Chipotle Chili.
This delicious Chicken and Sweet Potato Chipotle Chili dish was pretty much all my chili dreams come true. The sweet potatoes add a (you guessed it) subtle sweetness, paired with the hearty meaty beans and chicken, evening out the spicy chipotle and sriracha seasonings. Even though my kiddos don't usually enjoy spicy foods (they really don't know what spicy is, IMO), they gobbled this Chicken and Sweet Potato Chipotle Chili down without complaining!
Though you can use canned beans for this dish, I don't ever have canned beans around. I prefer to soak and sprout dry beans instead (you can find out more about that here). I usually just pop a few cups that I have soaking on the counter into my Instant Pot (newest love!), and they're ready by the time the rest of the soup is prepared!
If you're totally not into sweet potatoes, butternut, or pumpkin is a good alternative.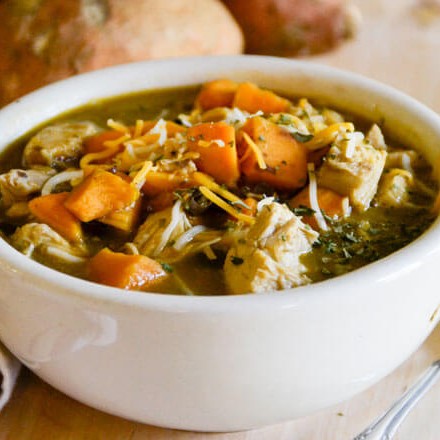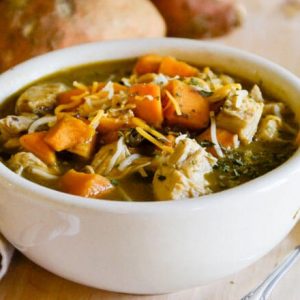 Print
Chicken and Sweet Potato Chipotle Chili
For a twist on the usual chili flavors, try this chicken and sweet potato chipotle chili! Full of nutrition, this delicious soup is sure to become a new family favorite.
Ingredients
2

tablespoons

butter

or coconut oil, bacon grease, tallow

1/2

cup

yellow onion

chopped

1

tablespoon

minced garlic

1

teaspoon

chipotle sea salt

1/2

teaspoon

taco seasoning

6

cups

sweet potatoes

peeled and chopped (about 3 potatoes)

1

quart

chicken stock

or beef or veggie

3

cups

cooked or canned beans

your favorite type: cannellini, pinto, black, etc.

4

cups

chicken

cooked and shredded or chopped

salt & pepper

to taste

dash sriracha powder

optional
Instructions
In large pot, saute the onions in fat until translucent.

Add in garlic, chipotle salt, and taco seasoning, stirring for a minute until fragrant.

Add in chopped potatoes and stir around for a few minutes, until coated in seasonings and beginning to brown.

Pour stock over potatoes, cover, and bring to boil. Remove cover, reduce heat, and simmer until potatoes are fork-tender, about 10 minutes.

Place 2 cups of the cooked sweet potatoes in a blender long with a cup of the stock. Puree, then stir back into soup, along with beans and chicken.

Season with salt, pepper, and sriracha, to taste.

Serve with shredded cheese and/or sour cream.
Nutrition
Serving:
8
servings
|
Calories:
266
kcal
|
Carbohydrates:
36
g
|
Protein:
14
g
|
Fat:
8
g
|
Saturated Fat:
3
g
|
Cholesterol:
31
mg
|
Sodium:
704
mg
|
Potassium:
526
mg
|
Fiber:
6
g
|
Sugar:
6
g
|
Vitamin A:
14277
IU
|
Vitamin C:
4
mg
|
Calcium:
81
mg
|
Iron:
3
mg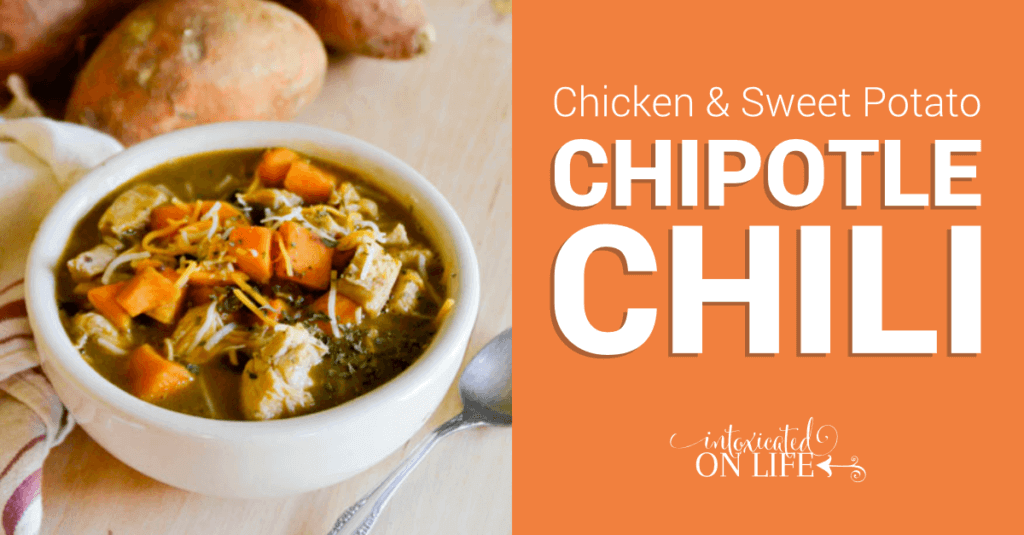 ---
If this Chicken and Sweet Potato Chipotle Chili got you salivating, make sure you check out my 3 Bean White Chicken Chili recipe, too! And, of course, make sure you check out my Soups & Stews Archive!