I love salads. I would probably eat a salad for lunch every day if I had the patience to make them. In the business of taking care of kids and homeschooling I don't get to all of the cleaning, cutting, and chopping. My lunches are more grab and go or eat whatever my kids don't eat.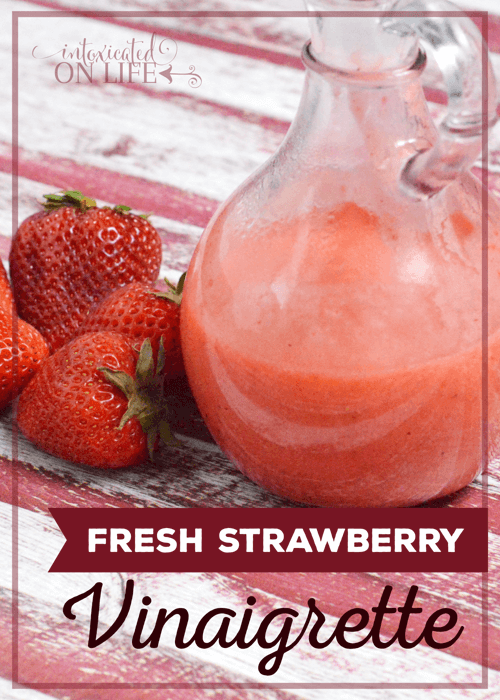 I love salads even more knowing my salad dressing is healthy. That's what I love about this fresh strawberry vinaigrette: it not only has a delightful tangy sweetness; it is also a great source of nutrients.
Strawberries are an excellent source of Vitamin C, boosting your immune system and improving skin health. Strawberries also contain other helpful antioxidants and phytochemicals that help to promote eye health, lower bad cholesterol, and reduce inflammation in the body. (Commercially grown strawberries are on our "dirty dozen" list, so many sure you get organic strawberries.)
MCT oils can aid in weight loss, help to heal the digestive system, help to regulate blood sugar, and many other benefits.
Balsamic vinegar contains polyphenols and other antioxidants which can protect the body from heart disease and cancer and improve the immune system overall.
Honey can help to counteract indigestion and is considered a superfood because it contains antioxidants, minerals, vitamins, amino acids, enzymes, and phytonutrients. (Make sure you get raw honey to get these benefits.)
Give this dressing a taste. If you're like me, you're going to love it.
Fresh Strawberry Vinaigrette
Ingredients
1 cup organic strawberries
2 Tablespoons balsamic vinegar
2 Tablespoons olive oil or MCT
2 Tablespoons raw honey
Salt
Pepper
Instructions
Clean and coarsely chop strawberries.
Combine all your ingredients in a blender or food processor. Blend well, until there are no lumps.
Taste to make sure the salt and pepper are to your liking as each person is different.
Enjoy!
Check some of my other favorite homemade salad dressing recipes!