The other day I received an email from a Christian mother asking how she should talk to her kids about tattoos. Her family had recently made friends with others who had large, very prominent tattoos on their body, and her children were curious about them.
She wanted to be able to address the matter of what to teach kids about tattoos from a Christian worldview. This was my reply…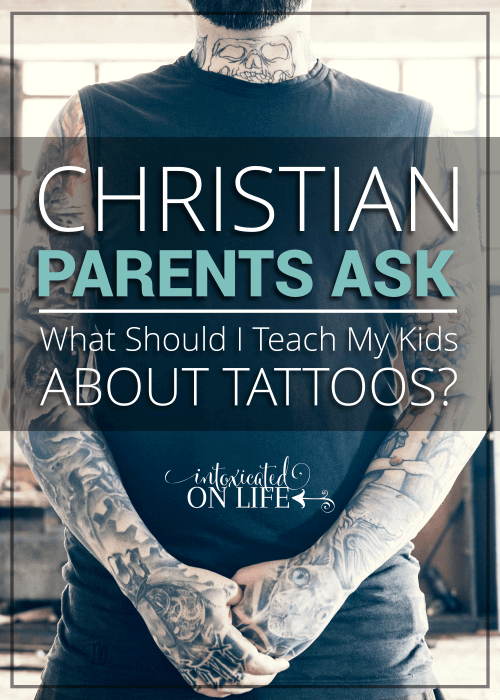 Christians have different convictions about tattoos.
Teaching Kids About Tattoos: Does God Forbid Tattoos?
Some look to Leviticus 19:28 which commands Israel: "You shall not make any cuts on your body for the dead or tattoo yourselves: I am the Lord."
Like much of the Law of Moses, the concern God has for his people in this law is distinguishing His people from the rest of the world. Other nations cut, burned, or marked their bodies in honor of the dead, or to show they were the servants of a pagan god. The God of Israel expressly rejected this practice.
Should Christians reject tattoos entirely because of this command? No.
First, it is important to remember that Christians are not under the Law of Moses but under the Law of Christ (1 Corinthians 9:20-22).
This does not mean the Law of Moses is irrelevant to us—far from it. The Law of Moses still bears witness to the righteousness of God (Romans 3:21). All Scripture, including the books of Moses, are inspired by God and are useful for teaching (2 Timothy 3:16). The Law is filled with stories written down for our instruction—stories of God's dealings with his people that serve as an example for us (1 Corinthians 10:11).
But, we are not "under" the same Law anymore. We aren't under the Mosaic covenant. That system served as a guardian until Christ came (Galatians 3:24-26), but now that Christ has come, we live under his law (6:2).
Second, the people of God today are not a nationalistic identity as they were in the days before Christ—we are a multi-ethnic, international family that transcends cultural boundaries (Ephesians 2:11-22), including those marks that once separated Israel from the rest of the world.
Therefore, based on Leviticus 19:28 alone, we cannot say God is against Christians getting tattoos.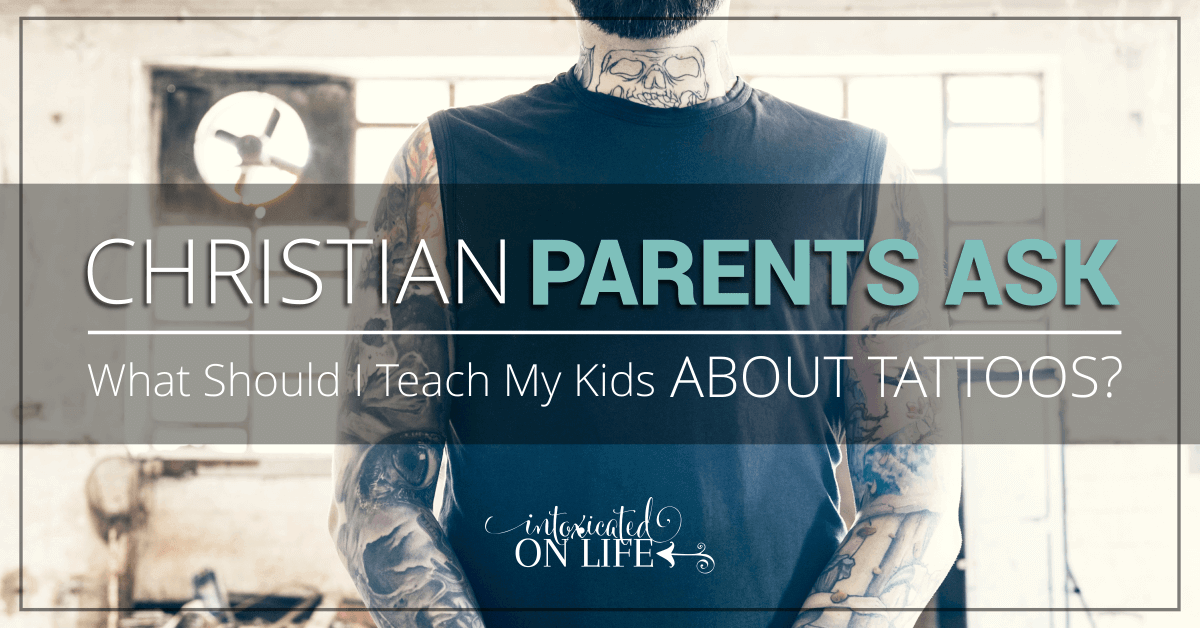 Teaching Kids About Tattoos: How should we talk about tattoos?
Still, what is the wisdom behind God's old command against tattoos? While there is no command from Christ or His apostles on the matter, there are some good principles we can talk about with our kids when it comes to tattoo markings.
1. Tattooing the body shows a desire to express a permanent love for something.
While tattoos are technically removable, this is not done easily, and no one gets a tattoo with the intention of some day removing it.
Marking the body God gave us in a permanent fashion indicates a great commitment to the meaning behind the mark. This is why pagans marked their bodies in ancient times. Just because most people don't get tattoos out of dedication to idols made of wood and stone doesn't mean there aren't "idols of the heart" (Ezekiel 14:4) at work in our lives.
So, if you get a tattoo, first ask yourself what commitments it communicates to the outside world. What does it reflect a love for or devotion to?
For instance, I have a good Christian friend, serving as the pastor of a church, who has a lot of tattoos—most of them acquired since becoming a Christian in college and most of them expressing a commitment to Christ (things like crosses or the five Solas of the Reformation, etc.).
Of course a Christian's legitimate tattoo choices aren't merely limited to Christian themes, but the principle should give us pause as we ask what commitments various body markings communicate.
2. Tattoos can also be done for reasons of vanity: placing a great emphasis on the outward appearance of our bodies.
Before getting a tattoo, look at the state of your heart in this regard (1 Peter 3:3-4). There are, of course, many ways people can idolize the human body and physical appearance, not just tattoos. But tattoos are unmistakably a fashion statement, and like all fashion statements, can be motivated by vanity. Of course, this isn't true for everyone who gets a tattoo.
3. Tattoos, like a lot of things, are cultural: they are fashionable in certain locations but not in others.
In certain circles, tattoos are engaging talking-points. In other cultures, they are largely ignored. In some places, they are frowned upon as unclassy. We must bear this in mind as we try, as Paul did, to become all things to all people. Permanently marking our bodies (unlike just wearing certain items of clothing) is not a form of fashion we can simply take on and off, so we need to try to be aware, as much as we can, how our tattoo choices may impact future relationships as we move in and out of different subcultures.
4. Our bodies are temples of the Holy Spirit, so we should honor God with our bodies.
Just as with our minds, if we tattoo our bodies, the messages therein should focus on what is true, honorable, just, pure, lovely, commendable, excellent, or worthy of praise (Philippians 4:8).
We should also be aware of the potential health risks with tattoos and seek to do what is wise.
Teaching Kids About Tattoos: a matter of conscience and wisdom
In the end, it's important to understand tattoos are neither a mark of sin or holiness. Getting (or not getting) a tattoo is a matter of conscience and wisdom. Furthermore, how we treat people with tattoos should be understood in the same light. We don't stand in judgement over the motives of others, or over others' life choices that may or may not match our personal convictions.
Did this information help you, as a Christian parent, figure out what to teach your kids about tattoos? I hope so! Feel free to comment with more insight or questions!
---
More Christian Parents and Culture Articles:
---