There are many reasons our family memorizes the Bible. If you've been around our family much, you know one of the spiritual disciplines we emphasize with our children is Bible memorization.
Memorizing the Bible at a young age has so many advantages. Children have amazing memories and are able to absorb so much, so why not fill their minds with the Word of God so it can permeate their souls as they grow and mature?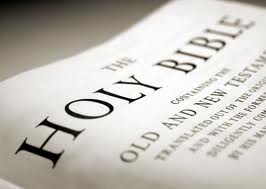 5 Reasons Our Family Memorizes the Bible
We know that Bible memory isn't just edifying for them, it is also something that nourishes our souls as well. Do you wonder why we emphasize memorizing the Bible so much though? Here are a few reasons our family memorizes the Bible.
1. So we can discern truth from error.
We memorize the Bible so we can discern truth from error. We desire to make right choices and avoid sin. Knowing Scripture helps us guard our minds and make correct choices. Psalm 119:9-11 wisely says: "How can a young man keep his way pure? By guarding it according to your word…I have stored up my word in your heart, that I might not sin against you."
Ephesians 6:13-18 talks about the armor of God. Is it any wonder that the word of God is likened to a sword? It is able to cut through the lies of this world! Likewise, Psalm 37:30-31 states: "The mouth of the righteous utters wisdom, and his tongue speaks justice. The law of his God is in his heart; his steps do not slip." If you are to be righteous, have wisdom, and speak justice – you must have the law of God in your heart.
2. So we may accurately communicate the Gospel to others.
As we speak of God to those around us and witness what he has done in our lives, we may more accurately communicate the gospel to others.
1 Peter 3:15 boldly proclaims, "but in your hearts honor Christ the Lord as holy, always being prepared to make a defense to anyone who asks you for a reason for the hope that is in you; yet do it with gentleness and respect." How can we defend our faith and our Savior except by memorizing His word?
3. To give us hope and encourage our souls.
Scripture also has the power to give us hope and encourage our souls. Romans 15:4 says,  "For whatever was written in former days was written for our instruction, that through endurance and through the encouragement of the Scriptures we might have hope."
4. So we get guidance from God.
We receive guidance from God through the Bible. Psalm 119:24 says, "Your testimonies are my delight; they are my counselors." Similarly, Psalm 119:105 declares, "Your word is a lamp to my feet and a light to my path."
5. To transform us from the inside out.
The Bible will transform us from the inside out. As a counselor, I know that thoughts are incredibly powerful things. They shape who and what we are and what we will become.
Proverbs 23:7 confirms,  "For as he thinks in his heart, so is he" (NKJV). The Bible reminds us of who our God is and who we are as his children. It has the power to shape and transform us into His image.
My Final Thoughts about Memorizing the Bible…
My prayer for myself and my family is for God's word to be hidden so deeply in the recesses of our heart that it becomes an integral part of who we are. I hope when we're old and our memories fade we still are able to hold firmly to the promises in the Bible.
Here's a cute video of our oldest son Bradley in the middle of learning Psalm 130. At this point he didn't have the whole thing memorized yet, but he was well on his way to completing it. In this video he is about 4 years old.
Does your family memorize the Bible together? Tell me about it in the comments below!
More Bible Memorizing Tips & Resources: