"I'm sorry, there isn't anything I can for you. I can refer you to someone who can diagnose you with Chronic Fatigue Syndrome," the doctor stated matter-of-factly.
The words rang hollow in my ears. "No, no thank you," I mumbled limply.
I felt like crying.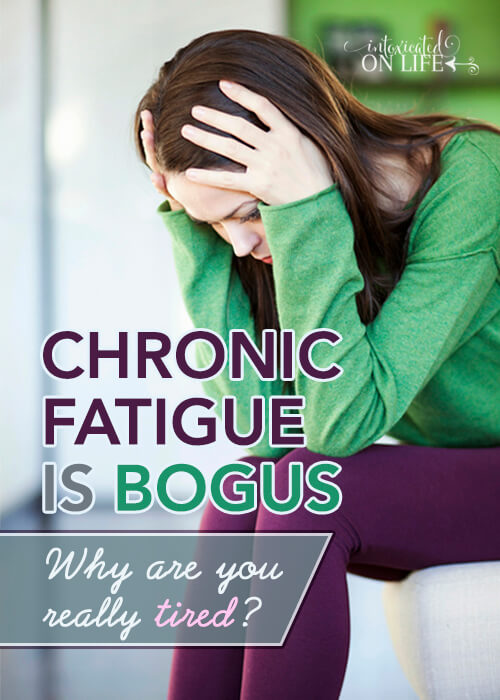 Why didn't anyone have answers?
After checking out, I made my way to my car.
I put my head on the steering wheel as I felt the hot tears running down my cheeks.
Frustrated, I wondered what I would do next. I waited 4½ months to get into this specialist. I'd been hoping and praying she'd have the answer or at least some ideas to pursue.
Nobody could figure out the reason for all of my seemingly unrelated symptoms. Fatigue. Heart palpitations. Extremely low cortisol levels. Erratic blood sugar levels. Arthritis-like pain. Muscle aches. Edema. Increasingly intense and debilitating headaches. Head pressure. And the list goes on…
Good Days. Bad Days. Crazy Days.
There were days I wondered if I was going crazy. I have good days and bad days.
On the bad days, I lay on the couch and tried to keep my eyes propped open for a few minutes here and there. My kids watch too much TV. My oldest son makes lunch for his younger brothers. When my husband gets home from work, I go to bed and officially "give up" for the day. My husband figures out something for dinner that hopefully isn't take-out…again.
On the days I feel well, I cook, play with the kids, and do laundry (carrying baskets of dirty clothes from our second floor bedrooms down to the basement). On my good days, I lead a fairly normal life. Do I feel 100%? No. But compared to the bad days, I can get things done.
It's on these good days, I wonder: Am I going crazy? Is it all in my head? Why am I running from specialist to specialist when I feel so functional today? This doesn't make sense. Why do my symptoms come and go?
What is Chronic Fatigue Syndrome?
The word "syndrome" is important to understand. When doctors call something a "syndrome," they are basically saying, "You have a group of symptoms with no specific underlying cause(s) we can find."
Calling something a syndrome is not the same as labeling it a "disease." A disease is something wrong with your body that has a recognizable etiologic (causing) agent, often with a group of identifiable symptoms or alterations to your anatomy. A "syndrome," however, is a convenient classification clinicians use to give a name to a constellation of symptoms that often like to travel together. Beyond that, a syndrome tells you nothing about what you really want to know: what's the cause?
To say Chronic Fatigue Syndrome is "only a syndrome" is not to say the symptoms aren't real. Trust me: if you've ever been so habitually exhausted you find it nearly impossibly to climb out of bed, you know just how real the symptoms are. When something is called a "syndrome" it doesn't mean the problem is less serious or imaginary. It just means medicine doesn't know much about it.
This is why I was not satisfied with a Chronic Fatigue diagnosis. I wanted to know why I felt so terrible.
Hope for a Brighter Future
Trying to hold loosely to hope, I fidgeted as I waited in the office of yet another new doctor. He had been highly recommended to me, but I didn't want to be overwhelmed with disappointment when he didn't have any answers.
After spending over an hour with me going through a thorough health history, listening to all that I'd tried, looking through all of my prior labs, and listening to the litany of seemingly unrelated symptoms I was experiencing the doctor looked at me compassionately and spoke magical words. Words that I'll never forget. He promised me,
I won't diagnose you with chronic fatigue or fibromyalgia. I don't believe those are true diagnosis'. I will do the work to figure out what is causing these problems and you will get better. You have a bright, bright future ahead of you.
So, if it's not chronic fatigue, what is it?
In my next article I'll share with you what the doctors really found. I now know the primary underlying cause of my symptoms and I am beginning a plan of attack with the help of my doctor.
Hope for You
Do you struggle with Chronic Fatigue? Not just plain ole' being tired. But a fatigue that is debilitating. A fatigue that takes over your life. Or maybe it's other health problems that nobody has the answer for.
Don't give up. I've been searching for a long time to figure out what is going on with me. Some people have to search a lot longer than I did before I found answers. I'm so thankful I didn't give up because now I have hope that the future will look brighter.
Be your own advocate. Keep reading, researching, and looking for health professionals that are willing to work with you. Health professionals that are willing to do the hard investigative work to find out what is going on.
Trust in God. Through the uncertainty and now through the diagnosis I have had many moments where the discouragement and despair has threatened to overwhelm me. There are days when I feel like I'm failing at everything in life. My body has many limits right now. I don't know all of the reasons why this was in the plan for me, but I can rest in the knowledge that God does have a purpose. He will use this situation to craft me into the woman He desires me to be. He will use this situation to craft my husband and children into the people He wants them to be.
Take care of yourself. It is important to take care of yourself: mind, body, and soul. Eat a whole foods diet. Reduced the processed junk from your life. Reduce your stress levels. Improve your sleep habits. Get rid of the toxins in your personal care products (that's the last thing your body needs). Doing these things won't necessarily make you better, but it will give your body the best chance towards healing once you learn what is wrong!