This creamy potato salad with bacon and chives is the perfect side dish to take along to your summer picnic or BBQ!
Summer is the time for out-of-doors get togethers with family and friends. Along with cornbread, coleslaw, and grilled anything, potato salad is usually on the menu.
Looking for gluten-free recipes and resources? This Everything Gluten Free page is a library of everything gluten free we've worked on.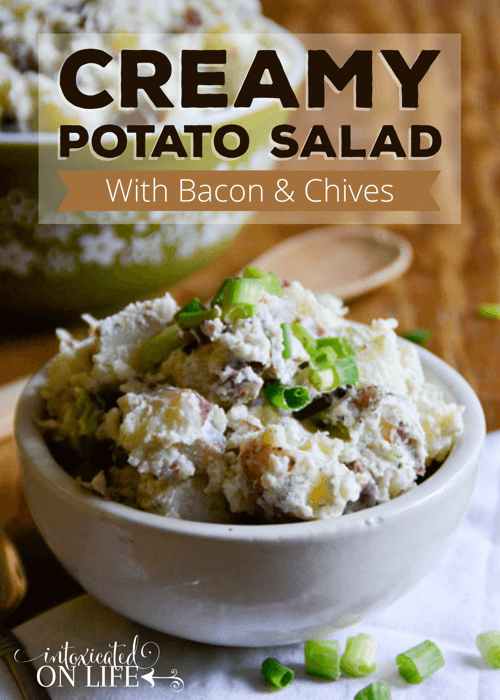 Despite growing up in a family where potato salad was usually a big hit, and marrying a guy who loves it, I've never been a fan. Maybe it was the sour dressing, or all the dill, but something about it always turned me off.
However, over the past few years I've been trying to make myself 'grow up' and try re-try things I never enjoyed as a kid. And yep, potato salad was on that list!
So I got to work.
With the main ingredients being red potatoes and some sort of dressing, this salad is pretty versatile. My hubby wanted me to go the super sour route and fill it with pickles, vinegar, and dill, but I decided to try for more of a 'loaded baked potato' feel with bacon, chives, and sour cream. If I'd had any cheddar on hand, you can bet your bottom dollar that would have gone in, too!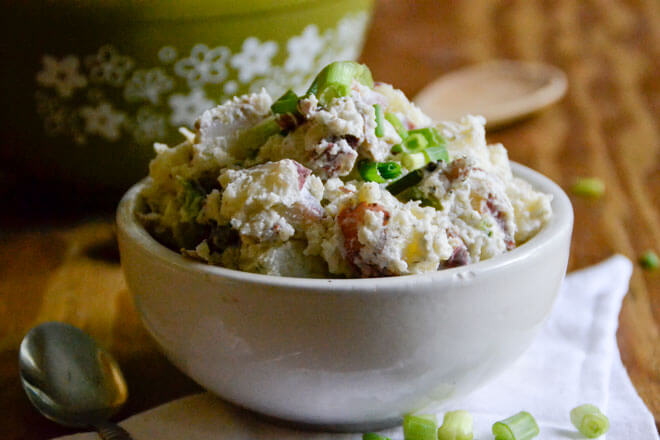 Through various levels of taste-testing and trying to keep kids from devouring it before I could perfect the recipe, I think we've got a hit on our hands! While I'm still not a fan of the store-bought stuff, let me tell you, I could eat this creamy potato salad with bacon and chives all. day. long.
Even my "I-don't-try-anything-new-because-I'm-100%-sure-I-won't-like-it" child ate a bowlful without complaining. That's how you know it's good. 😉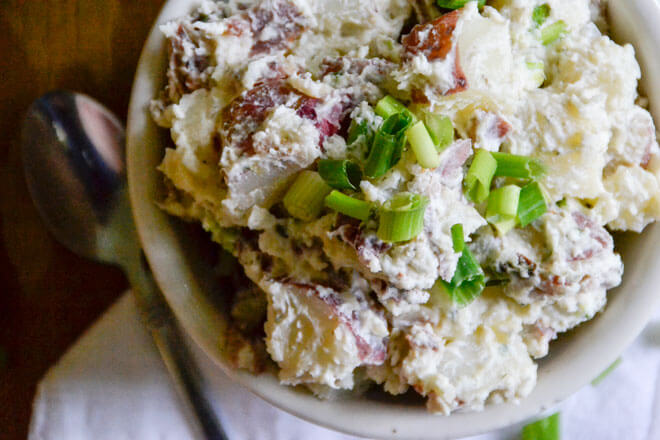 If you're not a huge potato salad fan, but you do like potatoes, bacon, and sour cream, I encourage you to give this dish a try. I think it might just win you over, like it did me.
Creamy Potato Salad with Bacon and Chives
Ingredients
4 lb. red potatoes
1 lb. bacon
1 1/2 c. sour cream
3 T. white vinegar
1/2 c. chopped chives
1 t. onion powder
1/4 t. garlic powder
1 t. dill
1 t. salt
dash pepper
Instructions
Wash potatoes and chop into roughly uniform-sized pieces (about 1-inch squares).
Place potatoes in a large pot, cover with water, and bring to a boil. Boil until just fork-tender. You DON'T want them to mash when pierced with a fork!
When boiled, drain them and cool completely before adding in the remaining ingredients (I stuck mine in the fridge to speed things up).
While potatoes are cooling, cook up the bacon. When cooled, crumble.
Place all ingredients in a large bowl and mix carefully until potatoes are coated evenly with dressing.
Store covered in the fridge.
Nutrition Facts
Serving Size Serves 1-2
Amount Per Serving
% Daily Value
* Percent Daily Values are based on a 2,000 calorie diet. Your daily values may be higher or lower depending on your calorie needs.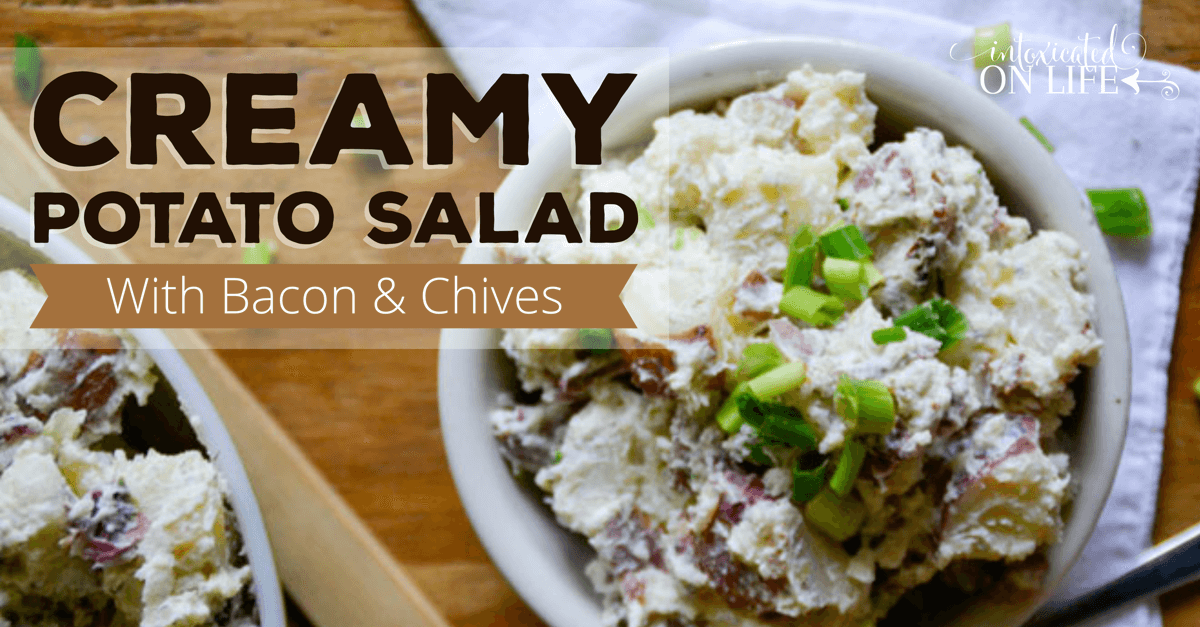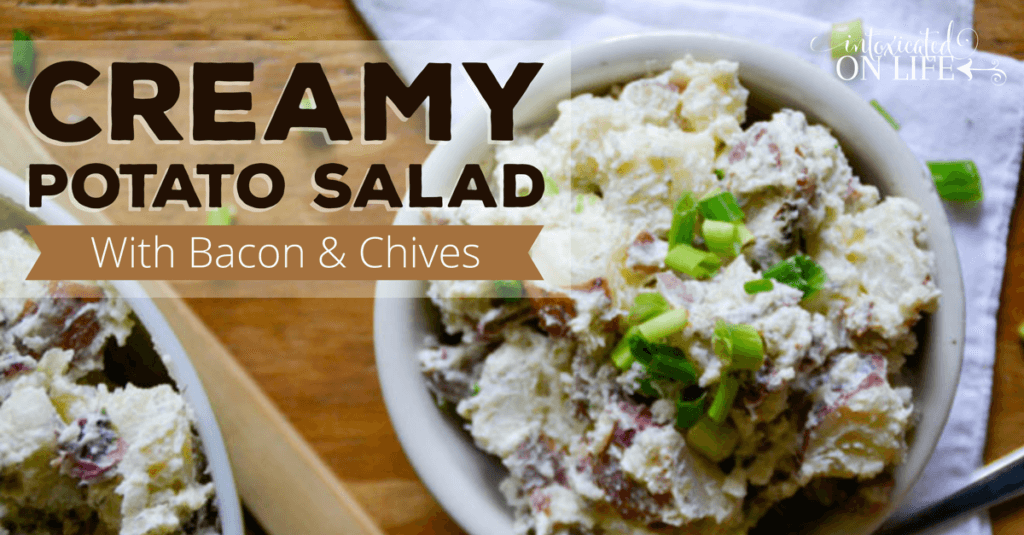 ---
Shared at A Dish of Daily Life, Bloghetti, the Deliberate Mom, Five Kids A Dog & A Blog, Free From Farmhouse, Happy & Blessed Home, I Say Nomato, Juggling Real Food & Real Life, Knock It Off Kim, Marathons & Motivation, Miz Helen's Country Kitchen, My Snippets of Inspiration, Nourishing Joy, Only Taste Matters, Organic 4 Greenlivings, Raising Homemakers, That Recipe, Two Purple Couches, Urban Naturale, Vegetarian Mamma, The Modest Mom Blog, Written Reality.