I'm not surprised that Compass Cinema would create a robust American history curriculum. After what we've experienced with Visual Latin, Modern Parables, and Economics for Everybody, their newest product—Dave Raymond's American History—shows the same attention to detail and quality.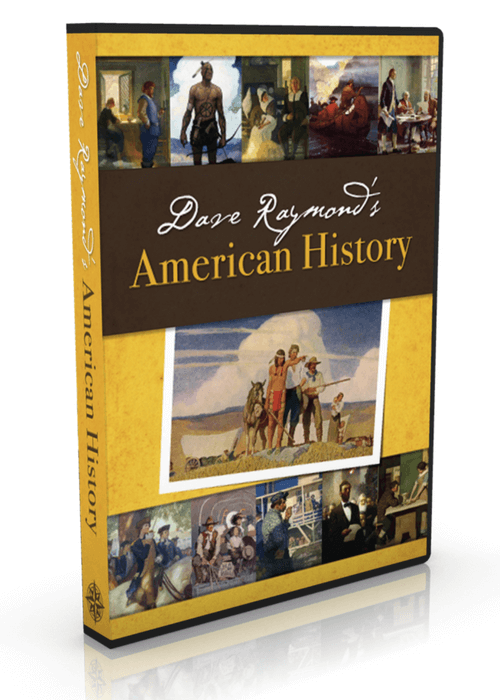 What is Dave Raymond's American History?
The curriculum:
A year-long curriculum for ages 12 and up
13 lessons per semester
You can purchase the video material on DVD or as downloads.
It comes with a student guide and teacher guide (available in pfd and e-reader formats).
Each day, the student will…
Watch a 10-minute portion of the lecture
Read a short excerpt from a primary source
Occasionally, students respond to the reading by writing a short essay, drawing a map, or answering a brief question.
Each week, the student will…
Take a short test
Add to their portfolio
Style of Teaching
Dave Raymond is enjoyable to listen to and humorous. The style is simple: Raymond stands in the center of the screen and talks to the audience, and the occasional historical photo or painting is thrown into the mix while he continues to lecture.
If you're looking for visual reenactments and a cool soundtrack, look elsewhere. Much like Compass Cinema's Visual Latin, these videos are simply short, informative, and engaging lectures.
Each lesson is divided into five 10-minute lectures: very manageable to incorporate into a typical week of school. Click here for more info on the American History course.
What I Like
These lessons spend more time focusing on historic people, their beliefs and motivations, rather than mere events. Raymond continues to emphasize the idea of "moral philosophy" throughout the series: how the core beliefs of our nation's leaders and founders shaped the direction of history.
These lessons are anchored in the idea of God's providence and redemption. Because God is completely sovereign, these lessons start from the assumptions that we can make sense out of history, and that there is a reoccurring theme of redemption written on the pages of history.
These lessons demonstrate how Reformation theology impacted the founding of America. Many of the founders of the original colonies believed strongly in the ideas of the Reformation, and this gave them an incredible vision for the kind of colonies they wanted to create. Even though there was great diversity among colonial Christians (Scotch-Irish, Huguenots, Puritans, Quakers, Presyterians, Moravians, Baptists, etc.), they all believed in the power of the gospel to change lives, and thus shape whole societies.
The readings all come from great primary sources. This curriculum takes history straight from the horse's mouth: The Mayflower Compact, The Articles of Confederation, Sinners in the Hands of an Angry God, The Declaration of Independence, and other great writings from Christopher Columbus, Benjamin Franklin, Patrick Henry, John Witherspoon, Samuel Adams, George Whitefield, Robert Louis Stevenson, Anne Bradstreet, Cotton Mather, and many others—this is what a child will read throughout the course of the curriculum.
The required projects are ambitious and really help a child "own" what they are learning.
The primary project is a portfolio your child makes throughout the course of a whole school year. This is basically a scrapbook of ideas, names, dates, maps, pictures, photos, and other items that represent what your child is learning.
The "hours" project: Students have to spend 30-40 hours creating something tied to the content they are learning. This could be nearly anything. Just reading over some of the sample ideas made me excited for my kids to go through this curriculum—things like: make a replica of George Washington's sword, recreate a Sioux tipi, cook a meal of Irish-American dishes, recreate a flatboat, create an illuminated manuscript of a Puritan sermon, learn to blacksmith nails, or build a working plow. Like I said: ambitious. But fun.
There is also a "costumed speech" project where students memorize a 250-word selection from 1765 to 1815. Students memorize the speech and create a single article of clothing or an accessory to identify their chosen subject.
Students also make a colonial map and write a research paper.
A Preview