Time to stock your bathroom cabinet to support your immune system! The season where we need a little extra immunity support starts up in October and peaks in December and January.
With a few simple essential oils recipes, you can make some wonderful natural products that will help keep your family healthy through the fall and winter.
This post is not intended to treat, prevent, or cure disease.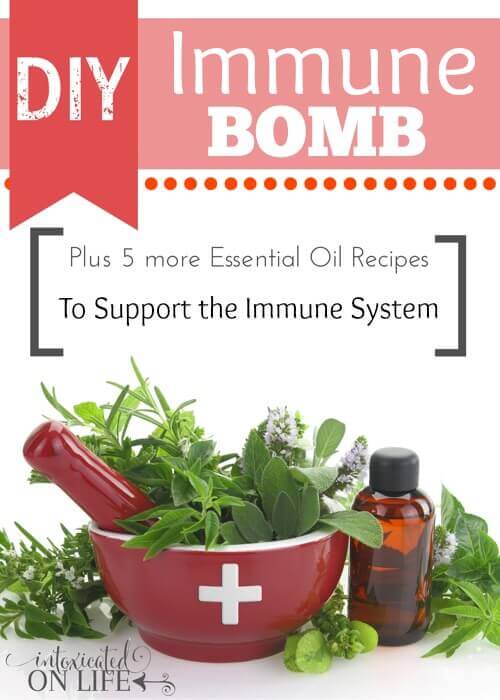 Learn more about my favorite essential oils in this post.
Here are the main immune system -supporting essential oils we love. 
Melaleuca
Lemon
Oregano
Lavender
Peppermint
DIY Big Bomb for the Immune System
Many folks concoct a bomb in capsules and take internally. While I can't discount their testimonies, I will say that topical use and inhalation are more often better uses of oils based on how essential oils fundamentally work. That's what we choose to do in our family for these recipes for our immune system.
DIY Children's Bomb
*(Updated 9/20/15) If your Immune Supporting Blend contains oils such as eucalyptus citriodora and cinnamon bark, it may not be safe for kids 6 and under.
Diffuse Oils to Support the Immune System
Combining diffuser routines to roll-on-bombs can be a great strategy for your immune system. We often diffuse the oils a few times during the day (in lieu of hourly roll on application) and then apply the roll-on formulas just before nap time or bed time. Try one or more of these oils in your diffuser (or diluted topically). Again, we generally stick to the first three for the kiddos.
Lemon
Lavender
Tea Tree
Peppermint (topically, for occasional head tension)
Cleaning Diffuser Blend
Surround Me In Comfort: Warming Bath Oil
Immunity Blend
Interested in essential oils? Let's talk! Click here to learn more about essential oils and how to find good-quality oils for your family.
Use Essential Oils Safely and Confidently with Your Family
Would you like a resource to help you learn to use essential oils with your family? Download this free 3-page printable:
Basic guidelines for using essential oils around kids
A list of safe, kid-friendly oils essential oils
Helpful essential oil recipes
Click the link or image below to download the 3-page Mom's Essential Oil Cheat Sheet. I'll follow it up with more resources and free printables to help you on your essential oil journey. Grab your copy now!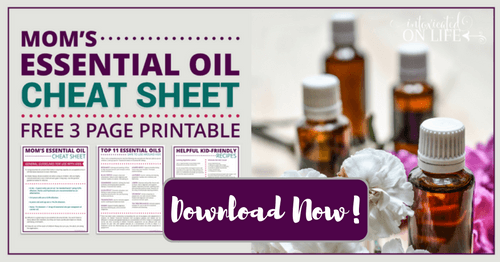 Note on Essential Oils:
I personally use doTERRA and Rocky Mountain brand oils. I'm a wellness advocate with doTERRA and would be happy to share with you more how to sign up to purchase wholesale oils (please email [email protected]). Read more about how I chose an essential oil company.
More Articles on Essential Oils: