I've gathered some tips on how to ease the transition to natural hair care.
Over the last three weeks we've discussed the reasons for switching to a natural hair care routine and suggestions for shampoo alternatives and natural conditioners. Are you ready to make the switch? Transitioning to a natural hair care routine can be a bumpy ride, so today I have a few tips to ease the transition.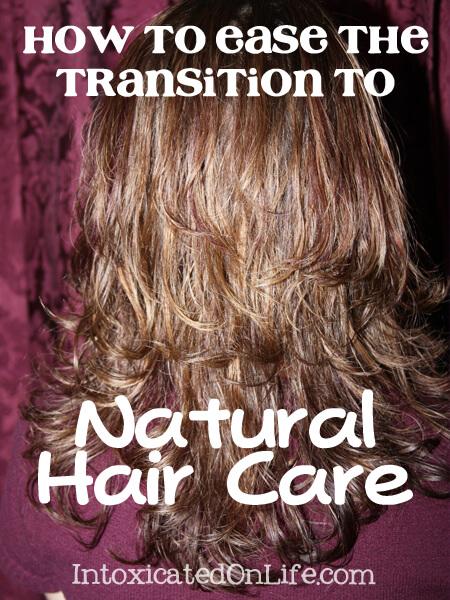 In the first part of this series, I talked about the silicone and sulfate cycle that occurs when you use mainstream hair care products. In addition to stripping silicone products from your hair on a regular basis, sulfate shampoo also strips off your hair's natural oils.
When you stop using harsh chemical cleaners, initially your scalp will produce extra oil. This over production can last anywhere from a few weeks to several months and is the most challenging part of the transition process. 
The balance can also switch to the point where your scalp does not produce enough oil. This happened to me about 2 months after I started using natural hair care products.
My hair was extremely dry and my scalp itched. I use coconut oil as a natural conditioner, and by the 3 month point, my scalp was producing the right amount of natural oils.
How to Ease the Transition to Natural Hair Care Routine
The first step to ease the transition to natural hair care is to evaluate your current hair care products and decide which need to be replaced. As I said in part 2, I still use commercial conditioner and hair gel regularly. Naturally Curly has a search function that provides both a rating and user reviews. Most users have curly hair, but this is a great tool for anyone who is trying to avoid silicone and sulfates.
Replace silicone products first. As long as you are using silicone products on your hair, you will periodically need a harsh sulfate cleaner to remove product buildup. Finding silicone-free products will break the dependence on traditional shampoo.
Now it's time to replace your shampoo!
At this point, as you ease the transition to natural hair care, you can choose to completely cut out shampoo, and go immediately to a natural alternative. Your transition period will be shorter, around 3 to 6 weeks based on various transition stories I've read.
Or you can choose a more gentle approach and phase out your shampoo over several weeks. If you normally wash your hair every day, switch to every other day for a week. Then every 3 days. Then every 4…
I chose this method and did not experience any excessively oily hair days during my transition. After a month, when I was washing my hair every 4 to 5 days, I also switched to using a sulfate-free shampoo. When that bottle ran out after about 6 months, I started using homemade alternatives.
Be Patient! Your hair will go through at least one unpleasant period as you make the transition to natural, chemical free products. It is very tempting to switch back to your old routine after just a few days or weeks. Give it at least 2 months, your body needs quite a bit of time to adjust.
Once you make the transition away from silicone and sulfate products, you may need a completely different hair care routine. My old chemical routine involved frizz control serum, moose, hair spray, and a tub full of products that didn't work all that well on my hair.
My natural hair care routine involves conditioner, gel, and oil. You will likely need to reevaluate your products and routine every few weeks during the transition phase.
Let's get started! I hope these tips help you ease the transition to natural hair care. I would love to hear your story in the comments below. Or if you have any questions, ask below and we'll get the answers you need.
More Natural Living Tips: