If you've ever struggled with feelings of sadness, you know that it can really affect your daily life. So many people deal with various types and degrees of feelings of sadness and look to more natural remedies to help.
Many sources recommend trying essential oils. There are several oils that are suggested for generally lifting your mood or reducing irritability.
Learn more about my favorite essential oils in this post.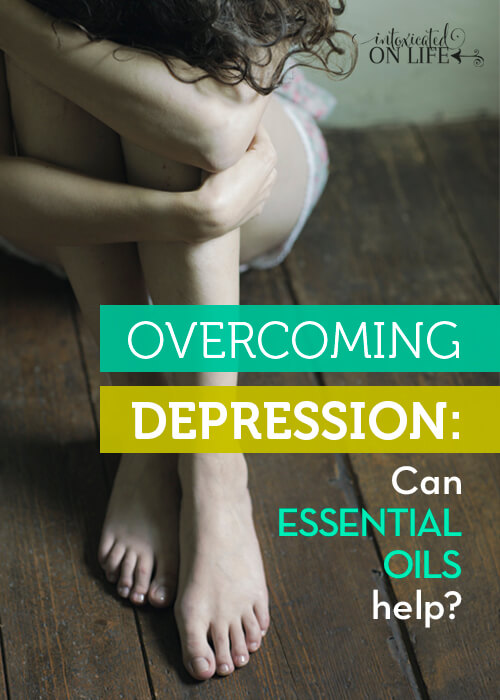 Does Aromatherapy Help with Feelings of Sadness?
My knee-jerk reaction to these claims is that it's a treatment that really cannot be tested and considered a reliable solution. But could there be some validity to them? Could inhaling or topically applying essential oils actually help with something like feelings of sadness?
When I first started looking into how essential oils work, I found that there hadn't been a lot of clinical research done on the effects of essential oils. However, what surprised me is that the majority of what has been done has focused on how the oils impact the moods of ill patients. In fact, the most common use of essential oils in a clinical setting is to ease feelings of self-doubt and anxious feelings in patients dealing with difficult diagnoses.
Evidence for Essential Oils
Does it really work though? While I can't be totally sure, the studies mentioned earlier have concluded that there is a positive effect on patients experiencing feelings of self-doubt that is likely due to the chemical properties of essential oils.
Many of the chemical components of essential oils are known to have an effect on the limbic system of the brain, which is the center of memory and emotion and is connected to areas of the brain that control blood pressure, heart rate, breathing, hormone balance, and more. So the idea that those oils would impact emotional health and physical symptoms of anxious feelings makes a lot of sense. In addition to this is the wealth of anecdotal evidence that oils have helped quite a bit. That seems sufficient enough to give it a shot, right?
It's important to remember that there is situational sadness (feeling down) and clinical issues. The latter may likely require a more complete treatment and both should be taken seriously. However, given the points made above, I think it is reasonable to try essential oils for whatever type you are experiencing. Essential oils may be a great part of an overall approach to easing feelings of self-doubt and calming emotions. 
Choosing Essential Oils to Lift Mood
Of course, the best bet when choosing essential oils is to look at the effects of their chemical constituents and try ones that have calming properties. Here is that list of some oils. (Please do your research on the safety of each oil, especially if you are a pregnant or nursing mom.)
Petitgrain – Eases feelings of self-doubt
Bergamot – Calming and relaxing
Vetiver – Also used for focus
Ylang Ylang – Soothing and calming
Clary Sage – Mood lifting and calming
Orange – Also germ-destroying and purifying
Jasmine – Also an aphrodisiac and stimulates contractions
Chamomile – Soothing and calming
Citrus Blend – Balances the mood
DIY Blends
Try out some blends of your own and see how it helps. Combine two or more of the above oils and diffuse. You can also add them to 3 tbsp carrier oil and use them in a roller applicator or for massage.
Mood Lifting
9 drops Bergamot
5 drops Clary Sage (omit when pregnant)
5 drops Vetiver
Refreshing
6 drops Bergamot
6 drops Clary Sage
3 drops Frankincense
Calming
8 drops Sandalwood
4 drops Blend of Rose
2 drops Orange
2 drop Bergamot
Have you found essential oils or other natural remedies to help with feelings of sadness?
Interested in essential oils? Let's talk! Click here to learn more about essential oils and how to find good-quality oils for your family.
Free Download: Mom's Essential Oil Cheat Sheet
Would you like a resource to help you learn to use essential oils with your family? Download this free 3-page printable:
Basic guidelines for using essential oils around kids
A list of safe, kid-friendly oils essential oils
Helpful essential oil recipes
Click the link or image below to download the 3-page Mom's Essential Oil Cheat Sheet. I'll follow it up with more resources and free printables to help you on your essential oil journey. Grab your copy now!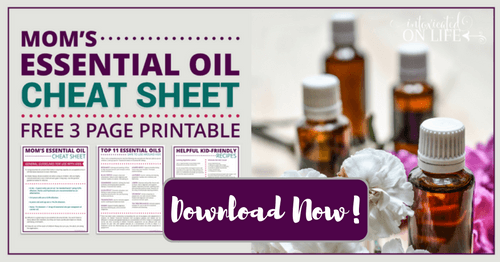 *FDA disclaimer: "These statements have not been evaluated by the Food and Drug Administration. This product is not intended to diagnose, treat, cure, or prevent disease."