Do you feel like giving up? No matter how healthy you eat, it still feels like you struggle with weight gain, aches, pains, and health issues? No matter how clean you eat, it just doesn't work.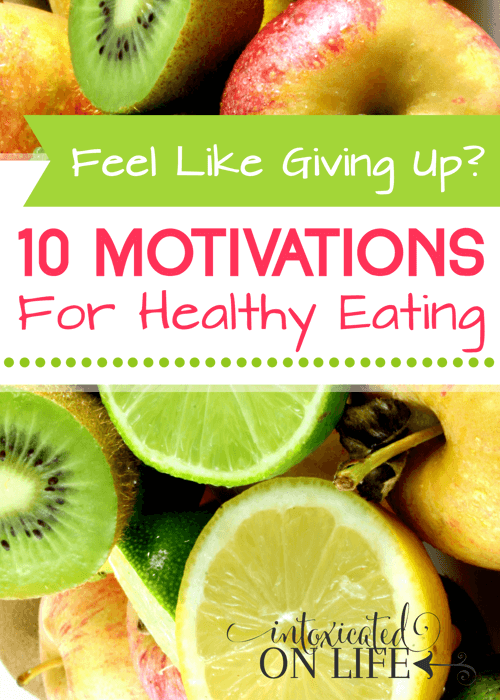 Weight Gain.
Fatigue.
Sore, tired muscles.
Painful joints.
Digestive problems.
Auto-immune disorders.
Headaches.
Something else? 
I get it. I really do.
Once upon a time, my entire motivation for what I ate, like many women, was my weight. I wanted to be thinner. I wanted to be prettier. That was my sole motivation.
But, as time went by, I learned that wasn't enough. It wasn't enough motivation to sustain healthy eating patterns. Why? Because healthy eating doesn't always result in weight loss. Let me say that again—because I don't want you to miss that essential point—healthy eating does not always result in weight loss. 
I am personally acquainted with this fact. Some "experts" will tell you if you eat well and move your body, you'll maintain a healthy weight and/or lose weight. For some, this works. For others, it does not. Much like life, weight loss isn't that simple.
My Story…
In the past 6 months, despite continued attempts to tighten up my diet more and more the weight has piled on. My weight gain in 2014 has exceeded 50 pounds. No, that wasn't a typo. Yes, that is a lot of weight. The weight gain, worsening fatigue, and body aches made me seek out help. When I didn't get it from the medical community, I decided to seek out an alternative health coach that focuses on labs that most doctors don't run and alternative therapies.
What did we find? Not surprisingly, a number of my hormones are screwed up. Most significantly, my cortisol levels throughout the entire day were dangerously low. Most people with cortisol levels this low are bed-ridden. They were so low, my health coach strongly encouraged me to set up an appointment with my doctor and bring the test results to him. Woah. That caught my attention!
My test results also caught my doctor's attention. What did I hear from my doctor?
"These are some of the lowest cortisol numbers I've ever seen."
"This could explain all of the strange symptoms you've been dealing with."
"We need to run more tests so we can get to the bottom of what is going on."
How did I respond? A sigh of relief. Yes, relief that I'm not crazy. Relief that I'm not just lazy. Relief that there really is something wrong that we can hopefully fix.
I'm not better yet, but I'm working on it.
I'm working with my health coach to continue to tweak my diet as we explore possible food sensitivities.
I'm continuing to eat well.
I'm working on getting to bed earlier.
I'm working on trying to simplify my life and get rid of certain unnecessary responsibilities.
I'm taking natural supplements to enhance the function of my adrenal glands.
And, I'm working with my doctor to see if there are ways that conventional medicine can help to bring healing and relief to my body.
10 Motivations for Healthy Eating
I will readily admit that while eating healthy, especially when you're moving from a standard american grain and sugar-laden diet, often does result in weight loss for many. If it does for you, that's awesome. If it doesn't for you, don't give up. It doesn't mean you're doing something wrong. It doesn't mean you should stop. No, your motivations for healthy eating need to go deeper than the number on the scale.
1. You Want to Feel Well
Opportunistic organisms (bacteria, fungus, yeasts and more), when not controlled by good gut flora, make actual holes in the gut wall. Undigested food escapes the gut through these holes into the blood stream, at which point the immune system reacts to them — as it should. They're not supposed to be there!

– Allergy Free Cooking by Wardeh Harmon
Foods that don't nourish your body, foods that your body has an allergy or intolerance to, foods that don't promote a good gut flora all play a roll in how you feel. Educate yourself. Learn what foods nourish your body. Learn how to promote a good gut flora. Learn what foods you are allergic and intolerant to (these are not always obvious).
NOTE: If you spent years and year (like I did) eating a nutrient-poor diet, you probably won't feel better as soon as you clean up your diet. It took you a long time to get this way (even if you didn't realize it), so it may take some time before you begin feeling well again. Keep on!
2. You Want to Nourish Your Body
In college I fed myself a steady low-fat diet of microwave popcorn, Lucky Charms (yeah, the kids' cereal), pasta with marinara, and Sprite. Nourishing food? I think not. Not according to anyone's standards.
If your body is going to thrive you must nourish it with quality proteins and fats, plenty of vitamins and minerals.
3. You want to Heal Your Body (or Prevent) Illness
If you are one of the millions of women suffering month after month with the debilitating effects of endometriosis, instead of bombarding your body with drugs or resorting to surgery to manage the problem, try diet change combined with holistic methods for curing endometriosis naturally, giving yourself much needed permanent and nontoxic relief!

– The Healthy Home Economist Guide: Traditional Remedies for Modern Families By Sarah Pope
When you're struggling with hypothyroidism (or another autoimmune disease), headaches, repeated sinus infections, PMS, or just a simple cold do you ever stop to consider the role food plays? Likely, you don't think too much about it. Really, truly what you eat plays a very intergal part in both acute and chronic disease.
Eating a lot of sugar? It depresses your immune system and makes you more susceptible to catch viruses. It also causes chronic inflammation in your body that can lead to aches, pains, and more.  That's just one example.
Some foods heal. Some food harm. It isn't all about balance. It isn't about moderation. Eating just one twinkie a week can still harm your body. If you are are dealing with a disease it's all the more imperative you tighten up your diet. Eat for your health. Eat to heal your body, not to destroy your body!
4. You Desire Mental and Emotional Wellness.
Britain has banned the use of many dyes because their independent research did find a link to hyperactivity in children. In Europe, foods with artificial dyes have to contain a warning that the food may have an adverse effect on the attention and behavior of children.

– Can I Get a Pickle without Yellow 5? By Sarah Nichols
What we eat has a direct impact on our brain health. When you eat plenty of real fats—saturated fats—it nourishes your brain. Much like protein is the building blocks of your muscle, fat is what your brain must have to function. When you eat a low-fat diet you are robbing your brain of essential nutrients. Likewise, if you fuel yourself with low-quality fats like margarine can canola oil, your brain will not function optimally. Much like putting low quality fuel in your vehicle, your body doesn't run well on inferior fats.
Did you know some researchers are calling sugar Type 3 Diabetes. Yikes! Yes, now I'm picking on sugar again. America's gross over-indulgence of sugar has made us fat, sick, and not we're losing our minds.
Both, lack of correct vitamins, minerals, and nutrients and eating foods that impact the body adversely are connected to mental health disorders including: attention deficit disorder, autism, schizophrenia, depression, anxiety, and more. Does that mean if you, or a loved one suffers from a mental health disorder it's because of your diet. Maybe. Maybe at least partly. Cleaning up your diet could help and in some instances individuals have seen a complete remission of symptoms.
5. You want the energy & stamina to keep up with your kids.
And thankfully, by simply applying myself to eating a common sense diet (or foods that God made), and combining that with regular, real exercise I am much more fit than when I started, which was the goal. Before the challenge I could barely run for one minute at a time, but by the end of 42 days I could run a 5K.
Do you find yourself struggling to roll out of bed in the morning? Keep up with your kids when you're playing outside? Suffer from the mid-day slump? Food gives us energy. If you don't eat enough of it or high enough quality (*ahem* do you see a theme?) your energy and stamina will suffer.
6. You want to be around for your kids and grandkids.
Longevity. You want to live a long, full, happy, God-honoring life. If this isn't a motivator to eat well and care for your body, I don't know what is! Take care of your body, so you are able to enjoy your life to it's fullest.
7. You want your kids to be healthy. Show them how.
Our bodies rely on optimal nutrition in order to function. Children rely on nutrition even more heavily because they are growing and changing so rapidly (and this is most evident in the first couple years and the teen years). Vitamin deficiencies during development can affect so many body systems.

– A Practical Guide to Children's Health By Kate Tietje
If you have suffered through chronic disease, you understand the desire to want better for your children. Can you avoid all disease just by eating a clean diet? No. But, can you give you (and them) a better chance at avoiding illness.
8. You want your baby to have lots of great nutrients!
Are you pregnant? Nursing? What you eat has a direct impact on baby. It's so important you eat a diet filled with nutrition to nourish both your body and our babies body.
When you're pregnant you really are eating for two. Does that mean you need twice as much food? No, but it does mean you need plenty of nutrient dense foods! When you are nursing, this is even more-so true. Your body and your babies body need you to choose foods that are packed with vitamins and minerals.
9. You want to honor God.
Or do you not know that your body is a temple of the Holy Spirit within you, whom you have from God? You are not your own,for you were bought with a price. So glorify God in your body.

– 1 Corinthians 6:19-20
If you are a Christian, the Bible says your body is a temple of God. This has a lot of implications. One way we can honor the Lord's temple is by treating it well. Eating nourishing food and not putting unnecessary chemicals into our bodies is just one way we can do that.
10. You want ______.
Fill in the blank. What is the best motivator for eating well? Some of these speak more to us than others. I'd love to hear what motivates YOU. Leave a comment below.
If you're discouraged. Here they are. Be encouraged! Keep going.