As the kiddos head back to school and mornings become a rushed flurry to get out the door and to the bus stop on time, breakfast–which we all know is the most important meal of the day–often drops in priority. Kids will turn to easy, quick breakfasts like Pop Tarts or a bowl of cereal. While these may stave their hunger for the moment, they aren't the best for learning new things.
So, although it may take more effort to make something for your kids (or have them make it themselves), it really is the best thing for them.
Today, I'm going to share with you a recipe that has swiftly become a breakfast favorite in our home. They are mini breakfast pizzas! This simple, easy to prepare dish features a gluten free, coconut flour crust.
Looking for gluten-free recipes and resources? This Everything Gluten Free page is a library of everything gluten free we've worked on.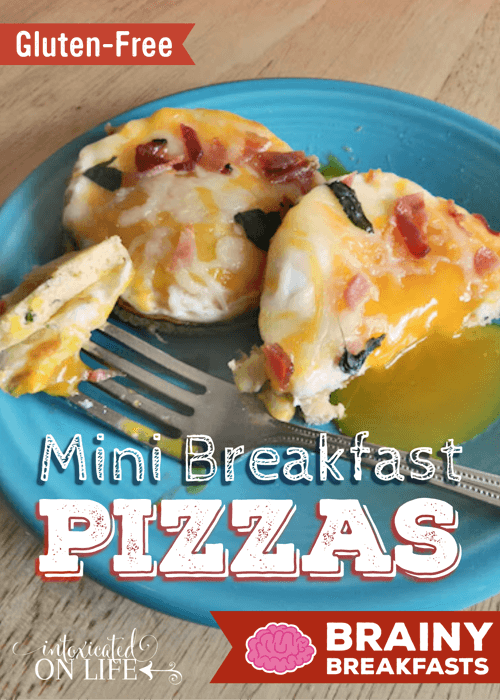 Since this dish is gluten free, it has the potential of reducing brain fog (since coconut flour's glutinous counterparts have shown to contribute to brain fog). In spite the use of the coconut flour, the crust doesn't taste even the slightest bit "coconutty." It has a mild, herbaceous flavor. My kids (ages 5, 3, and 1) each enjoy the crust just by itself, so if my picky little eaters like it, hopefully yours will as well!
The next key ingredient for these mini breakfast pizzas is the incredible egg! Numerous studies have presented evidence that prove that eggs (especially one from free range chickens) are highly beneficial for brain function. This is due mainly to the fact that eggs are rich in the omega-3 fatty acid. Eggs also contain lutein and zeaxanthin, antioxidants that benefit eye health. These benefits mean your child will be able to focus mentally and be able to retain better eyesight as they learn.
Beyond the coconut flour crust and the egg base, these mini breakfast pizzas can be of further nutritional benefit for your children because YOU choose the toppings, so why not choose ones that will further boost their health?
Cheese of course is pretty much a must, so choose cheese made from pasture-raised cows to make it optimal for your kids' health. Some other suggested toppings include:
nitrate and nitrite free meats (such as pepperoni, lunch meat, and so on–I like the Applegate brand),
crumbled sausage or bacon (from pastured hogs)
nutritional yeast (this also adds a mild cheesy flavor)
spinach
olives
peppers
shredded carrots
onions
mushrooms
garlic
leeks
fresh or dried herbs
spices
Gluten-Free Mini Breakfast Pizzas
Yield 4 mini-pizzas
Ingredients
For Crust
4 eggs
1/4 c. sour cream
1/4 c. coconut flour
1/4 c. finely shredded cheese (any kind, I used cheddar)
1 tsp. garlic salt
1/2 tsp. dried basil
1/2 tsp. dried parsley
1/2 tsp. dried oregano
1/2 tsp. onion powder
1/4 tsp. dill
For Toppings
2 tbsp. unsalted butter, melted
eggs
toppings of choice
shredded cheese
Instructions
Preheat the oven to 350 degrees Fahrenheit. Line a baking sheet with either parchment paper or a silicone baking mat.
Whisk the 4 eggs in a medium bowl until thoroughly beaten. Whisk in the remaining crust ingredients. The resulting batter will be pretty runny.
Pour the batter into about 4 3-inch round circles on the prepared baking sheet (they may spread a bit once poured). Bake for 15 to 20 minutes or until set. Repeat with the remaining batter.
Once the mini crusts are baked, brush with melted butter. Top with your choice of a fried/sunny side up egg or scrambled eggs (remember not to overcook the scrambled eggs or they will weep). Place any toppings of choice over the egg, sprinkle with some cheese, then pop back in the oven for an additional five minutes to lightly melt the cheese and heat the toppings.
Need some more tasty, kid-friendly breakfast ideas?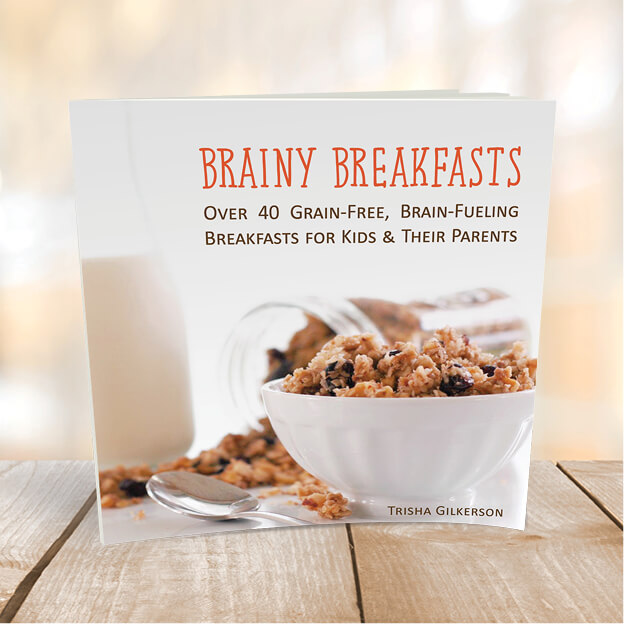 Check out our cookbook Brainy Breakfasts – it's filled with over 40 grain-free, brain-fueling breakfast recipes to keep things new and exciting! It's available as a downloadable or softcover book. You won't run out of healthy, tasty breakfast recipes anytime soon with this cookbook ?
---
TJ is a former career chef with a bachelor of science degree in professional writing turned stay-at-home wife and mom. When she's not busy researching natural living subjects or testing real food recipes for her website MeasuringFlower.com, she can be found having a blast with her kids, volunteering for her church's kids' ministries, or hanging out with her hubby.