My boys' eyes lit up. I can assure you, it wasn't the steaming pot of soup on the table. No, they're used to seeing that. It was the basket of warm, toasty, grain-free, low-carb herb biscuits that sat next to the soup that caught their eyes!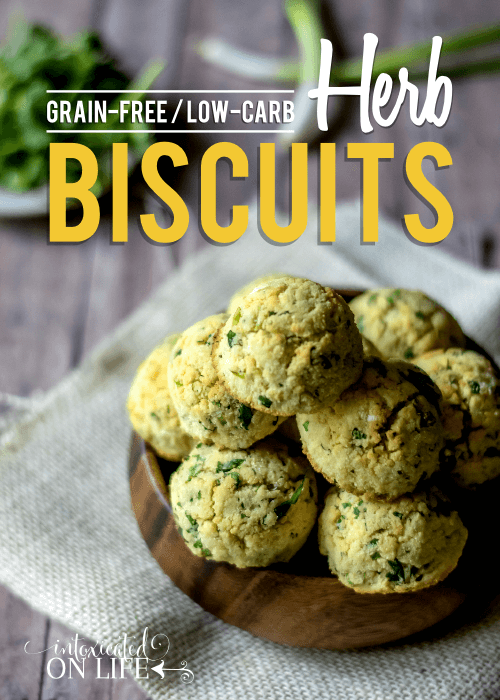 My two littlest boys' eyes lit up in a bit of confusion. It's a pretty rare day when I take the time to make grain-free breads or biscuits. It's a rare enough occurrence they're not even all that familiar with this strange type of food. The wonderment they expressed, definitely cracked me up.
But my older boys—oh, their eyes lit up from excitement.
"Biscuits!" one of them exclaimed!
While the other eagerly inquired without hesitation, "How many can we have?"
Given the absolute pure delight these little biscuits can evoke from my children, I think it's safe to say I should put them on the menu a little more often. But not too often…if they saw these biscuits on the table too often, familiarity would set in and they wouldn't be such an exciting, novel treat. 😉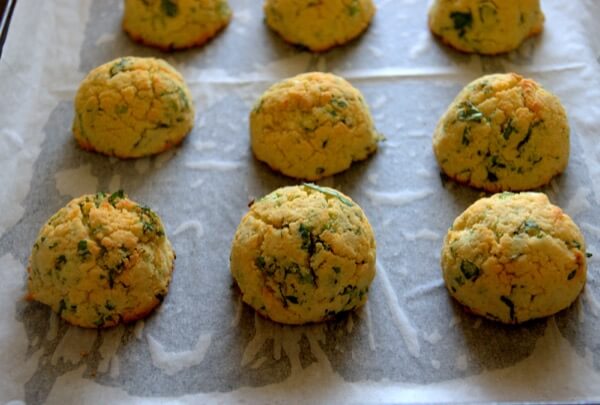 Fun (and easy) grain-free herb biscuits
Given the fact that these biscuits are so easy, you might wonder why I don't put them on the table more often. They just slip my mind. I'm so used to keeping our meals simple—a pot of soup, a meat and a vegetable, a skillet meal—adding some of these "extras" doesn't often come to mind.
You really will be amazed at how quickly and easily these little guys come together. Mix all your ingredients together, form them into a ball, bake them, voila!
These are biscuits you can feel good about giving your kiddos at dinner. They aren't filled with ingredients that cause inflammation. And because they're high in protein and good fats and low in carbohydrates, you don't have to worry about them spiking you or your kids' blood sugar, putting you on that crazy sugar roller coaster.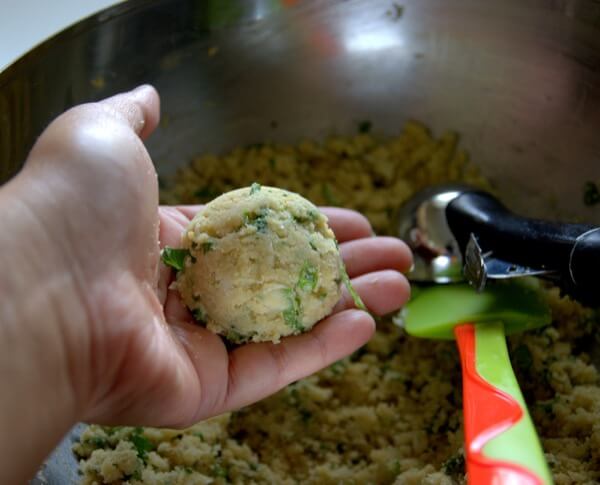 The base of this recipe is coconut flour. Coconut flour can be a little tricky to learn how to use as it doesn't act the same as other flours. It's a very dry, dense flour that absorbs a lot of liquid. If you're looking for a quick tutorial on using coconut flour in other recipes, check out this beginners guide to coconut flour.
This recipe is no-fail. It's easy to follow and you won't go wrong even with the sometimes finicky coconut flour!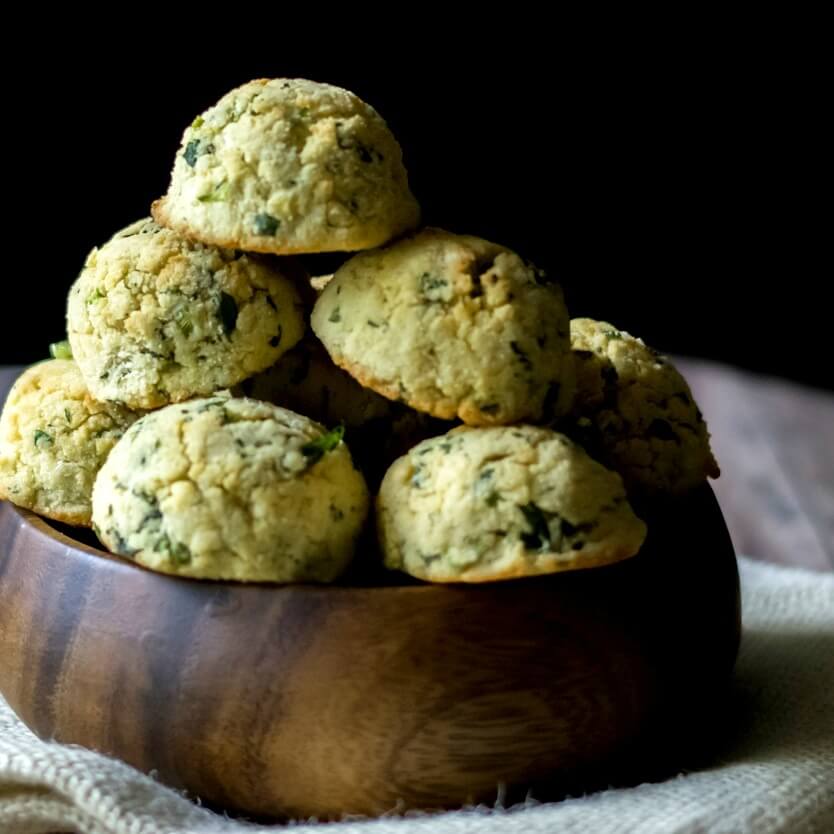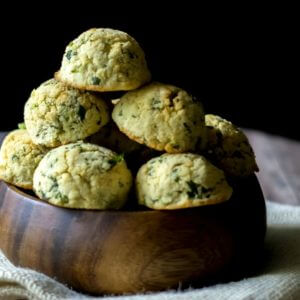 Print
Grain-Free Herb Biscuits
Bread and bread-like foods are a rare treat when you eat grain-free! These herb biscuits are a delicious alternative to the wheat-filled type. They make a perfect accompaniment to hot soup!
Ingredients
1

cup

coconut flour

1

teaspoon

baking powder

1/2

teaspoon

salt

4

eggs

1/3

cup

coconut oil or butter

softened but not melted

3

cloves

Garlic

grated or finely minced

2

Tablespoons

green onion

finely chopped

2

Tablespoons

finely chopped herb of choice

cilantro, parsley, dill, thyme, rosemary are all excellent choices
Instructions
Preheat the oven to 375° F. Line a baking sheet with parchment paper or Sil-Pad.

In a large bowl shift, coconut flour, salt and baking powder.

Add the softened coconut oil and the eggs and using a hand mixer or a stand mixture, mix till the mixture looks moist and crumbly, like wet sand.

Add the grated garlic, minced scallions and herbs. Mix well with a spatula.

Using an ice cream scoop or a tablespoon, scoop out about 2 tablespoon of biscuit mix and form into a ball. Place on the parchment lined baking sheet.

Bake in a 375 F oven for 12 to 14 minutes, or until the tops are golden. Let it cool for about 10 minutes before serving.

Store leftover biscuits in an airtight container at room temperature for 2 days. Freeze up to 6 months.
Notes
Nutrition information is per biscuit.
Nutrition
Calories:
117
kcal
|
Carbohydrates:
6
g
|
Protein:
3
g
|
Fat:
9
g
|
Saturated Fat:
7
g
|
Cholesterol:
55
mg
|
Sodium:
140
mg
|
Potassium:
61
mg
|
Fiber:
4
g
|
Sugar:
1
g
|
Vitamin A:
145
IU
|
Vitamin C:
1
mg
|
Calcium:
25
mg
|
Iron:
1
mg
Let me know in the comments. Do you often make grain-free bread substitutes? What are some of your favorites?