Yes, you can have a heavenly piece of blueberry coffee cake and still be walking the healthy-eating walk. What's more, you can enjoy it, even when baked with coconut flour!
I know many people have avoided baking with coconut flour because the results can end "eggy" tasting or too dry. The texture can be like "cardboard" and it can be a pain to work with. So let me relieve some of your worries by giving you a great recipe that's sure to turn out (and few tips too).
Looking for more gluten-free recipes and resources? This Everything Gluten Free page is a library of everything gluten free we've worked on.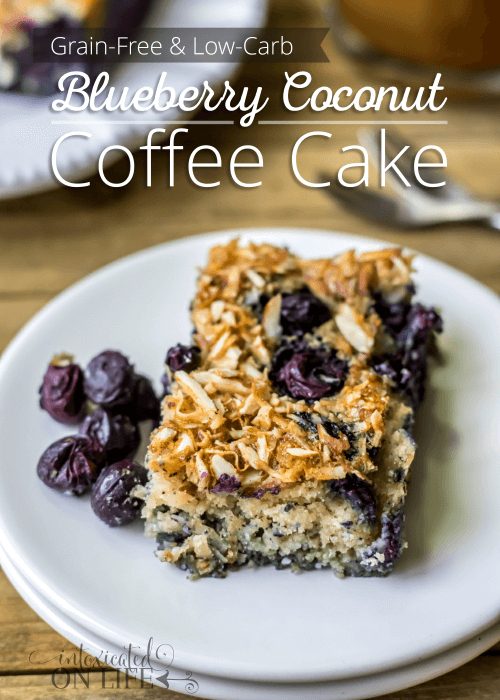 How to Work with Coconut Flour
Let me take some of the mystery out of working with coconut flour:
Always, always mix your wet ingredients together before adding the dry ingredients.
Be sure to use a whisk. Using stand mixers can leave you with over mixed batter. This batter is so easy to work with, you don't need to bother with your stand mixer.
Add the coconut flour slowly, resting between each addition. Each brand and batch of coconut flour can be different in consistency, which makes this a very important step.
If you find the batter too thick after adding all the ingredients and allowing your batter to sit a few minutes, add some more liquid. This always helps get a nice lift and fluff in baked coconut flour goods.
If you follow these steps, you will be a coconut flour baker extraordinaire!

Why Use Coconut Flour?
I use coconut flour over other nut flours when grain free baking because of known hypothroidism issues. Gluten is a big no, no if you struggle with thyroid issues. So for years I focused on using nut flours, like almond flour.
But in recent years I've found nut flours can even aggravate my Hashimoto's thyroiditis. I felt sluggish every time I ate baked goods made with nut flours. But I soon found, coconut flour products don't make me feel this way.

Recipe Information:
This is a dairy-free and grain-free recipe.
It also fits *Trim Healthy Mama, paleo, gluten-free, GAPS, and Candida type diets.
Tweak the recipe to suit your taste buds by changing out the berries.
Prefer not to use sweeteners? Substitute honey if you like, although it may not fit some of the above categories. Just make sure to adjust the liquids.
Any milk or oil may be substituted for dairy-based products, if you're not dairy-free.
Remember how I mentioned that you may need to add some liquids to the batter?  This is what the batter looked like just after adding all the coconut flour: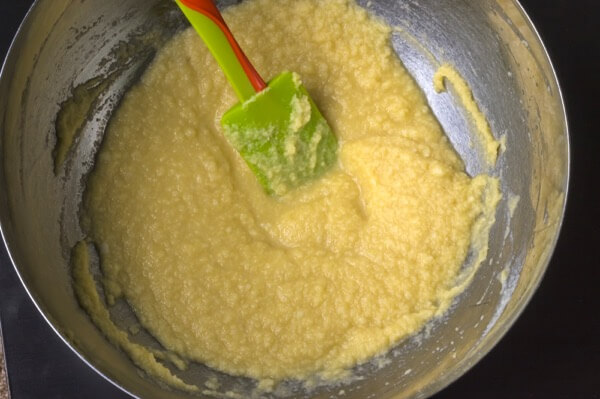 Here is what the batter looked like after a little longer rest: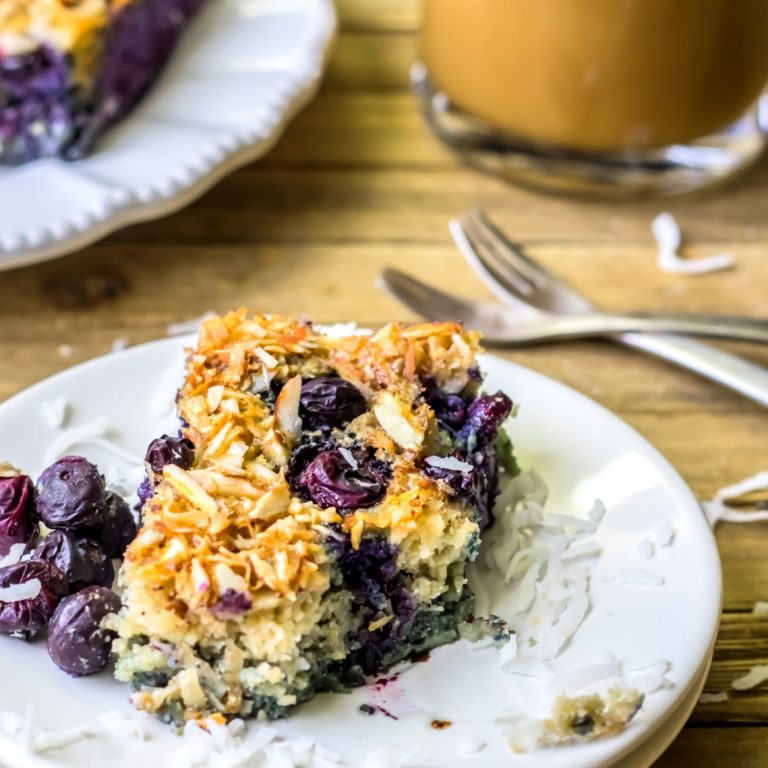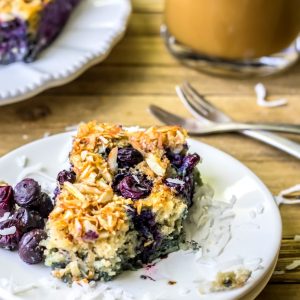 Print
Heavenly Blueberry Coconut Coffee Cake
Heavenly Blueberry Coconut Coffee Cake is a wonderful dairy free and grain free recipe for breakfast, snack or dessert. This uses coconut flour, coconut milk, coconut oil, stevia and nuts. Very adaptable to any palate and diet. Serves 12 as is using a 9x13 pyrex baking dish, or you may halve the recipe and use an 8x8 size baking dish.
Ingredients
Cake Ingredients
8

eggs

free range organic or omega-3 are best

3/4

cup

coconut oil

1/4 - 1/2

teaspoon

stevia extract powder

I use Trim Healthy Mama brand stevia

1

tablespoon

pure vanilla extract

gluten free is best

13.5

ounces

coconut milk

homemade or typically one can

1

cup

coconut flour

separated into thirds (do not pack)

1

teaspoon

baking soda

2

teaspoons

apple cider vinegar

1/2

teaspoon

sea salt

water

2

cups

wild blueberries

or berries of choice
Topping Ingredients
1 1/2

cups

almonds

soaked is best or you may try my favorite Trail Mix Muesli as a topping

1/2

cup

unsweetened coconut flakes

2

pinches

stevia extract powder

or to taste

3

tablespoons

softened coconut oil

1

tablespoon

cinnamon

1/2

teaspoon

nutmeg

optional

pinch

sea salt

1

cup

wild blueberries
Instructions
With a whisk mix eggs, coconut oil, vanilla, and milk.

Add coconut flour 1/3 cup at a time mixing and letting it rest a little between additions.

Add stevia, salt, baking soda and apple cider vinegar. Mix well.

If at this point the batter is too thick after resting a little, add water. Start with 1/4 cup at a time. I have had to go to a full 3/4 cup of water. You want the consistency of a nice creamy, slightly thick cake batter.

Fold in 2 cups of blueberries. Pour into greased 9X13 inch pyrex.

Mix together nuts, stevia, salt, coconut and coconut oil for the topping with a fork in a bowl. Sprinkle evenly over the top of the cake.

Lastly, sprinkle the blueberries evenly over the top.

Place in the oven at 350 degrees. Bake for 45 minutes. Check at 40 minutes to be sure it is not over browning. If it is and needs a longer cooking time, cover with aluminum foil to keep the topping from burning. You may need to cook for another 10-15 minutes longer.

To test cake for done-ness, make sure that the cake is not jiggling in the center when you pull it out. You may also test using a toothpick. It is best if you have a little crumb left on the toothpick.

Let the cake cool for a few minutes before cutting or overnight. I haven't decided whether I like it better the day of or the day after.

Serve and enjoy!
Notes
This may take up to an hour to cook, so be watchful.
Nutrition
Calories:
447
kcal
|
Carbohydrates:
18
g
|
Protein:
10
g
|
Fat:
39
g
|
Saturated Fat:
26
g
|
Cholesterol:
109
mg
|
Sodium:
257
mg
|
Potassium:
284
mg
|
Fiber:
8
g
|
Sugar:
6
g
|
Vitamin A:
178
IU
|
Vitamin C:
4
mg
|
Calcium:
78
mg
|
Iron:
3
mg
You can really do a lot with this recipe. Play with it and make it your own.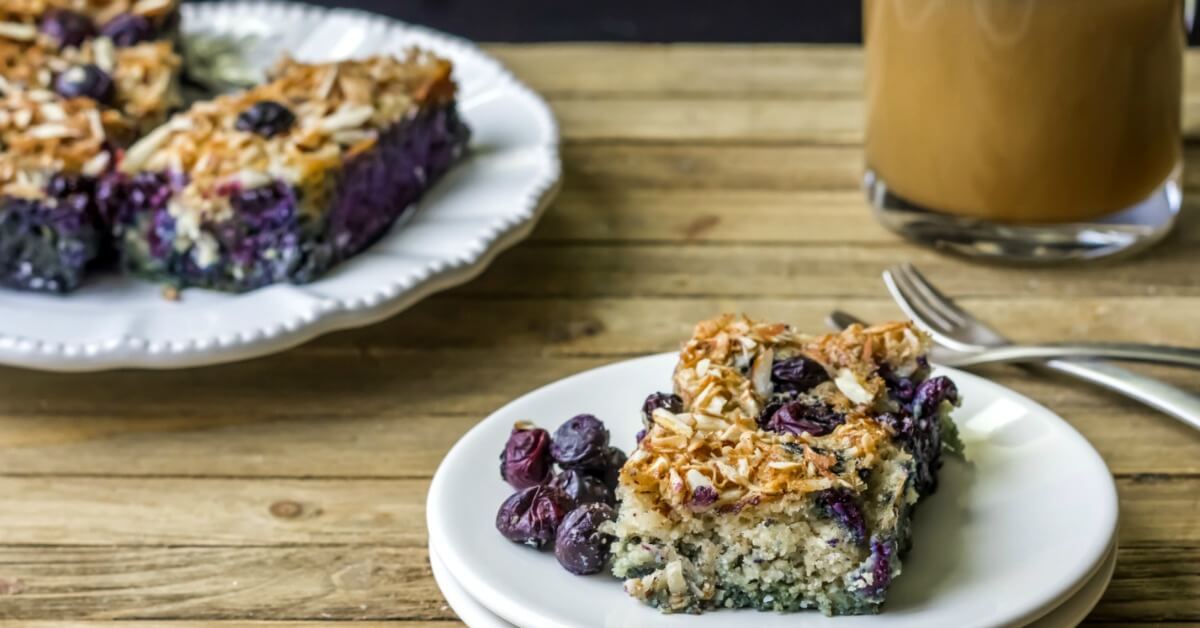 Would you like some more tasty, kid-friendly breakfast ideas?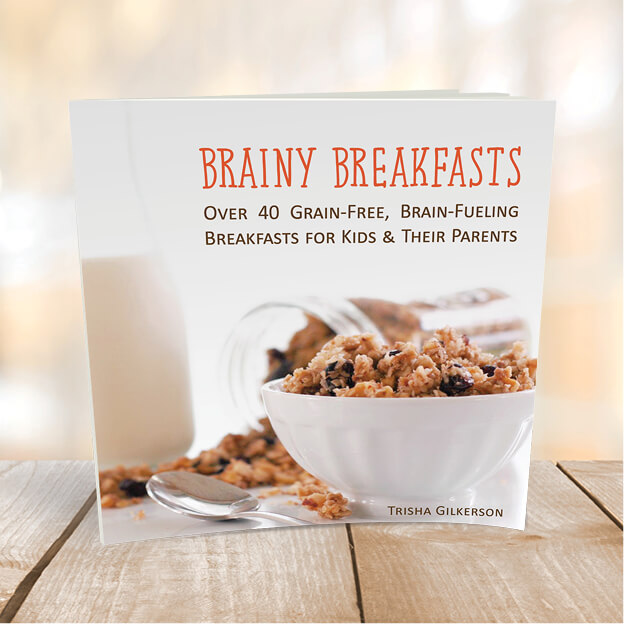 Check out our cookbook Brainy Breakfasts – it's filled with over 40 grain-free, brain-fueling breakfast recipes to keep things new and exciting! It's available as a downloadable or softcover book. You won't run out of healthy, tasty breakfast recipes anytime soon with this cookbook ?