My friend inquired, "Have you been tested for Lyme Disease?"
"No. I don't have that." (Famous last words.)
"Are you sure? You've not been tested."
"I haven't been bitten by a tick. I haven't ever noticed a bulls-eye rash. And Lyme isn't really in Michigan anyhow. Yeah, I'm sure I don't have Lyme Disease."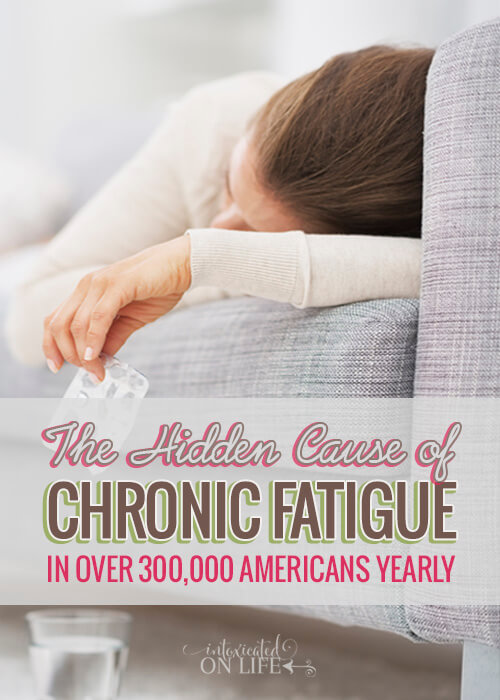 I didn't really think much about that conversation until 4 other people asked me if I'd been tested for Lyme Disease. I probably wouldn't have thought much about it had it not kept coming up.
The CDC, who is thought by many in the Lyme community to offer a very conservative estimate, reports "…the number of people diagnosed with Lyme Disease each year in the United States is around 300,000."1 Some lyme experts estimate that there are closer to 3,000,000 new cases of Lyme in the United States each year. Either way…that's a LOT of people infected with Lyme Disease.
Dr. Horwitz, a leading Lyme Disease researcher and practitioner claims that Lyme is becoming epidemic.
…up to 150-200 million people have been affected by this epidemic since Lyme has spread worldwide...We are in the middle of a rising epidemic of associated tick-borne co-infections, and we are not adequately monitoring the number of people affected. We are definitely underestimating the numbers!2
5 Lyme Disease Myths
I had gone to several different doctors and specialists about my adrenal failure, seen a physical therapist and a chiropractor for the various pains in my body, and worked with a health coach for 6 months to adjust my already-healthy diet—all to no avail. Nothing was working.
After five people told me I might want to check for Lyme disease, I finally decided it was time to look into it (you can read more about that in my post: Chronic Fatigue is Bogus).
Month after month I felt my health deteriorating. It was at least worth checking out. Maybe it was a wild goose chase, but at least I could say I had indeed considered Lyme when my friends asked me about it.
My mind was blown. Everything I thought I knew about lyme disease was, well, all wrong. Oh so completely wrong.
1. "Lyme isn't in _______ [your part of the world]." Hogwash. Lyme has been reported in all 50 states and on every continent. Furthermore, there are 5 subspecies and over 300 strains of the disease worldwide. This may contribute to why it's so difficult to diagnose.3
2. "I haven't been bitten by tick." How do you know? Did you know many ticks that carry Lyme are the size of a poppyseed. A poppyseed!  I don't know about you, but even with my 20/20 vision and superior powers of observation, I could easily miss a tick that size attached the the back of my leg or under my arm, or pretty much anywhere but on my face.
3. "You have to be bitten by a tick to be infected with Lyme." New research is showing other insects, like mosquitos, lice, and fleas may also carry Lyme Disease.4 Holy biting bugs, Batman! No wonder the cases of Lyme are exploding. Mosquitos love me. I've been bitten by thousands of those nasty little critters.
Also, research is indicating Lyme may also be transmitted from mother to baby in utero, it may be sexually transmitted, and transmitted via blood transfusion and organ transplants.
4. "I never saw a bullseye rash." The rash that people typically associate with Lyme Disease is present in less than 50% of people.3 Some sources state it occurs in only 10% of those with Lyme.
5. "Lyme is a short-term and easily curable disease." This might be the case for those who figure it out right away—those who see the tick and/or the bullseye rash and get treatment immediately. A simple round of antibiotics may indeed cure a person of Lyme Disease quickly.
But unfortunately, for the majority of people who have had Lyme disease for months, years, or decades, it's an incredibly difficult and complex disease to treat.
Indeed, Dr. Horwitz speaks on curing Lyme:
Right now I think a cure is only possible in early Lyme. We are not achieving a cure for chronic Lyme so I prefer the term remission. However, we live with viruses and bacteria in our bodies all the time and our immune system keeps them in check. It is a matter of finding balance, and getting the infectious load down to a point where your immune system takes over, and keeps these symptoms at bay.2
Lyme Disease Symptoms
I felt like I was going crazy.
Some days I can hardly function and other days I feel moderately healthy. Apparently this is perfectly normal when it comes to Lyme Disease.
On my good days I can homeschool my kids and get a load or two of laundry done. The symptoms don't go away completely on the good days, but they decrease to the point that I can get normal everyday stuff done.
On the bad days… On those days I don't want to get out of bed. I hold the house down from the couch. I struggle to stay awake and just survive the day.
Below are short list of some of the symptoms I experience on a day to day basis…
Fatigue. (I'm not talking about just a little bit of tiredness. I'm talking about mind-numbing, debilitating exhaustion—exhaustion so crushing that some days you feel like you've been drugged and can barely keep your eyes open.)
Muscle Aches.
Joint Pain. 
Brain Fog. (That feeling that you just can't think clearly—like a fog has descended over your entire mental state.)
Heart Palpations and chest pain. (I went to the hospital one evening thinking I was having a heart attack. True story. No heart attack. In fact, the ER and my doctor couldn't find anything wrong with my heart at all.)
Neuropathy.
Head Pressure.
Headaches and Migraines.
Uncontrollable Weight Gain (Some experience loss, but I couldn't be that lucky! No. I gained 75 pounds in less than 9 months. Much of that time I was working with a health coach and eating a very restrictive diet. That extra weight certainly doesn't help me feel any better.)
Edema.
Air Hunger.
This is a partial list of my symptoms, the symptoms I find the most bothersome. But it's not all of the symptoms that I experience and not all the symptoms Lyme can cause.
Lyme can attack any system of the body: cardiovascular, lymphatic, nervous, endocrine, etc. The symptoms can vary from person to person because the Lyme can attack different parts of the body in different people. Lyme Disease does not follow the same course with individuals.
If you think there is even a slight chance that you have Lyme, I'd encourage you to use the Lyme Disease Symptom Check List from Dr. Horowitz. This is a great place to start.
Lyme Disease: The Great Imitator
Lyme Disease is often coined, "The Great Imitator." This is because it is estimated Lyme can imitate symptoms of up to 350 other diseases and syndromes.
Fibromyalgia, chronic fatigue, Multiple Sclerosis, Alzheimer's, or rheumatoid arthritis, ALS, Parkinson's are just a few of the more well-known diseases that Lyme often imitates.
Take, for instance Multiple Sclerosis (MS). Lyme can create the symptoms that are often associated with MS.  Lyme can create lesions in the brain. People who have been diagnosed with MS for decades and finally begin to get well after being treated for Lyme. Dr. Horwitz claims,
With MS, 95% of the patients that come to me who have failed MS drug therapy have tested positive for Lyme.
Quite frankly, if I was diagnosed with one of these other diseases, I'd be sure to consult with a Lyme Literate Medical Doctor in order to rule out Lyme Disease. Having a correct diagnosis is a huge hurdle to overcome for correct treatment and restoring your health.
My Story…Finally, a Diagnosis
When the new doctor I was seeing decided to test for Lyme my feelings vacillated between hopefulness, uncertainty, and complete dread.
– Hopefulness, because I was so ready for a diagnosis. After working with so many health professionals, I just wanted an answer. I wanted to know I wasn't going crazy.
– Uncertainty, because the possibility of Lyme was so new to me. I wasn't sure that this was really what was going on.
– Dread, because Lyme isn't easy to treat. In my limited research, I knew people often were treated for Lyme for months and even years and still had not gone into remission.
But still, knowing is better than not knowing. At least when you know what is going on, you can have a game plan.
If you made it this far, you can probably guess that my doctor was able to make a definitive diagnosis of Lyme disease. In fact, the test that he used showed up positive for not just one strain of Lyme, but three strains as well as two co-infections.
Thank you God for divinely placing people in my life to point me in a direction I never would have thought to on my own!
What can you expect from IntoxicatedOnLife.com? Is this going to become a Lyme blog? Nope, but Luke and I have written about the things on our hearts and minds since the inception of this blog, and that won't stop.
Now that I'm dealing with Lyme disease I do plan to write about it from time to time. I hope to educate you as I learn more. I hope to bring more awareness to our little community here. You might read some topical posts on Lyme interwoven with updates on my health and treatment.
If you know someone dealing with chronic health issues, I hope you'll share this post with them. Who knows, it may be just what they need to encourage them to look for answers in a place they never considered.
Sources