Homeschooling is no easy task. But, homeschooling with toddlers gives a whole new meaning to the word patience. We began our homeschooling journey when our oldest began kindergarten. Up until that time, he attended preschool at our church.
When we began our journey, however, it was quite a rude awakening that first day. I had visions of grandeur and simple living. I had read many books, blogs and articles about homeschooling and talking to his preschool teachers and finding out just how well he really did with the structure, I knew exactly how I wanted to structure our days. I hung a nice, neat schedule with times for each of our activities throughout the day…and life was going to be wonderful.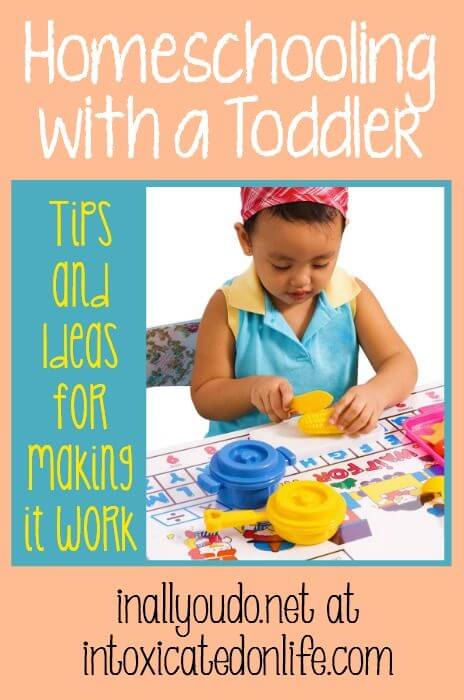 Unfortunately, our 6 month old infant did not agree with my strict schedule.
Shortly after we started, I found out baby #3 was on the way and life took on a whole new meaning.
Homeschooling with infants and toddlers in tow is a learning process that takes a lot of trial and error. Just when I thought I had it all figured out, I was thrown another curve ball and it would take a few days (or weeks) to figure it out again. After nearly 5 years under my belt with toddlers in tow, I have a few tips and ideas I would like to share with you.
8 Tips for Homeschooling with Toddlers
1. Take advantage of naptime(s)
If your children are of the daily naptime variety, naptimes are a life saver. As I mentioned earlier, we began homeschooling with a 5 year old and a 6 month old. While the infant napped, I would teach the subjects that required my one-on-one attention – such as teaching him to read. While read alouds are a great way to involve everyone in the family, teaching a child to read is a little more intensive. As he has aged, our naptime subjects have changed to Science, History and sometimes Math – depending on what he needs.
Teach the tougher, more teacher-needed subjects when the little ones are resting. On the flip-side, school the easier subject while the little ones are awake. The on-their-own papers and subjects that don't require much hands-on teaching from you are perfect during those "wakey" times as my kids call it.
2. Blanket time
Blanket time is when you teach your little ones that while you are working with the older kids, they can play quietly on the blanket. It doesn't need to be a big blanket. In fact, it should just be big enough to play, but not crawl around on and move. The point is to teach them that playing quietly while Mommy works with the older kids is what's expected.
There is a little bit of a learning curve with this approach, so I recommend beginning as young as possible – even sit them in a bumbo with a toy or two to play with – and work with them outside of your teaching time. That way you're not getting frustrated trying to teach blanket time and the older kids at the same time. If they get off the blanket, you calmly put them back on the blanket and explain that this is where they play right now. Start with a relatively short amount of time (say 2-3 minutes, depending on the age of the child) and work up to 10 – 20 minutes of blanket time. You can teach a lot in 20 uninterrupted minutes!
3. Daily Buckets
Daily buckets or bins, often called busy bags or tot boxes, are where I combine a group of similar activities to keep the little ones occupied. These can be puzzles, shape/color sorting activities, sewing cards – really whatever you have on hand will work. The key is to make them educational and fun – as well as age appropriate. You want them to keep the littles attention, not frustrate them. I recommend having a different box for each day of the week – or similar rotation. This keeps the activities fresh, fun and entertaining.
4. Book Basket
I got this idea from another blogger friend of mine and we are giving it a whirl this year. Reading is one of the subjects I want my kids to love…I mean really love. This is a great tip for getting housework done, taking a quick shower (note: do not leave young children unattended), getting work done during those wakey hours and schooling the older kids.
Simply put out a basket with a variety of books for the children you want to "read." My younger ones like board and picture books, while my older reader likes books that he can read easily and quickly. While this may be a great way to sneak in some books related to what you're studying at the time, resist the urge to put in school-assigned reading. This is a wonderful time to encourage and foster a love of reading, so keep them light and fun.
5. Coloring activities
My girls love to color. They love to color in books, on chalkboards and occasionally on our walls. So I pick up coloring books at the $1 store when I can to keep us well stocked. And each of the girls has their own set of crayons – this is vital – and I can set them down to color to their hearts content. It's also a great way to sneak in color and hand-eye coordination practice.
6. TV Shows
While I would like to tell you that we never watch television or movies in our house, that would be a lie. And while I'm not a big proponent of sitting your kids in front of a television screen for hours a day, there are times Momma just needs some peace and quiet – and her sanity back. I am careful with the shows we allow into our home, so we usually stick with either Nick Jr. or Disney kids in the mornings and Sprout or PBS Kids in the afternoon. I like that most of these shows are teaching shapes, colors, sounds and more. Just another way to sneak in some learning!
7. Videos
Again…not that I use movies as a babysitter, but they are useful when trying to keep my little ones busy while I teach. And again, we are extremely conservative when it comes to videos we allow in our home. But, you can also use videos to help reinforce what they learning or introduce them to new subjects. One of their favorites is Little Einsteins. They will sit and watch them for hours – literally.
8. Online Video Network Subscriptions
Netflix, Vudu and Amazon Prime are also great resources for finding educational television shows and documentaries. Often times I can find shows related to the topics we are studying that the kids will enjoy and will add yet another way of learning – helping them understand and remember the topic even more.
Although we have not yet made the leap, many of my friends have gotten rid of cable and just have these subscription services. In fact, there are entire Facebook groups dedicated to "Homeschooling with Netflix" that you can join and gather ideas and tips for using it as a resource in your schooling.
Now, I'm not going to sugar coat it and say that if you implement these 8 tips homeschooling with a toddler will be a breeze, because it won't. It will take time as you create a toddler schedule and they learn your expectations, so patience is key. This is not a one-and-done thing, but a learning process as much for you as for them. Listen to them and follow their lead to find what works. It's okay to make changes too! Just because your friend Susie, who has homeschooled through 5 toddlers, does it one way does not mean her way will work for your kiddos. The most important thing to remember is to make it fun!
What are your tips for homeschooling with a toddler?