We started homeschooling our kids when they were very young. Some friends and family didn't like the idea, but overall we didn't face a lot of flak.
As our kids get older, as their subjects get more advanced, we hear more comments like,
"So, do you think you can keep going with this homeschool thing?"
"Are you really preparing your kids for college?"
"How will they get into college without a high school transcript?!"
Of course, these are all valid questions. But yes—you can prepare your child for college, and they can get into college with a well-prepared college transcript (and even earn scholarships too).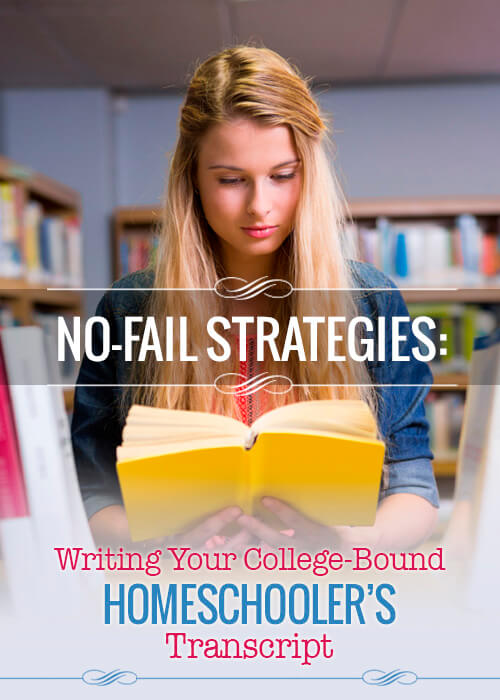 I am, in fact, a homeschool success story. I not only went on to complete my Bachelor of Science degree, but also a Master of Arts degree after being homeschool from 5th grade through high school.
3 Keys to Writing Your College-Bound Homeschoolers Transcript
I recently partnered with Lee Binz, of The Home Scholar, to bring you a free webinar called: A Homeschoolers Guide to Grades, Credits, and Transcripts. If you were not able to make it, I've got good news for you. We have the recorded webinar available to you for free. Continue to read on!
Lee Binz is a real homeschool mom who has been there, done that, and got incredible results. Both of her boys were homeschooled, graduated, and earned full-tuition scholarships from their first choice universities (saving them $184,000 in tuition). I know her webinar will educate and encourage you. 
1) Speak College's Love Language
I know, this might sound ridiculous, but if you want to get your child into college (and better yet, into a school with scholarships), you've got to know how to speak the college's language! This webinar will show you how to do that. You'll also learn how to make your child stand out from the crowd.
Regular homeschool parents can create a homemade transcript that can out-perform an accredited transcript that costs thousands more.
2) Avoid Transcript Pitfalls
Do you know the essential elements of a transcript? Do you know the major pitfalls you need to avoid? You'll learn those in this webinar too!
3) No-Fail Way to Determine Credits and Grades
In this webinar you'll learn the completely stress-free way to determine class credits and assign grades to your child. If you have a child that is working on their middle school or high school work, now is the time to know how to do this. Don't wait until it's time to apply. Begin now!
Lee's goal is to help parents who are committed to giving their teens the best possible high school education and providing them with their best shot at college. She wants to make sure your teen is a homeschool high school success story.
Watch: A Homeschoolers Guide to Grades, Credits, and Transcripts
Are you ready to watch our recorded webinar? This webinar is available for free for all our subscribers. Just sign up below, and you'll be redirected to a page where you can watch the webinar! We hope you enjoy it.
Be sure to stop back and let us know if it was helpful!