This homemade Honey Cinnamon Lip Balm makes an easy gift. With only a few, non-toxic ingredients, you'll be surprised at how easy it is to whip up.
Essential oils come in very handy for do-it-yourselfers.They're perfect for fighting environmental threats, keeping away the bugs, clearing the sinuses and soothing sunburns and much more. I've been using them since I was a child, but this was the first time I've used them in lip balm.
Want to know more about how to use your time efficiently with DIY projects with essential oils? Check out my HomeAid video to learn how to create your own essential oil response kit for your home. Learn more about my HomeAid course here.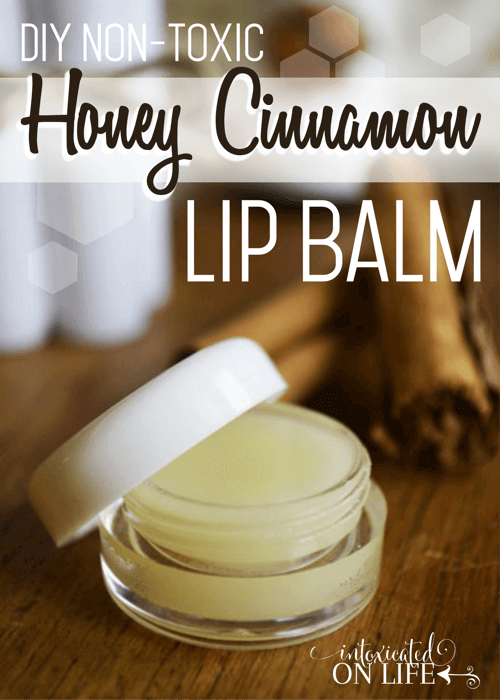 At the risk of sounding like a completely scatterbrained mama, I'm going to go out on a limb and tell you the background to this Honey Cinnamon lip balm. I had planned on making my own pumpkin and cinnamon flavored version for a few months, and when I finally got the time and the pumpkin to make it, I set about the process with much anticipation.
You see, a few months back a friend of mine was moving across the country and clearing out her freezer. She gifted me with a gallon-sized ziplock labeled "beeswax," which I happily accepted (what real-food, diy-er wouldn't?). I vaguely remember her giving me some sort of instructions about the bag, but at the time I was 9 months pregnant with #5, and my brain + pregnancy = no short term memory.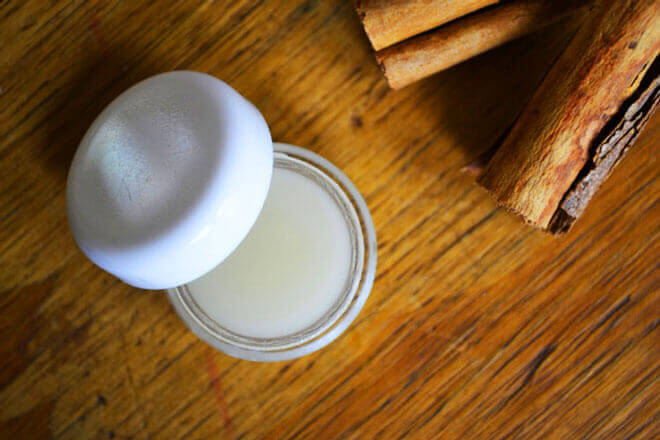 As I set about making my pumpkin and cinnamon lip balm I got out the beeswax and began to gently grate some into a bowl. As I grated, I noticed with mild confusion that the color of the beeswax was strangely pink, and the texture quite stringy.
Ignoring these discoveries, I added the beeswax to my makeshift double broiler along with the remaining ingredients and waited for it to melt, stirring gently every now and again.
But it refused to melt.
After over 1/2 hour of stirring, the beeswax still had not melted, so I took my hand blender to it. While it got smoother, it still wouldn't melt. I added the pumpkin, hoping that would help. It didn't. I tried pouring it into the tubes, but it wouldn't pour. Instead the pumpkin and pureed beeswax mixture sort-of sloshed out and made a big mess. So I cleaned it up and set it aside to sleep on it.
The next morning I tried again, with the same failed results. Getting rather frustrated, I tried again sans beeswax. Still just a sloppy, un-pourable mess. I set out to try for a fourth time, adding back in the beeswax.  
While I was grating, I thought again about the strange color and texture of the beeswax. It almost looks like frozen peaches, I thought to myself.
So I took a tiny taste. (Yes, I did.) And guess what it tasted like? Yep… peaches. All this time and I had been trying to make lip balm with frozen peaches instead of beeswax!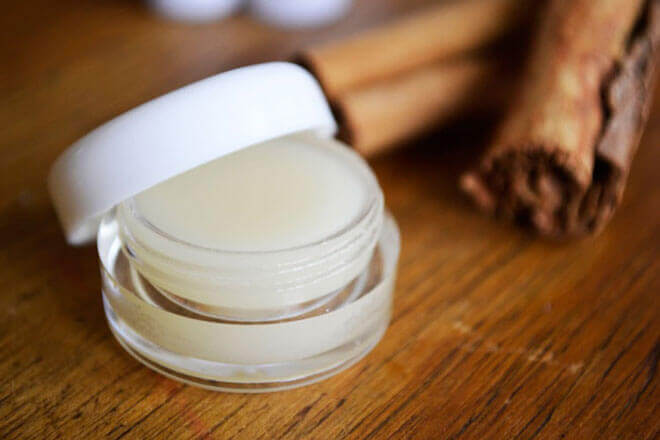 Through my endeavor to make pumpkin lip balm I learned two things:
1) peaches don't melt (and they don't make a good beeswax replacement).
2) pumpkin doesn't emulsify in hot oil.
Ergo, no pumpkin lip balm. 🙁
Thankfully, though, after leaving out the pumpkin (and adding in some actual beeswax), the remaining ingredients make a very nice Honey Cinnamon lip balm instead!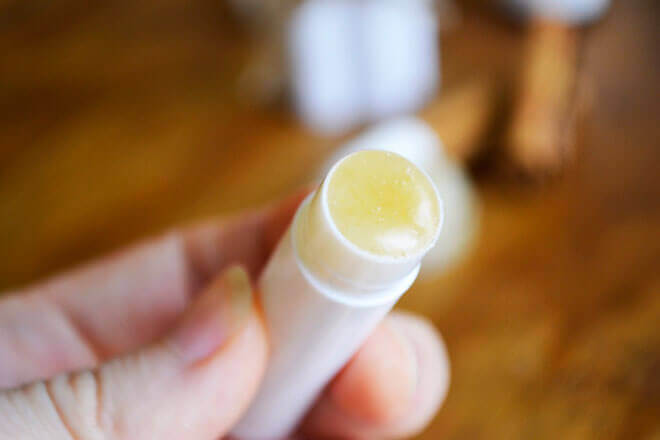 Even though I wouldn't recommend eating it, the slightly spicy, warm and comforting smell of this leftover Honey Cinnamon Lip Balm is definitely delicious. It's been a huge hit with friends I've gifted it to, as well as with my own daughters.
Please don't read this little story and think, "Why go to all that trouble when I could just buy some lip balm?" Without peaches and pumpkin, lip balm is very quick and easy to make. 😉 And it's so much cheaper than store-bought, since organic, non-toxic lip balm can be quite pricy.
Honey Cinnamon Lip Balm Recipe
Ingredients:
1 tablespoon + 1 teaspoon beeswax
1 tablespoon shea butter
2 teaspoons coconut oil
1 teaspoon apricot oil
1 teaspoon honey
8 drops cinnamon essential oil
Directions:
In a small saucepan, bring about a pint of water to simmer over medium heat. Place an oven-safe bowl over the saucepan, making a double boiler.
Add beeswax, shea butter, coconut oil, and apricot oil to the bowl and heat until beeswax melts, stirring every now and again.
When the beeswax is melted, remove the bowl from the heat and stir in honey and essential oil.
Pour into lip balm tubes or tins.
Let cool before use.
When using essential oils, please remember that they are very concentrated, so you need very little. Because of their concentration it's always a good idea to dilute some of the oil and test it on your skin before using, just to make sure you don't react negatively.
More DIY Beauty Recipes:
Free Download: Mom's Essential Oil Cheat Sheet
Would you like a resource to help you learn to use essential oils with your family? Download this free 3-page printable:
Basic guidelines for using essential oils around kids
A list of safe, kid-friendly oils essential oils
Helpful essential oil recipes
Click the link or image below to download the 3-page Mom's Essential Oil Cheat Sheet. I'll follow it up with more resources and free printables to help you on your essential oil journey. Grab your copy now!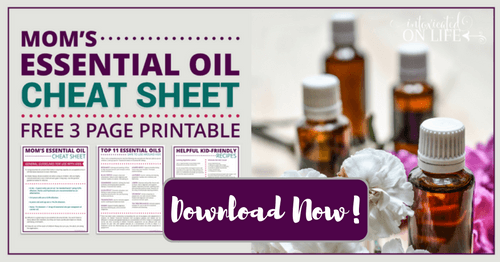 *FDA disclaimer: "These statements have not been evaluated by the Food and Drug Administration. This product is not intended to diagnose, treat, cure, or prevent disease."