This honey-sweetened, grain-free strawberry shortcake is a healthy twist on a classic treat everyone is sure to enjoy!
Looking for gluten-free recipes and resources? This Everything Gluten Free page is a library of everything gluten free we've worked on.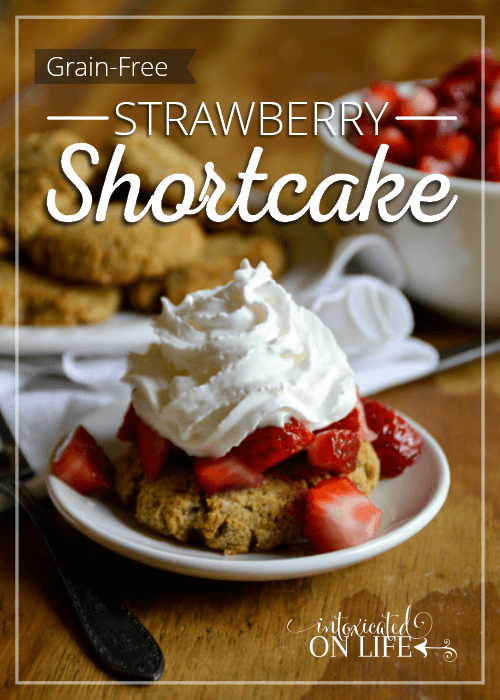 All the summer treats.
As much as I love spring, when it rolls around my tastebuds automatically skip ahead to all the fruits that summer brings. Peaches, watermelon, strawberries…
Living down in the south, strawberries are fairly cheap in the summer months, and I like to take full advantage of that. Popsicles, donuts, fruit snacks, and granola are a few of my favorite ways to use up the summer's strawberry bounty. And of course the classic dessert: strawberry shortcake!

Easy, grain-free biscuits.
I usually serve my strawberries atop a normal, gluten-free shortcake biscuit, but this year I've been trying hard to cut out all grains to help my immune system heal. Therefore, these grain-free shortcake biscuits are perfect for this treat!
This recipe has been through a few tweaks and trials, but my hubby declared them good enough for dessert, so I'm leaving them as is for this shortcake recipe. Feel free to add in more sweetener if you'd like them sweeter, but don't add too much or it will change the consistency of the batter too much.

A honey-sweetened treat.
To help give the strawberries that syrupy texture I love in shortcake, but without the sugar, I drizzled the cut berries with a little local honey. And to keep this treat as healthy as possible, I like to make my whipped cream with honey, as well!
Without any refined sugar, this grain free strawberry shortcake is practically healthy. So whip some up and enjoy it for dessert, or breakfast!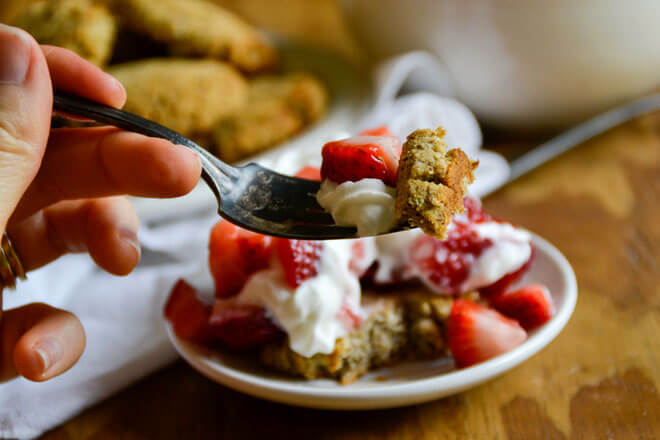 Honey Sweetened, Grain Free Strawberry Shortcake
Ingredients
Shortcake Biscuits
1/4

c.

cold butter

1/3

c.

coconut flour

1/4

c.

flax meal

1

t.

baking powder

a few dashes of sea salt

1

T.

+ 1 t. honey

2

eggs
Toppings
1

lb.

fresh strawberries

1

pint

whipping cream

2-4

T.

honey

or to taste
Instructions
For the Shortcake Biscuits
Preheat oven to 375 and line a cookie sheet with parchment.

Whisk together try ingredients, then cut in butter until evenly crumbled.

Stir in honey and eggs until well combined.

Roll about 2 tablespoons of dough into a ball. Place on the prepared cookie sheet and gently press down until about 1-inch thick.

Bake for 12 minutes, or until golden-brown on the edges.

Makes 9 biscuits.
For the Toppings
Place hand beaters and a freezer-safe bowl in the freezer for about 1/2 hour. When chilled, pour in the whipping cream. Beat on high for a few minutes or until it starts to stand in peaks. Add in a few tablespoons of honey and beat again to mix well.

Wash and chop strawberries to desired size, I usually just dice them up. Place in a bowl and drizzle with a few teaspoons of honey and let sit for a few minutes.